Friends and I wanted to catch up over dinner after work. Most of us were Japanese food fans, and we decided to eat at Yamazaki in Little Tokyo.
I would definitely come back again for their delicious fried gyoza and would try the Yamazaki ramen, hoping there will be someone to share a bowl of it with. 😀
Yamazaki Ramen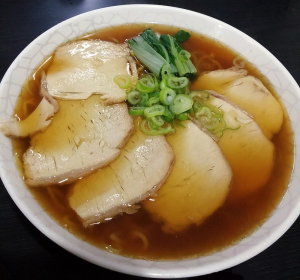 Three of my friends ordered the Yamazaki Ramen. They were all surprised by the huge bowl of ramen. I told them, maybe the bowl is just full of soup but not so much noodles in it. But I was wrong. They're boys (I think it's usual for men to be able to eat more than women), but the bowls of ramen were still too much for them.
So, I would recommend that you split Yamazaki Ramen into two bowls if you're not a heavy eater. That's 218 pesos for a huge bowl of Yamazaki Ramen.
Steamed Gyoza
Gyoza is a dumpling filled with vegetables and ground meat.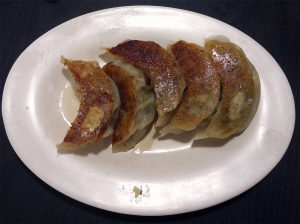 I had a heavy lunch that day so I wanted something light for dinner, and gyoza was what I thought would fit the bill.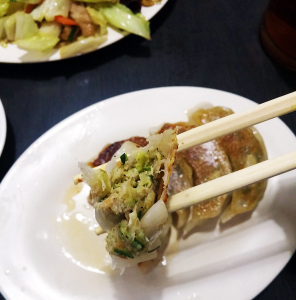 First bite and I was like, Saraaap!!! The exterior had a crunch to it, as the bottom of this dumpling was fried, and the interior was moist and very flavorful. I think that the gyoza at Yamazaki is perfect! 😀
Yasai Itame (Vegetable Stir-Fry)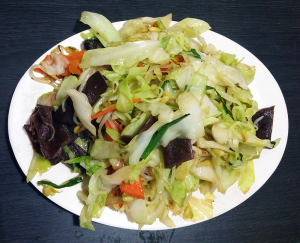 Aside from the "perfect" gyoza, I also ordered yasai itame to complement my meal.
The yasai itame was very tasty and had that "grilled meat" flavor. Try it as a side dish! One plate of Yamazaki's yasai itame is 106 pesos and can be served as side dish for about 4 people.
Update: more Yamazaki food items
This page shall be updated whenever I try something new at Yamazaki. 🙂
Fried Gyoza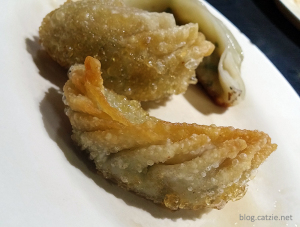 The gyoza in the above photo is the "fried gyoza". I thought that the gyoza I previously had was the fried one. Well, only the bottom part was actually fried and the waitress called that kind "steam fried gyoza". I liked the steamed one better, since it's juicier and tastier.
Chicken Karaage set meal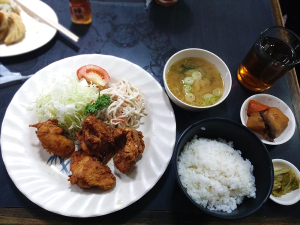 And the set meal you see above is Yamazaki's chicken karaage set meal. The karaage set meal included picked vegetable, meat stew with potatoes and carrots, miso soup, a generous bowl of rice, and on the karaage plate there was shredded cabbage, spaghetti with mayo, tomato, and garnish of parsley.
You might be wondering what the spaghetti with mayo is. Imagine macaroni salad that uses spaghetti instead of macaroni. 🙂 I think it tastes fine but some of the friends I brought along at Yamazaki didn't like it.
The shredded cabbage didn't have mayonnaise or any dressing! We asked for mayo for the cabbage, but the waitress said there's additional charge of 25 pesos, and that the dressing provided for it was the tonkatsu sauce. Meh.
However, the chicken karaage was delicious! I had boneless chicken on my plate that were very tasty and juicy. Yamazaki's chicken karaage is perfect for me. 🙂
Menu from Yamazaki Little Tokyo
Not the best quality for a food menu's photo. If I ever take a better shot, I'll update the photos here.
Yamazaki, Little Tokyo, Makati – Contact
Yamazaki Address: 2277 Fernando St. cor. Pasong Tamo Street, Makati City, 1231, Metro Manila, Philippines
Yamazaki Phone Number: 02 8932163
Related Posts:
Posts that may be related to "Yamazaki, Little Tokyo (Makati) – review":