I love desserts. Dessert is usually the best part of meal for me, if not the best part of the day. 😋
Being a desserts lover, I like visiting Conti's Bakeshop and Restaurant occasionally because they sell a variety of interesting desserts. They have turtle pie, cheesecakes, and one of their most popular cake: mango bravo.
In this blog entry, I shall take the time to describe the desserts, especially cakes, that I tried and will try at Conti's. 🙂 And hey, if you love mint chocolate desserts, you may want to read my post about Mint Chocolate Desserts in Manila.
Turtle Pie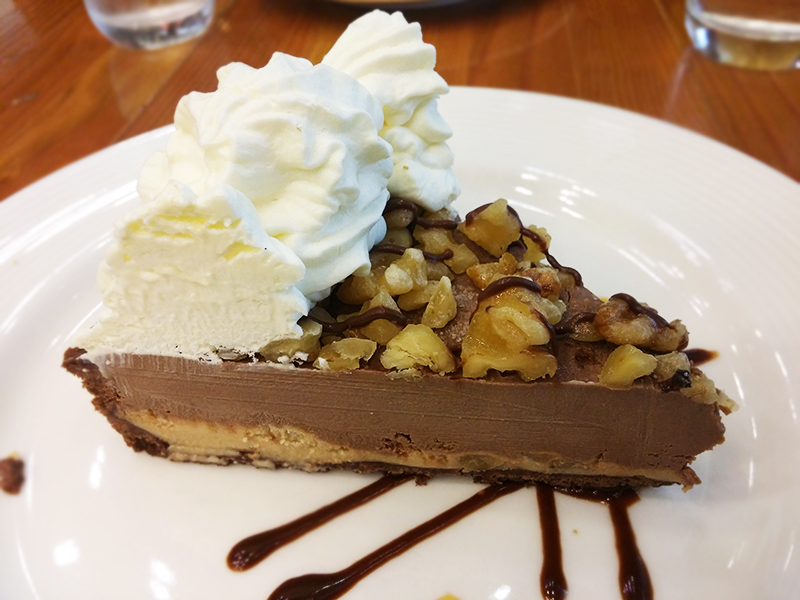 The dessert in the photo above is Conti's Turtle Pie. Based on a chocolate crust, it has a layer of salted caramel cream mousse under a well-chilled chocolate mousse. At first, I thought it was chocolate ice cream until a friend pointed out. 🙂 A generous amount of walnut chunks tops this dessert. There's also whipped cream piped on the edge. I think the whipped cream they use on turtle pies is non-dairy. Each slice is 115 pesos.
Salted Caramel Cake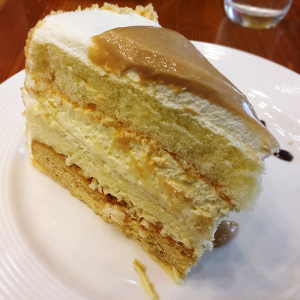 This one's the Salted Caramel Cake from Conti's that I ordered in August 2015. It's a very light dessert, with plain chiffon cake layers frosted with light whipped cream (not sure if dairy). The bottom layer is darker than the others, and I think it might be butter cake instead of chiffon cake. Maybe they needed a sturdy base for the cake. On the top of the cake is salted caramel, which I don't really remember as salty. I think the caramel at the bottom of their turtle pie is actually saltier than the one on their salted caramel cake. If you want a cake that won't fill you up, go for this salted caramel cake at Conti's. 🙂 It's 95 pesos per slice.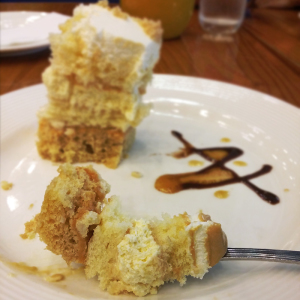 Yummm!
Peach Walnut Torte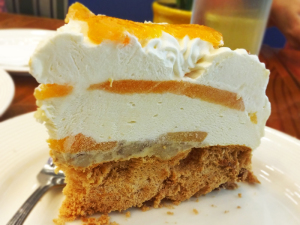 Here's Peach Walnut Torte, with a delicious thick meringue-like crust where the walnuts are mixed in. It has a thick layer of cream above that, and of course – peaches! The crust made this an interesting dessert to me. Only 95 pesos per slice.
More to come! 😉
Related Posts:
Posts that may be related to "Conti's Desserts: a review by a dessert-eating monster":