Background
My chronic spontaneous urticaria still hasn't been resolved, but I still haven't given up on looking into other ailments that may be causing it.
One of my long-term issues is in the stomach: acidity and indigestion. After eating, foods and acid go up my esophagus. During meals, sometimes I get a burning feeling where the food touches my esophagus, and sometimes I feel a slight tightening in the throat with a wheezing-like feeling, like small particles are being stuck there. I also have a problem with digesting food, which I feel sit in my stomach even 3-4 hours after eating. My allergologist said I better have this checked with a gastroenterologist because my stomach problems may be linked to the chronic urticaria I've been suffering from, especially if I have H. Pylori bacteria. I also remember reading from the Delayed Pressure Urticaria Support Group that some people's pressure urticaria went away after treating H. Pylori.
Hoping to find a cure for my chronic urticaria, or at least find relief in my GI issues, I consulted with Dr. Carlo Cornejo online via NowServing app. He's the same doc that helped my husband with his own GI issues. I liked how he explained things clearly using only a few words. I wish I could do that too, as I tend to vaguely explain while using too many words. I told the doc about my stomach problems and also mentioned that I have chronic urticaria. He didn't prescribe any medicine yet on that day, and wanted to check my upper digestive track first through endoscopy to see what's actually going on in there. He said he wants to rule out GERD (Gastroesophageal reflux disease) vs EoE (Eosinophilic esophagitis). I think GERD is a common disease that causes acid reflux in most people, whole EoE is related to allergy cells.
Preparation for endoscopy at Makati Medical Center
Following were what I prepared prior to endoscopy at Makati Med:
Negative test result of RT-PCR Covid test (I got tested at Kaiser in King's Court building, Makati)
LoA / Referral Control Sheet from my HMO, Intellicare (I was supposed to write about the price of endoscopy at Makati Med but I forgot the amount and wasn't given a copy to bring home, sorry.)
Philhealth claim form (because the HMO won't cover 100% of the hospital bill)
Copy of my doc's endoscopy request
Dry fasted for 6-8 hours before endoscopy (no food, no water.)
Be advised that you may also have to personally pay for the medical supplies (docs' and nurses' shoe cover, masks, etc) and "infection control care kit". The cost varies but it can be up to P5000. Yes, it's extra expensive to get a procedure done during the pandemic. 🙁
The endoscopy procedure itself
Come early
Hubby and I were at the Endoscopy Unit at 2nd Floor Tower 2 around 8:30AM. We came 30 minutes early because there's no guarantee that they'll admit me right away, since there are also other patients in line. Luckily, I was first in line! I submitted my documents to the receptionist and signed a waiver, then waited outside for a nurse to call my name.
Briefing and donning the Makati Med gown
The nurse gave me a detailed briefing of the procedure, discussed about my urticaria and triggers, among other things. I was glad I didn't have to remove my clothes for the procedure, just the shoes! They gave me slippers which they let me take home because it was part of the bill. I still had to wear the Makati Med gown though. I tried peeing right before endoscopy, just in case. I was surprised that I still peed some liquid, despite not drinking anything for 6-8 hours!
The endoscopy room
They then let me lay on the hospital bed, and after attaching my IV fluid, they finally took me to the endoscopy room and then took my eyeglasses away. And oh, because my eyes are so bad, I requested that they let me keep my eyeglasses case in the bed so I could wear them when I woke up. Laying down with many layers of clothing felt a bit uncomfortable. 😅
The attending nurse then attached a BP monitor on my right arm, a blood oxygen monitor on my left hand, heart rate monitor pads on my chest, and oxygen cannula in my nose. My gastroenterologist's fellow doctor, Dr. Chatto, asked me questions, particularly what my complaints were. He also examined my stomach for pains by pressing on it. The anesthesiologist, Doc Connie Huan arrived and started asking questions too, mostly about my urticaria. Then I saw Doc Carlo approach to check if I was ready for the procedure, and gave a reassuring pat on my shoulder. Good thing I still recognized him without my eyeglasses. A nurse sprayed a liquid directly into my throat to numb it and avoid gag reflex during the procedure. It tasted like an alcoholic drink and my throat quickly felt numb.
Falling asleep before the actual endoscopy at Makati Med
Last few things I remembered before being knocked out to sleep were being asked to lay on my left side, the nurse attaching a mouthpiece into my mouth, and the anesthesiologist cracking some jokes to help me relax. It was kinda frustrating not being to respond to her because of the mouthpiece. LOL. Gosh, I wish I could fall asleep that fast every night!
Waking up in the recovery room
My eyes opened and I saw the nurses who attended to me earlier. I was in the recovery room, on my back (when did they move my body?) and with my mask and eyeglasses on! To whoever placed the eyeglasses back on me, this four-eyed girl be forever grateful to you!!
Waking up felt weird. It's hard to explain, but it was very unlike waking up in the morning. It's like my eyes just suddenly opened and I didn't feel sleepy at all. Remembering how loooong I waited for my husband after his procedure in this unit before, I tried to sit upright to get the attention of the nurses, thinking that maybe if I tried to look alert they'll discharge me early. Hehehe. And I was right. 😉 They gave me a cup of water to drink when I asked for one. Nothing hurt in my throat at all despite no longer being numb, but just a little bit uncomfortable… I think it's from residue of the throat spray that they applied.
I didn't have an allergic reaction to the anesthesia, thankfully, but I had rashes/hives where the IV, BP monitor, and heart rate monitor pads touched my skin. Not all of them were itchy, but doc Connie the anesthesiologist removed all of them immediately when she realized that rashes and hives appeared on my skin.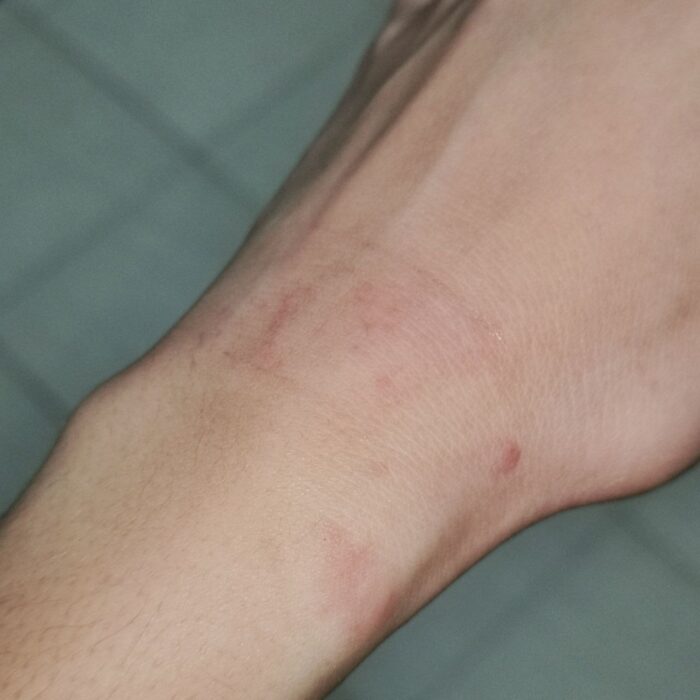 Post-endoscopy consultation with Doc Carlo Cornejo
After my quick stay at the recovery area, the staff led me to a room to wait for my husband and Doc Carlo Cornejo. I think it's common for patients' companion to join the post-procedure consultation with doctors because we're still groggy from sedation.
The general finding is that whatever's going on in my upper stomach, it's not very serious. Although I think that if I waited for a couple more years before having this checked, it may have become serious.
Test for H. Pylori came out negative. I wasn't sure how to feel… relieved because I don't have this ulcer and cancer-causing bacteria, or disappointed that there's nothing to treat related to my pressure hives?
Comments and advice from my gastroenterologist:
Doc is still trying to figure out if my symptoms are related to allergy (EoE) or simply acid reflux. Diagnosis will depend if meds will work.
My lower esophagus (lower esophageal sphincter?) is loose, which may be causing food and acid reflux. Part of my esophagus is also thickened, probably from frequent contact with acid.
There's also a "scratch" in my stomach, another evidence of acidity. The scratch is not deep, but should it deepen, it will be called an "ulcer".
With the meds prescribed to me, my stomach acid will be suppressed as much as possible from 2 weeks to 2 months. If symptoms persist, it could mean I have EoE (linked to allergy). Otherwise it's just acid reflux.
I was advised to avoid dairy (cheese, ice cream, milk, etc.), chocolates, all nuts, and tomatoes for 1 to 2 months. Butter should be okay. This will be hard because the said foods are most of my favorites. We let doc know that my work involving tasting dairy and chocolates will make it a greater challenge, and he told us that I can try eating them in very small amounts and not frequently so that I don't reach my threshold.
Aside from foods to avoid, I was also advised to watch the volume of foods I eat to avoid reflux, since my lower esophagus is not closing properly. Bawal ang eat-all-you-can! I should have earlier dinners, and stay upright 2-3 hours after.
I asked doc about my bloating after eating fatty foods. He said fat is slowly digested so I should try to avoid it too.
Medications prescribed
I'll be taking meds that reduces acid (proton pump inhibitor?) once a day every morning for two weeks, and gastritis meds for dyspepsia (slow digestion) 3 times a day before meals for one week.
Moving forward
I'll report again to my doc via NowServing app after 2 weeks.
My endoscopy experience at Makati Med was smooth and fast. The nurses had a warm, approachable attitude too. I think it was fast because I arrived early when there weren't a lot of patients in line yet, and because I recovered quickly from sedation after the procedure.
Related: Nasolaryngoscopy experience at Makati Med ENT Center
Related Posts:
Posts that may be related to "Endoscopy experience at Makati Medical Center (forgot price, used Intellicare)":