I rarely use a credit card these days but BPI just sent me a renewed credit card. It requires activation before use.
How to activate BPI credit card thru text:
Send the following mesage to 225689 using the mobile number that's registered with your BPI credit card:
BPIACT

&

lt

;

LAST

10

DIGITS

OF

YOUR

CREDIT

CARD

NUMBER

&

gt

;
For example: BPIACT 0123456789
After sending the above message, you should receive a reply from BPI:
"Thank you for activating your BPI Credit Card ending in ****. You will receive a confirmation on your card activation in 2 banking days. Thank you."
How many days for BPI credit card activation?
BPI credit card activation should take 2 banking days.
BPI credit card activation unsuccessful. What to do?
I tried to activate my new BPI credit card thru text 2 times but they were both unsuccessful.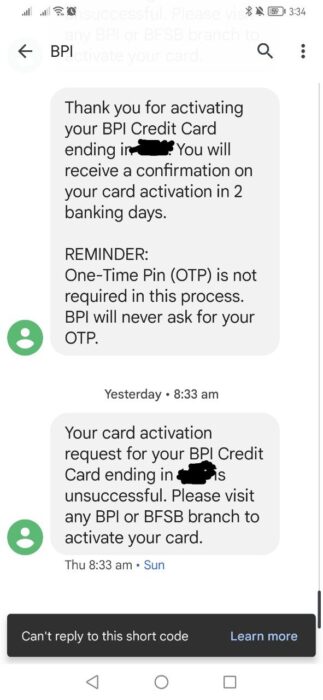 The status update that I received from BPI was:
"Your card activation request for your BPI Credit Card ending in 6217 is unsuccessful. Please visit any BPI or BFSB branch to activate your card."
You may call the BPI hotline number 889-10055 to ask for assistance. I called that number to ask why my activation is always unsuccessful. The agent told me that my current mobile number doesn't match the one in my credit card records! The one in BPI's record is an old mobile number which I lost together with a phone many years ago. I was able to request for a BPI name change and BPI address update through phone banking before, but they can't accommodate mobile number change through phone because of security reasons. After all, they send OTPs to our mobile numbers.
Now I really need to go to a BPI branch to request for mobile number update, and file a request for credit card activation right there. I just hope that it won't take so long.
How to activate BPI credit card at a branch:
Bring 1 valid ID and the credit card that you want to activate at a BPI branch.
Line up for the customer service counters. It took me around 1 hour in the queue before it was my turn at BPI La Fuerza Pasong Tamo (Chino Roces) branch in Makati City. It was a painful wait.
I had to fill out a customer information update sheet for BPI credit card holders first, because my mobile number is outdated.
The banker told me that he will text me later on that day, or the next day, once my BPI credit card has been successfully activated.
I received the text from the banker on the day after going to BPI La Fuerza Pasong Tamo branch.
I also received a text straight from BPI with the following message:
Your BPI Credit Card is now active. You can now enjoy and take advantage of your BPI Credit Card's features and perks. To know more, visit our BPI Website, click on 'Cards' and select 'Credit Cards'. Thank you.

-BPI
Related Posts:
Posts that may be related to "BPI credit card activation thru text unsuccessful":