My husband had a scholarship in Tokyo, Japan and studied there for 2 years. For our coming wedding anniversary later this year, he wants to tour me around Tokyo! In this blog entry, I shall talk about the documents that I prepared and how I applied for a single-entry Japan Visa.
This blog entry will only cover information about Japan visa application for people with Filipino nationality. I won't be familiar about how foreigners in the Philippines may apply for it.
How early can you apply for a Japan visa?
You may apply for a Japan visa 3 months before your trip.
When can you re-apply for Japan visa if your application got rejected?
If a visa application is denied, applicant may only re-apply for the same purpose after (6) months.
Reason for the denial of visa will not be disclosed even if an inquiry is made.
How much is the Japan visa application fee?
1200 Philippine pesos.
Requirements to get Japan Visa for Philippines Passport in 2019
The following are needed to get a Japan visa as a tourist:
Philippine Passport
Visa Application Form
ID Picture
Birth Certificate
Marriage Certificate, if married
Schedule of Stay in Japan
Without Guarantor:
You also need the following if you are shouldering your own expenses during your trip to Japan:
Bank Certificate
Validity of Bank Certificate is three (3) month from the date of issue
Applicant's Income Tax Return (Form 2316) clear Photocopy (latest)
With Guarantor:
If you have a guarantor residing in the Philippines (another person who is paying for your expenses on your Japan trip) then he/she will have to provide the following too:
Guarantee Letter
Proof of relationship between applicant and guarantor (e.g. Birth Certificates etc.)
Bank Certificate (original) and Income Tax Return (ITR Form 2316) (clear Photocopy) of Guarantor
Other info on the requirements:
Document size for Japan visa application form should be A4
You are exempted from submitting birth certificate and marriage certificate if you can submit old/valid passports with used Japan visa.
Submission of any supporting documents not listed above is encouraged (e.g. applicant's
economic or social ties with the Philippines, urgent reasons for visit: medical certificate, wedding
invitation).
Where to apply for Japan visa
It is required that we apply for Japan visa in accredited travel agencies. Several years ago I got my Japan visa from Reli Tours & Travel Agency in Mall of Asia.
This time, I applied at Friendship Tours and Resorts Corporation which is located at the 3rd floor of Dusit Thani, Makati. Other travel agencies accredited for Japan visa application in Dusit Thani are UHI, and Reli Tours & Travel Agency.
Documents that I submitted to apply for a Japan visa at Friendship Tours and Resorts Corporation
My valid Philippine Passport, which will expire in year 2028
My old, expired Philippine Passport which had a used Japan visa in 2014. The old passport's Japan visa had my maiden name, by the way.
Visa Application Form, filled out completely and printed in A4 size paper
A 4.5×4.5cm ID Picture with white background (just tell the photographer it's for Japan visa application and they should know how to set it up) — mine was taken 1 week before I submitted my application
I did not submit a Birth Certificate because I have an old passport with a used Japan visa
Marriage Certificate, requested a few weeks before my Japan visa application
Schedule of Stay in Japan
Guarantee Letter (I resigned from my office job and am still in the middle of setting up my own business, so I could not submit a Certificate of Employment or Income Tax Return. Even if I currently have income, I can't submit any document to prove it. The solution was to make my husband my guarantor for the Japan tour.)
Proof of relationship between applicant and guarantor: this is also our Marriage Certificate
Original bank certificate of guarantor (His bank printed it in a Letter size paper instead of A4, but we had no problem — I was still issued a visa! I think only the application form is strictly required to be on A4 paper.)
Photocopy of guarantor's Income Tax Return
Submission of documents to Friendship Tours and Resorts Corporation in Dusit Thani, Makati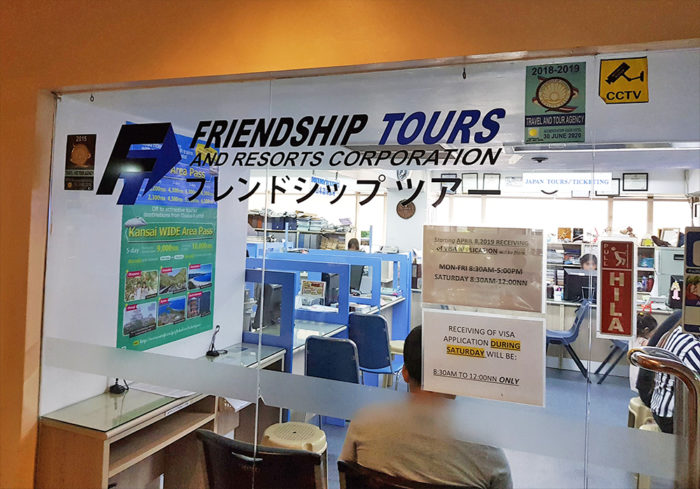 We went to Friendship Tours and Resorts Corporation on a Saturday and arrived around 9AM. Their Saturday schedule is from 8:30AM to 12NN. The office was moderately crowded. We took a printed number for the queue at the Visa Application counters. It wasn't a long wait since there were only about 2-3 persons ahead of us.
When it was my turn, the staff in the counter examined my documents. She stuck a label into the page of my old passport where there's a used Japan visa, and then bound it with my valid passport using a rubber band.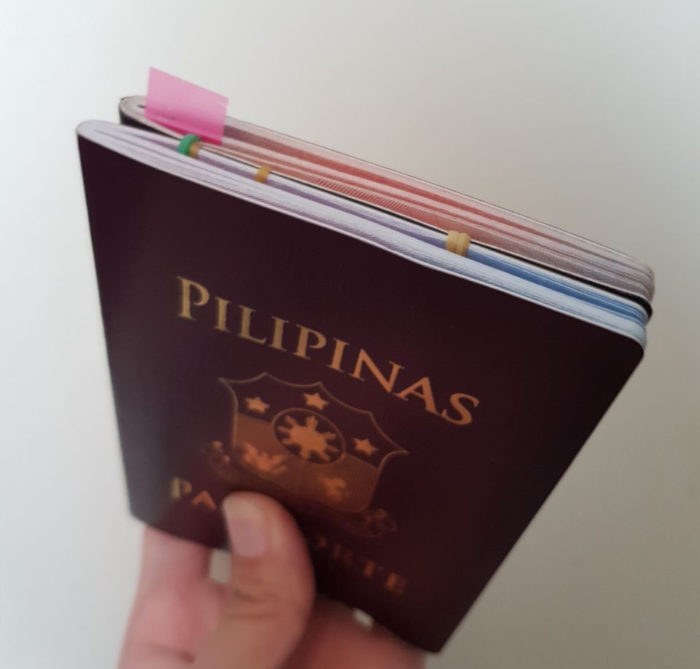 The staff in the counter asked for my payment, which was 1200 pesos, and then gave me a receipt in return. She told me that it will be filed by Monday, and I there should be a result 1 business week after filing. The "1 business week" is probably the maximum time because many applicants get their Japan visa earlier than that.
Before I left, the staff also gave me a claim stub. Do not lose it!!
I walked out of the travel agency hoping that they grant me a visa. I think that the documents I submitted were all valid, and can't think of anything that may cause the Japan Embassy to decline my visa application.
Japan visa was ready after 2 business days!
I submitted my Japan visa application on a Saturday, and then on Tuesday I already got a text from the travel agency that the result is ready. That's 1 business day after the day of filing, or 2 business days after the day applied for a visa.
This was the content of the SMS:
This is an Auto-Generated SMS
Doesn't Support Replies/Calls

Good Day from FRIENDSHIP TOURS & RESORTS CORP. !
Please be informed that you may now claim the passport/s filed in our office for Japanese Visa, kindly present your receipt and/or valid ID to the RELEASING COUNTER.

FOR CLAIMING BY AUTHORIZED PERSON:
Please BRING the following;
1) By1st Degree Family Member:
(Parent,Spouse, Sibling,Child)
**1Valid ID Original & 1Xerox of the Authorized Person
2) Relatives from 2nd degree,
Acquaintance/Friend etc.
Authorization letter with
ORIGINAL specimen
signature of passport holder.
1 Valid ID of Authorized
Person (Original & Xerox)
STRICTLY *
RESULT/S will be given upon
claiming of the passport/s.
&
NO LATE CLAIMANT/S

Schedule for Claiming:
Mon.-Fri.
8:30AM-5:00PM
Sat.
8:30AM-12:00NN
For queries please dial;
LAND LINE: 8109622/8938180
Thank you.
I couldn't claim my passport because I got sick, so I asked my husband to claim it for me. He brought the original and photocopy of both of our valid IDs: his postal ID and my postal ID.
Embassy of Japan granted me a visa! Yay!
Even if I prepared my documents for the visa application meticulously, I was worried that my application might get rejected for whatever unknown reason. If it got rejected — what about the flight tickets and hotel booking that we already paid for? And places we planned to visit… 😱
Well, I got my Japan visa!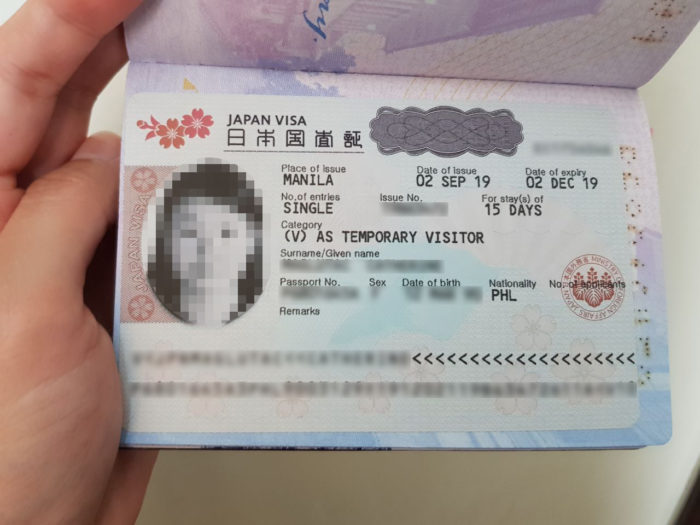 It looks a bit different from the Japan visa issued to me back in 2014.
Time to review some Japanese words and writings for our trip in a couple of months. <3
Related Posts:
Posts that may be related to "How to get Japan Visa for Philippines Passport in 2019":