Rain… ☔🌧️ This is what we have now most of the time this month of August. A person who likes sunshine and beach such as me should be feeling down because of how the rainy season has come to end summertime, but not this year!
I already feel satisfied with the summertime, because me and my hubby (my adventure BFF!) just had our best summer so far:
We went to various Batangas beaches to swim and snorkel. This year I had the confidence to swim in deep water without fins and life vest, and gained a few new friends in these excursions.
I got licensed for Scuba diving and my hubby dived again after several years of not doing so.
We went to the lovely white sand beach of Boracay for the first time — I'd like to go back there again someday.
And finally, we finished a 2.5KM swim at the Swimjunkie Challenge VIP Lobo 2019 open water swim event! We are self-taught swimmers who were not physically active until recently, so this means a lot to us.
What is Swimjunkie Challenge ?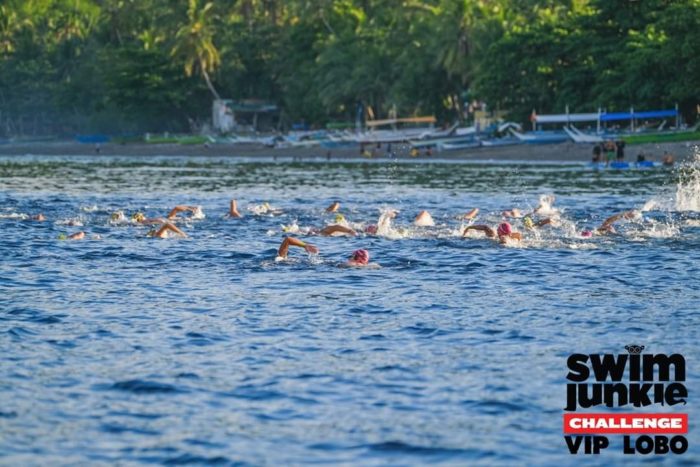 Swimjunkie Challenge is an open water swim race that is held at various destinations in the Philippines. The one we took part in was on June 9, 2019 in Malabrigo Beach, a pebble stone beach in Lobo, Batangas, but there are also other swim destinations such as El Nido and Caramoan. Even when it's called a race, the hubby and I just swam hoping to finish. 😅
Malabrigo Beach
Why we joined Swimjunkie Challenge
Me and my hubby are not triathletes, nor are we trained swimmers… so why did we join an open water swim challenge?
He says "gusto ko lang i-try" (I just want to try).
My reason for joining may be a bit corny. I learned how to swim front crawl (freestyle) last year in a pool that opened near home, and on our succeeding beach outings, I often swam that stroke in the sea and it really made me feel good, even when I only did it in shallow areas and short distance. I wanted to swim a distance in the sea because I could imagine how great that would make me feel, but being the scaredy cat that I am, I always hesitated to do so. I've always been fearful that there may be unknown creatures that may brush up against me. I hate crowds but I enjoy crowded beaches because it makes me feel safe. But the people in the crowd won't swim with me to the distance that I want to cover, of course. A little dream began to form in me: To enjoy a distance swim in the ocean surrounded by many other swimmers to feel safe.
Being exposed to the online world, I eventually I stumbled upon the Swimjunkie Challenge open water swim race. Numerous swimmers would race against each other in the sea… that would be an amazing experience, I thought. Of course I don't even think of actually racing, being the slowpoke that I am; I simply wanted to finish the distance! The VIP Lobo event's shorter distance was only 2.5KM and I thought that maybe I can do it. At that time, the longest I was able to swim was only 1KM. When I told my husband about the event he immediately got interested and so we decided to really go for it. 😀
How I prepared for Swimjunkie Challenge open water swim:
Endurance / General Practice
We decided not to ask a swim coach for help yet because we wanted to test our "raw" skills first. People say that 2.5KM is for beginner open water swimmers anyway.
A couple of months before the Swimjunkie Challenge in Lobo, I began swimming in a 30-meter pool 2-3KM per swim session. I did that at least once a week.
One month before the event, we did our very first 2.5KM swim at Camayan Beach Resort. It was exhausting, and mentally challenging to me because I was frightened by the huge fishes that were leaping out of the water there, which may be mullet fish, or "banak" in Tagalog. When swimming against the current, unknown things brushed against my skin and I have this fear of the unknown that I had to fight back then.
And then one week before the actual event, we went to practice in All Hands Beach Resort in Subic. The photo above was taken while I was resting on a floatie. I was actually just recovered from viral exanthem then so I didn't want to overexert my body. In that beach resort, aside from the fun inflatables, they have lane lines where triathletes usually train for swimming. There's a very deep part in there where I did kind of lose my sh*t but that's okay, because I read a lot of tips about open water swimming prior to that experience. If you begin to panic in fear of deep water, try to look at the sky as much as possible!
Navigation
Like the majority of open water swimmers, I do the front crawl (more popularly known as "freestyle") stroke. When I breathe I get a glimpse of landmarks on my side, but what I need to see is what's in front of me. From YouTube videos I learned about what we call "sighting". During each of my swim training sessions, I practiced sighting by lifting up my head just enough for my eyes to be above water in time with the "pull" phase of my stroke, to see landmarks in front of me. Maybe I looked like an alligator/crocodile.
In Camayan Beach Resort, I was able to practice this well. I set a tall green "house" as my reference point on one side, and a "pole" on the other side — we swam back and forth within a 70-ish meter lane-lined area to complete 2.5KM, and I made sure that each time I did sighting, I was headed to the house or pole's direction.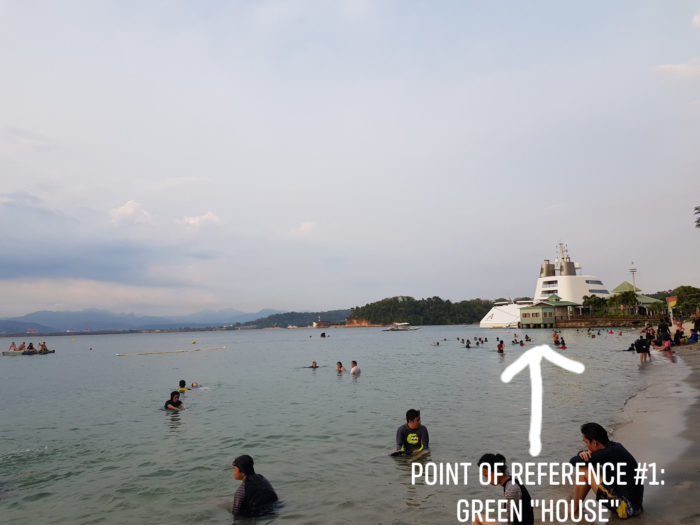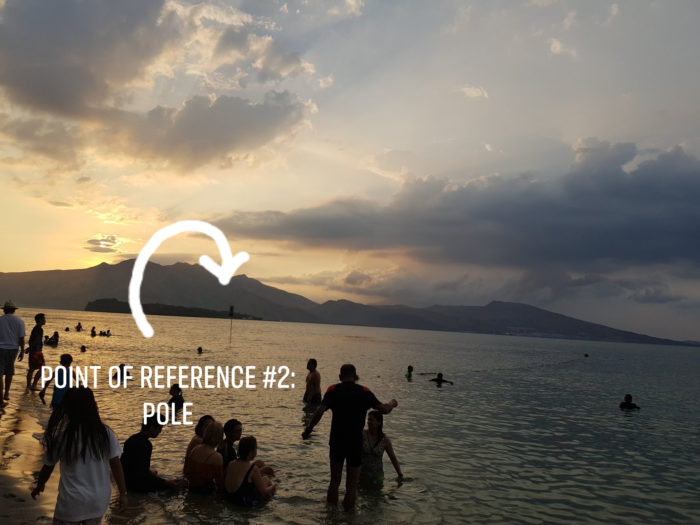 Fear of Deep Water
My Level 1 Training for deep water: Do it while enjoying the view of underwater life: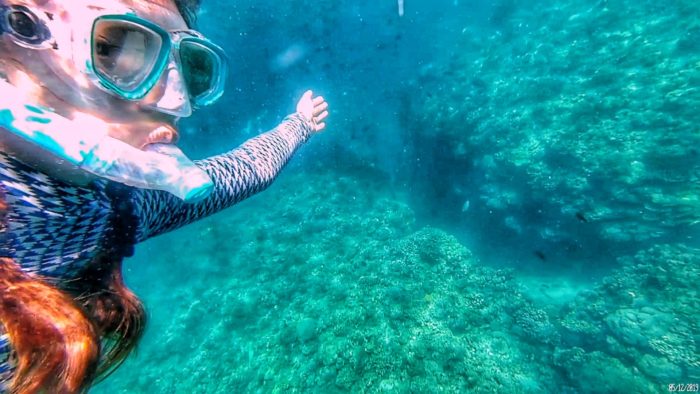 My Level 2 Training for deep water: Do it in an environment similar to the actual event, where you'll see nothing but BLUE in the water.
Before the actual Swimjunkie Challenge in Lobo, we practiced at All Hands Beach in Subic. We found out by doing online research that many triathletes train there.
At All Hands Beach Resort, there's an area that seemed like the best spot to practice distance swimming. It is enclosed by lane lines, forming a square shape. If I remember correctly, each side of that square was around 300M, so we swam along the sides of the square 8-9 times.
Take note that the resort prohibits solo swimming within that square, probably because water in every corner of that square is deep and the feet won't reach. When we get tired we hold on to the yellow floaters of the lane lines. There were spots inside that square where water was soooo deep that all I could see was blue. I started panicking when I realized how deep the water I was swimming in. And there were no other people there, just me and my hubby who is already so confident in the water and was swimming far away from me. 😱I was eventually able to control myself when I recalled what I read from an online article: When you begin panicking in the deep water, keep looking at the sky as much as you can, then you will start to calm down. Focus on your strokes and get moving, instead of thinking about what's underneath! I did exactly that, and to my relief, I was able to calm down little by little. Each time I took a breath on my side during my front crawl / freestyle swim, I looked up at the sky. And each time I would lift my head up to sight ahead of me, I also looked at the sky to feel safe. I focused on my strokes, just wanting to move ahead and cover the required distance for my swim practice.
I didn't get frightened of the deep water in the actual Swimjunkie Challenge VIP Lobo event because of the fear I conquered during training, and knew how to overcome the fear of deep water should it start to kick in. I'm also thankful for what Betsy Medalla (founder of Swimjunkie Challenge!) said during the race briefing: you only need to swim forward, not downward. 🙂 Simple words, but made perfect sense, right?
What it was like swimming 2.5KM in deep open water
Tow float
We bought tow floats for safety as we swim in deep open water. Swimmers may hold on to tow floats when they feel tired and need to catch their breath. It became a little bit annoying during my swim because my hands kept hitting it at the end of my stroke's pull phase. Maybe I just need to figure out the best adjustment for it.
Sea urchins
At the starting point, I saw sea urchins where the water begins to get deep. Good thing the water is already deep there. Sea urchin stings are nasty so never touch or step on those!
Race start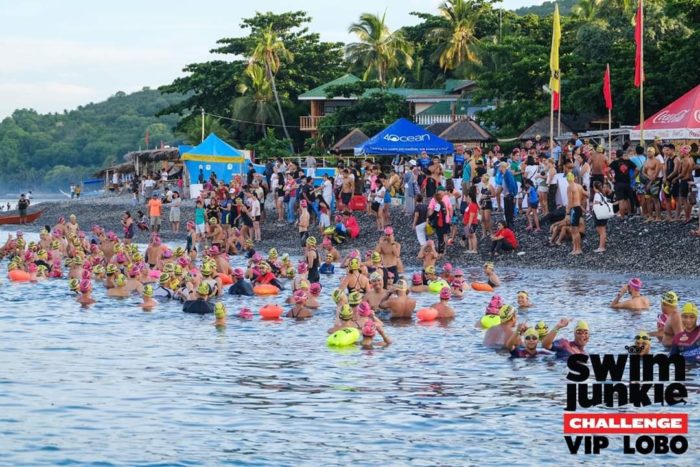 We took it easy during race start, because we were really there just to have fun swimming. 😆We let most of the swimmers swim ahead of us. Then my goggles got flooded with water when I was already in a deep part. How lucky! I leaned on my tow float as I tried to fix my goggles. It wasn't easy 🙁 but I got through that.
My hubby and I agreed that we wait for each other at each raft.
I looked at the water where we were about to swim. It seemed calm, but we were warned that current and swelling of the water will rise 1 hour after the start.
The rafts with marshals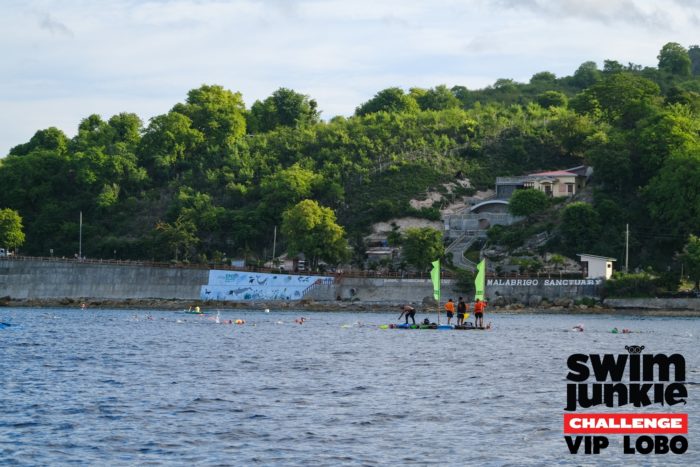 The rafts with colored flags served like checkpoints for swimmers to make sure they're headed to the right direction. We memorized the colors of the flags in order, just to be sure we don't do unnecessary detours during the swim.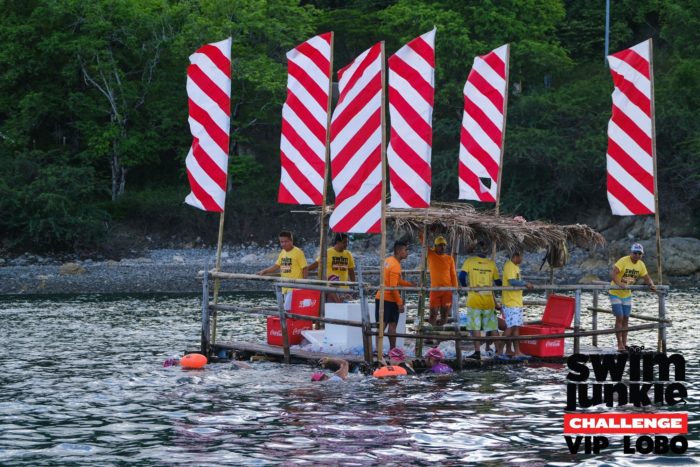 I wouldn't have made it if it wasn't for the rafts where we could hold on to to catch our breath, and to take a sip of water. The Swimjunkie marshals on the rafts let us drink water from bottles. There were lots of water bottles used during the event, especially in the turnaround point, which I hope were all disposed properly. 🙂
The man who did breastroke all throughout his swim at Swimjunkie Challenge VIP Lobo 2019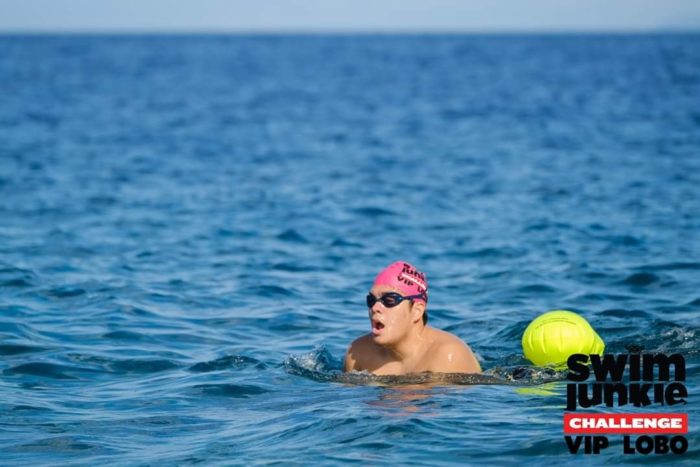 My husband always swam ahead of me despite the fact that he did breastroke all throughout the swim event! It's either because I'm too slow, or he's too fast… but let's just say he's too fast! 🤣🤣🤣
Halfway from starting point to turnaround point
A huge percent of the areas where we swam at Malabrigo Beach was so DEEEEEEEEP that all I could see was blue… and jellyfish! 😱The deep water did not frighten me because I came prepared (more on this later) and the numerous swimmers and Swimjunkie marshals that were around made me feel safe. I was lucky because I had minimal jellyfish stings, just a few minor itch here and there.
At this point we saw that some swimmers were already making their way back from the turnaround point! We swam with many amazing swimmers — it was an honor. <3
Chafing from swimsuit
At one point, I thought I got stung by a jellyfish on the side of my neck. Turns out, the strap of my swimsuit began to cause chafing on my skin.
The Swimjunkie Challenge swim cap might be part of the challenge
The swim cap distributed among swimmers did not fit well in our heads… maybe the hubby and I just have large heads?! lol. We overheard a foreigner complain that the swim cap didn't even fit. I turned to glance at him and saw that he had thick, curly hair. 😆There were times during the swim when the cap slipped off my head. I fixed it when I arrived at the next raft. A moment before the swim started, we saw one swimmer wearing a non-Swimjunkie swim cap. I thought we were all required to wear their cap. 🤔I wonder if she was exempted for some reason.
The solution to headaches and panic attacks during a long swim
When I was already swimming halfway from the turnaround point to the finish line, my head was already hurting. This usually happens when I get so worked up while swimming and "forget" to always exhale when my face is underwater. I tried to keep the headache from getting worse my attempting to always breathe out when my face is underwater. I think it's pressure buildup in my head that is triggered when I'm not breathing in and out regularly.
There were also a few times when I had a panic attack. What helped was the same thing: keep breathing at all times. Breathe in when your mouth is in the air, and keep on breathing out while your face is underwater by doing slow controlled exhalation.
The current at Swimjunkie Challenge VIP Lobo 2019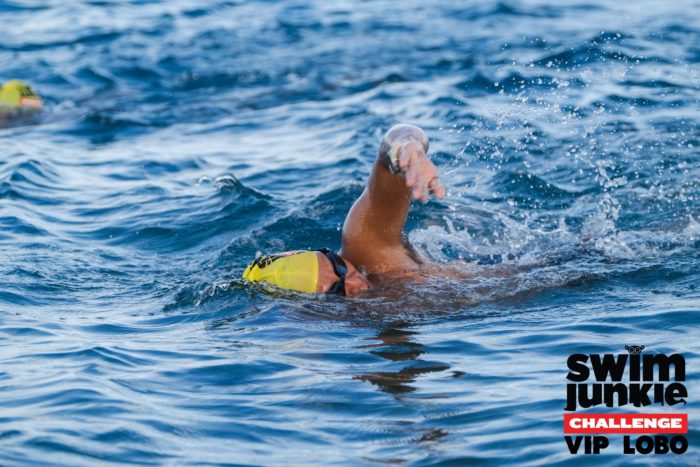 The greatest challenge in the swim was the current! That feeling when you keep on swimming but don't feel like you're moving… 😅
The swim started around 6AM when the water was still calm, and around 7AM we were on our way back from the turnaround point — that was the time when the strong current kicked in.
I've heard from regular Swimjunkie Lobo swimmers that it's the strongest current to date on a Swimjunkie Challenge VIP Lobo event. Wow… and we casual swimmers got through that? How can we be not proud of ourselves? 🥰
Just keep swimming forward despite the wave of anxiety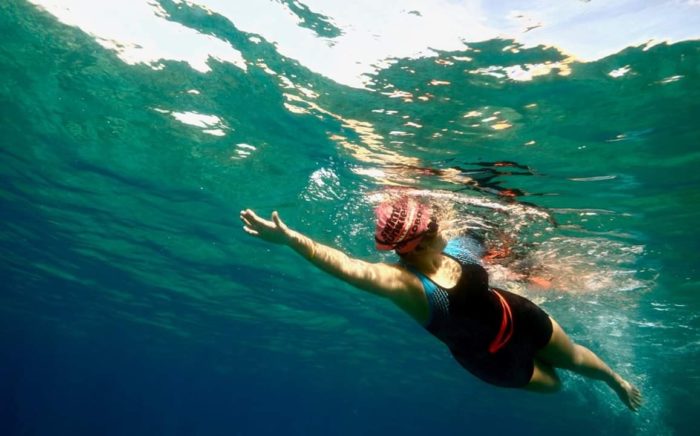 Race Finish
The finish line was already in my line of sight, and yet the current kept sweeping me away. Eventually I was able to reach it. YAY! 🎉
Ms. Betsy, the organizer, shook my hand to congratulate me. I think she shakes each and every swimmer's hand when they finish. That's a really nice gesture and makes me respect her even more.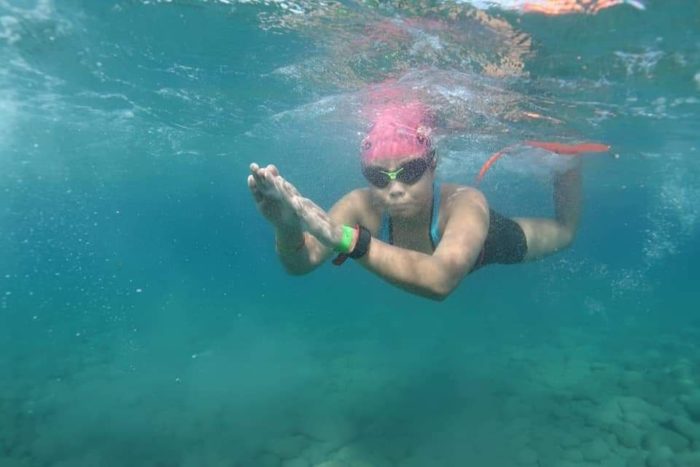 Post-Race
We were awarded with a beautiful finisher's medal.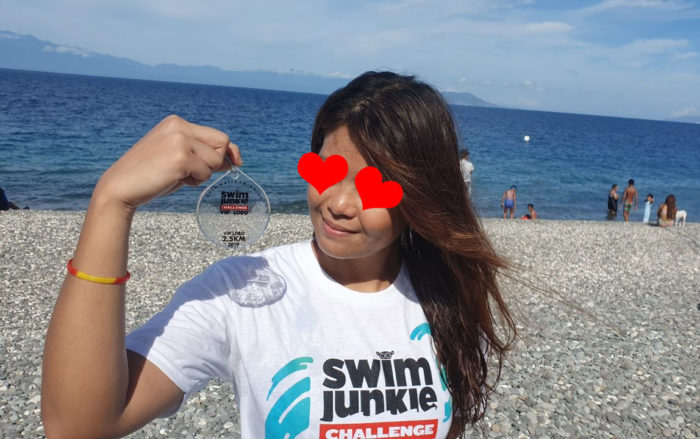 They also gave us finisher's shirts and we really like the design!
We also received free Arena swim caps, given in random colors. xD
Best-so-far summer experience
This is a video of me swimming during Swimjunkie Challenge in Lobo! I minded how my strokes looked like because I noticed that Mr. Robert Suntay was filming the swimmers who passed him. 🤭🤭
Thank you Swimjunkie Challenge for the awesome summer wrap-up experience! You made my little dream come true.💙🏊
There's a possibility we might join Swimjunkie Challenge El Nido next year, if we are able to level up our swimming skills. 🙂
Just keep swimming!
Thanks
Thanks again to Swimjunkie Challenge for this memorable experience. I'm sure everyone in the team worked hard for this. Well done!
Thanks to my husband for joining me in these adventures. Where to next?
Thanks to our family who joined us during training, and family and friends who cheered us on.
Thanks to many amazing swimmers for the inspiration and motivation.
Thanks to YouTube because I wouldn't have learned how to swim without those swimming videos. 😊
Credits go to Swimjunkie Challenge, Mabel Demavivas, and Robert Suntay for some of the photos in this article.
Related Posts:
Posts that may be related to "Wrapped up summer with Swimjunkie Challenge VIP Lobo Open Water Race 2019":