If you prefer to apply for a postal ID at one of the PHILPOST branches in malls, then I think you'll get valuable information from this page. We chose to get our postal ID from SM North EDSA; it wasn't an easy process for us because of things we didn't know beforehand. And now, I'd like to provide you guys information that will help you avoid the inconvenience that we had gone through. 🙂 We think the PHILPOST website may not be updated with the list of requirements for application.
You may also read about Rush Postal ID Renewal Requirements, Price, Procedures 2021.
Postal ID: SM North EDSA Requirements
Following is the list of documents you need to bring to the SM North EDSA capturing station, applicable to both application and renewal of postal ID: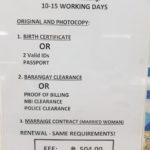 2 accomplished postal ID application forms
Birth certificate, 2 valid IDs, or passport
Barangay clearance, proof of billing, NBI clearance, or police clearance
Marriage contract if you are a married woman
Photocopy of all documents except the postal ID application forms
Cost of Postal ID at SM North EDSA
At PHLPOST in SM North EDSA we were charged P504.00 for each postal ID, which is the same cost listed in the PHLPOST website FAQ.
During application for Postal ID at SM North EDSA
Once your documents are verified as valid and complete, the PHLPOST staff will take your photo, digital signature, and digital fingerprints. Such a waste that they have digital signature and fingerprint scanners but don't have photocopy machines. It must be the lack of space in their spot.
Delivery of your postal ID
At SM North EDSA PHLPOST, there's no rush processing and you need to wait 10-15 working days. On the postal ID application form you should be able to choose whether you'd like it to be delivered to your home address or work address.


Update: One of us received her postal ID early. We applied together for postal ID at SM North EDSA on January 27. Expected delivery date was within February 8 to 14 but she received it on February 6, 2 days earlier than expected.
…
Applying for postal ID at SM North EDSA was very inconvenient for us because the requirements listed in their website did not match the ones that PHLPOST SM North EDSA was asking from us. Read on to find out what happened.
Inconvenience #1 at PHLPOST SM North EDSA:
Inconsistent list of requirements versus what's listed on their website
In the Philippine Postal ID website it is said that you only need 1 ID if you are presenting your birth certificate, UMID card, driver's license, or passport… but it's NOT TRUE. Fake news po yaan, at least at the PHLPOST SM North EDSA branch. I presented my SSS UMID to the PHLPOST staff but she said they need a total of 2 valid IDs if the ID I'm presenting is not my birth certificate or passport. We told the staff that their website says we need no other valid ID if presenting a UMID. She insisted that they are only following the memorandum passed on to them, which states that applicants are required to present 2 valid IDs if not able to present bring birth certificate or passport.
Inconvenience #2 at PHLPOST SM North EDSA:
Website doesn't say you need to photocopy your documents; PHLPOST SM North EDSA will require you to photocopy somewhere out there because they don't have photocopy machine
We tired ourselves out walking from building to building at SM North EDSA to look for photocopy service. National Bookstore's was closed at that time. If you need to photocopy something in that mall, go straight to either Western Union at the Hypermarket or FAX PARCEL PRINT. FAX PARCEL PRINT also provides lamination service.
Inconvenience #3 from PHLPOST in general
PHLPOST provides inconsistent information to people, an example being the previously mentioned issue with my SSS UMID card for identification. Another example is that I messaged the Postal ID Facebook page to ask if I would be allowed to use a utility bill that's under my husband's name as proof of my current address. Unfortunately, they said that the utility bill needs to bear my name. I wasted time preparing other docs that would prove my residency at my current address, only to find out at PHLPOST SM North EDSA that I am allowed to use a utility bill bearing my husband's name! Geez.
What the postal ID looked like:
Anyway, here's what my postal ID is like. Of course I pixelated private information including my face 🙂 Most people and establishments who require valid ID honor this.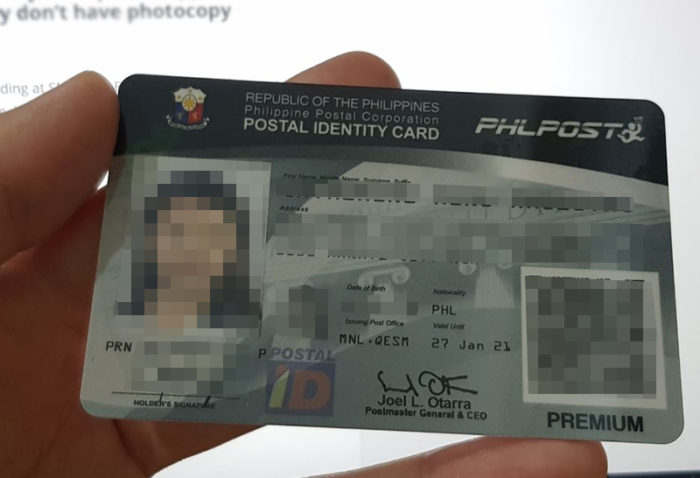 Related Posts:
Posts that may be related to "Get your Postal ID: SM North EDSA (2018 January)":