In August, a companion and I wanted to get away from the city during a long weekend. We didn't want to go somewhere too far from Manila, and were looking for just a little adventure in the trip.
Because of that, we decided to go to Subic Bay Freeport Zone. 🙂 I'm going to include a Subic Park Hotel review in this blog entry, as well as a list of places that we visited in Subic. It was a fun, unforgettable Subic trip to me. Mostly because of Zoobic Safari and Xtremely Xpresso Cafe.
Without a car, we either walked (we like walking!) or took a cab (all rates are fixed per destination). Places we visited were Zoobic Safari, Xtremely Xpresso Cafe, Meat Plus Cafe, Freeport Exchange, Duty-Free Puregold, an S&R Pizza place with no membership required, and the beach somewhere behind Subic Park Hotel which didn't seem good for swimming or dipping.
Going from Manila to Subic
We took a Victory Liner bus bound for Olongapo at the station in Monumento. We departed at 10:45AM, and dropped off at Harbor Point mall by 1:20 PM. That was 2 hours and 25 minutes of travel from Victory Liner Monumento Terminal to Subic Freeport Zone, pausing for a stopover once. And that was 225 pesos per person.
We were tired, so we went straight to Subic Park Hotel via taxi.
How to go to Subic Park Hotel
"Subic Park Hotel is a boutique hotel situated in the central district of Subic Bay Freeport Zone along Moonbay Marina, Waterfront Road."

"Subic Bay Freeport Zone is 110 kilometers north of Manila, less than 3 hours drive from the North Luzon Expressway (NLEX). Travel along the SCTEX to Subic Freeport. After passing through the SCTEX, drive all the way to Rizal Highway, turn left up to Manila Avenue all the way to Waterfront Road, then turn left going to Moonbay Marina compound heading towards Subic Park Hotel just along the road."

"Victory Liner can also provide regular transport air-con bus services to Olongapo City from Pasay or Caloocan terminals. A short jeepney ride or taxi takes you from the Victory Liner terminal in Olongapo City to the Freeport where a taxi can take you directly to Subic Park Hotel."

Source: Subic Park Hotel – Location
Taxi Fare Rates in Subic Bay Freeport Zone
Before we begin with Subic Park Hotel review, here are photos of the "taripa" or taxi fare matrix that applies for taxi trips within Subic Bay Freeport Zone:
---
Subic Park Hotel Review
From outside Subic Park Hotel
That's how Subic Park Hotel looks like from outside.
Subic Park Hotel is located at Moonbay Marina, Waterfront Road Subic Bay Freeport Zone Olongapo, Zambales , Philippines. You can contact Subic Park Hotel by phone – dial (047) 252 2092-93.
And here's the cozy lobby of Subic Park Hotel, where nice receptionists accommodated us:
The hotel made use of yellow lights that brought out the homey appeal of the interior.
Standard Queen room at Subic Park Hotel
The rate of a "standard queen" Subic Park Hotel was 2250 pesos per night. The room did not have a hair dryer by default, and it was inconvenient because there wasn't any available hair dryer when we requested. We didn't have a hair dryer on our first day and night, because it only became available on our second day.
A closet with hangers and shelves was placed near the room's door. There were paintings that made the room look more appealing. A TV was lying on a desk near a mirror, waiting for guests to get bored and turn it on. xD Complementary bottled water, which were supplied daily, were sitting on top of a small fridge.
There was no safety deposit box and no toothpaste + toothbrush set (not sure if available upon request) in the standard queen room.
Our room was not far from the pool, and we knew of the potential noise at night because during the day, we could hear people's laughter from the pool. At night, we could hear faint bass trembling from somewhere… maybe from a karaoke bar. It wasn't the worst hotel noise at night that we have experienced so far, but it still bothered me because I am sensitive to sounds. If you are sensitive to noise at night, I suggest you ask the hotel for a room that is far from the pool and far from the karaoke place.
Young cockroaches have been encountered in the room. I "took care" of a small one in the bathroom and a half-inch one on our bedroom wall near the bathroom door. Not the worst, because I have a childhood memory when we went to a reputable hotel, and when
I saw more than 5 large cockroaches running around when I opened the bathroom door. I guess these pests are just really hard to control…?
Dinner at the restaurant of Subic Park Hotel
Instead of free breakfast, Subic Park Hotel serves free dinner to guests.
The restaurant at the hotel was very homey, and I felt relaxed and sleepy while sitting there.
On the first evening, we ordered creamy garlic pasta and yellowfin tuna fish with vegetables. The creamy garlic pasta was very creamy and tasty. The garlicky sauce cling to the pasta, and that is the kind of pasta dish I like. It's too bad that I forgot to take a picture of it. The yellowfin fish was fried, and so-so in my opinion. There were many bitter parts in the fish. The other dish that night was crispy chili chicken, but we didn't order that.
Steamed fish with cucumber sauce and creamy vegetables and Country fried chicken with coleslaw were our meals on the second evening.
Steamed fish was very bland and lacked juice. The cucumber sauce didn't taste like cucumber to me. The creamy vegetable side dish made up for this unsatisfying meal because adding it to every spoonful lent a little bit of juice and flavor to the dry fish and rice as I chewed.
The Southern fried chicken was tasty and had a nice aroma to it, but it was also lacking juice. Gravy would have made the dish much better, but they didn't serve any. Their coleslaw was so-so.
Breakfast at Subic Park Hotel's Restaurant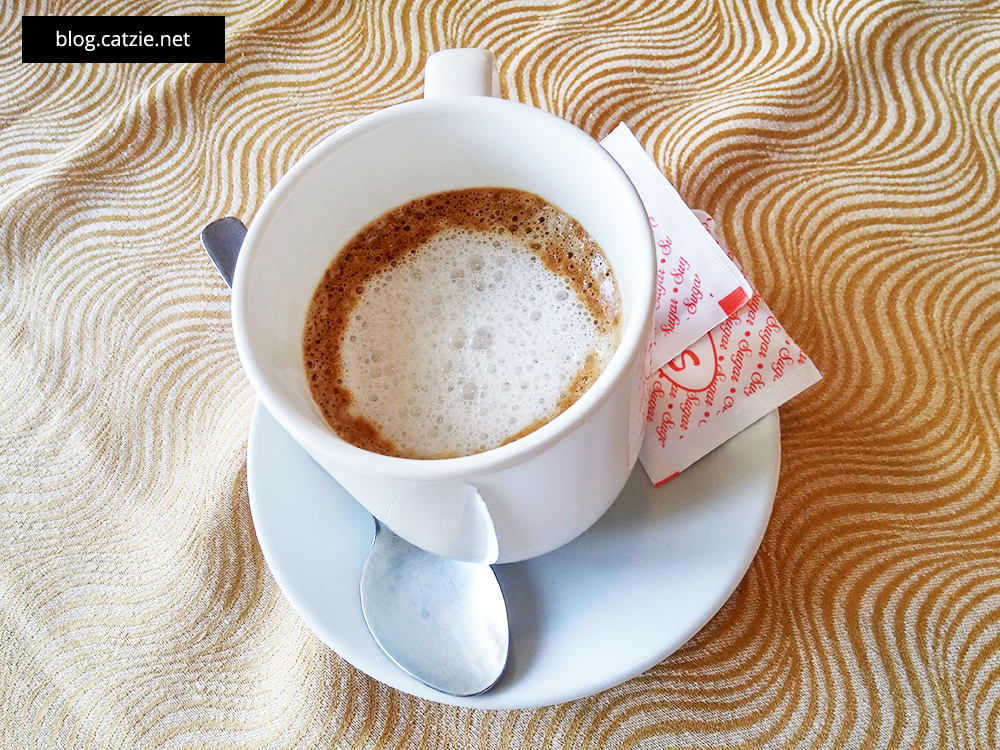 We ordered tea, cappuccino, and banana crepe a la mode for breakfast at Subic Park Hotel.
The cappuccino's flavor was on the bitter side, and the texture was a bit "heavy" my tongue could almost feel the texture of some fine powder in it. Maybe their filter was not fine enough? The texture didn't bother me that much though.  I liked the bitterness of the coffee more with every sip.
We waited long for the banana crepe with vanilla ice cream that we ordered. Good thing there was a nice, relaxing view of the hotel's pool and beach from the window.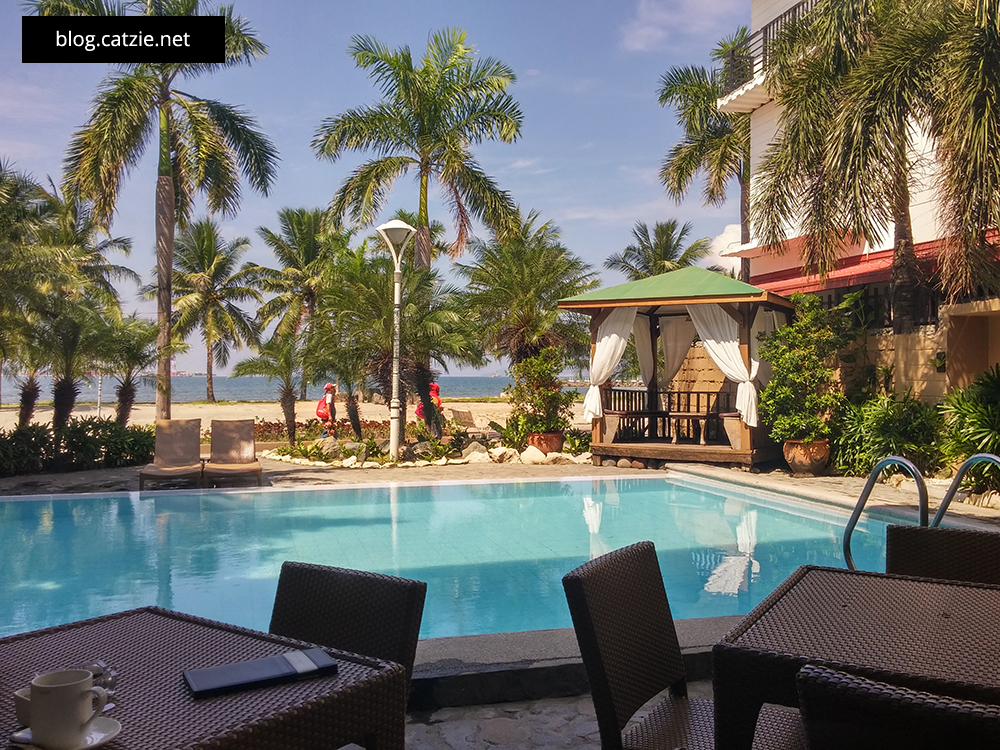 After 15 to 20 minutes, our banana crepe a la mode was served! 🙂
The crepe looked good and tasted good, though! Banana and vanilla ice cream go well together. And typing that just now made me crave for anything that has banana and vanilla cream in it. (T_T) I think it was nice that they put the ice cream right on the plate instead of on top of the warm crepes so that it won't melt so fast.
Beach near Subic Park Hotel
Go past the swimming pool at Subic Park Hotel, and exit at the back of the hotel. That's the way to the beach! There were people by the beach but nobody took a dip in the water. It's not in condition for swimming, but the beach is a nice place to pass time and relax. There are benches there and also what seemed to be a karaoke bar (probably where noises at night were coming from).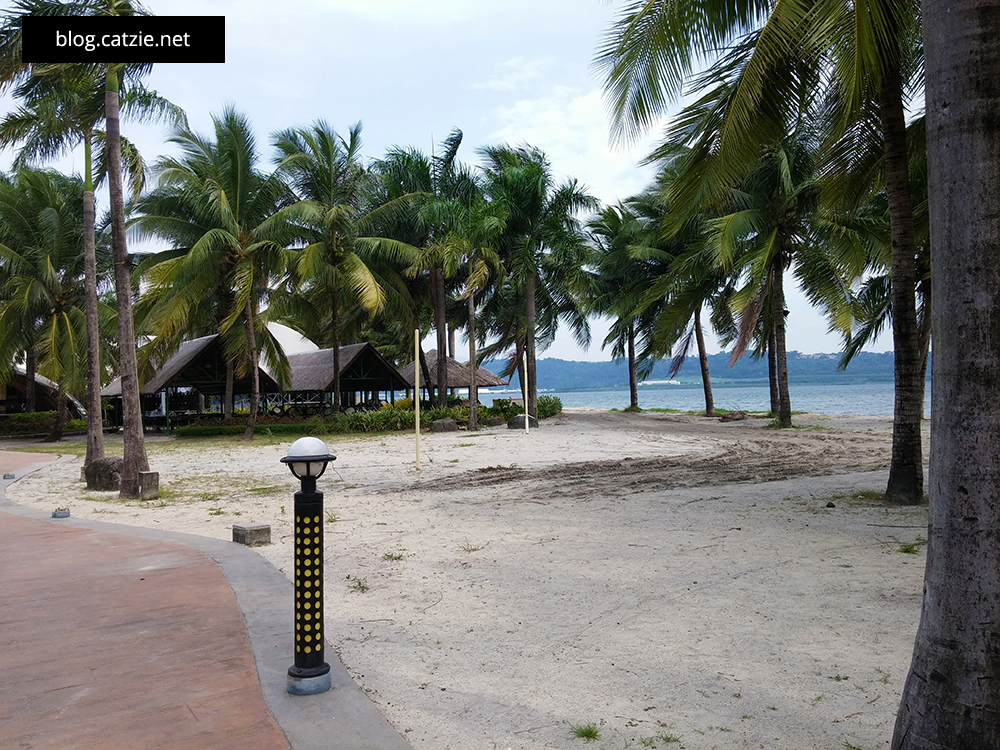 Panoramic view outside Subic Park Hotel
I liked how spacious the surrounding area was. Take a look:

It's very different from my crowded hometown in Manila. The vast space before me made me feel some sense of freedom.
Places we visited in Subic
While staying in Subic, we went to to Meat Plus Cafe for delicious steak (their vegetable side dish was SUPERB!) We also enjoyed delicious food at Xtremely Xpresso Cafe and S&R pizza store (no membership needed here, like in Cubao). We had a great time with the animals at Zoobic Safari. Before going home, we went to duty free stores like Freeport Exchange and Puregold Duty Free.
I'll try to write separate posts for the places we visited in Subic. 🙂
For the duty free stores, I really don't plan to write another post, so I'll talk about those here.
Here are only some of the products that we saw at Freeport Exhange in Subic. There were many uncommon drinks and snacks, most of which were in HUGE bottles and bags. Probably American size, huh?
At Puregold Duty Free in Subic, here were some of the products. I think the products at Puregold Duty Free were cheaper than those in Freeport Exchange, at least during the time of our trip:
Pasalubong shops near Subic Park Hotel
The only nearby place we found pasalubong or "souvenir" items at was at Waterfront area. You'd see several pasalubong / souvenir stalls there, selling t-shirts, jewelries, and others. You can also buy similar items at pasalubong / souvenir shops during your trips at attraction sites such as Zoobic Safari. Of course, you can also just buy chocolates from the duty free stores like Puregold Duty Free. I recommend getting those big bags of mini chocolates like Snickers, Twix, Milky Way… 😀
Related Posts:
Posts that may be related to "Subic Park Hotel review, taxi rates, and places to visit in Subic":