I usually post in English, but this will be a mix of English and Tagalog. I'm writing this to let people know of a way to somehow shorten the lines for ticket booths at LRT-1 Northbound. It seems that not every passenger knows about the "Modified Coupon System". Pa'no ba naman, hindi kapansin-pansin yung posters nila tungkol sa bagong system. Wala man lang ibang form of announcement.
---
LRT-1 Beep Card Update:
Pwede nang gamitin ang Beep cards at any LRT-1 station, Northbound man o Southbound! I'll try to keep updating the post about my LRT-1 Beep card experience when there's anything new to add. 🙂
---
If you take a Northbound LRT-1 train every night like I do, then you've experienced the very long lines just to buy a coupon (ticket). The coupons are being used because the Beep card system has not yet been implemented for Northbound trips of LRT-1.
Paano nga ba mababawasan ang pila sa LRT-1 Northbound?
Pwede na tayong bumili ng hanggang 5 coupons per transaction, thanks to this temporary "Modified Coupon System" for Northbound LRT-1 trips.
Meaning, the next few times you have to take an LRT-1 train Northbound, you proceed straight to the platform area, past the long line of people who are just about to buy their coupon. UNLESS may pila sa platform area dahil sa "Passenger Limit per Platform" scheme nila.
Kung may pila man dahil sa limiting of passengers, I think it's okay. At least we skip the long lines for the ticket booths.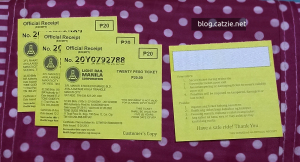 Honestly, when I read about this new system, medyo nainis ako. Ang impression kasi sa akin, mapapatagal pa ma-implement ang Beep card system sa Northbound side ng LRT-1.
My game plan for my nightly Northbound LRT-1 trips
Note: Five times per week, I take a Northbound train.
Every Monday morning, I'll go to the Northbound side of my LRT-1 station just to buy 5 coupons. Less hassle ito, kasi maikli lang usually (and relatively) ang pila sa ticket booths pag umaga. 🙂
Tapos ayun, having 5 coupons every Monday, I'll have enough coupons hanggang Friday na, para sa gabi-gabi kong pagsakay sa LRT papuntang North.
Mas okay kesa gabi-gabing pipila sa ticket booth diba?
Alternative on Mondays: Minsan may kahabaan din ang pila sa Northbound pag umaga, so pwedeng every Monday night pipila tayo para bumili ng 5 coupons. :3
Pa-kwento lang ha…
This week I noticed a new poster at an LRT-1 station pero hindi ko gaano mabasa kasi sa super babang part ng dingding ba naman dinikit, natatakpan ng legs ng mga passengers na nakapila sa ticket booths. So hinanap ko sa Twitter ni @attycabs and @officialLRT1. Found it! Heto siya: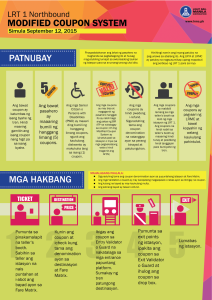 Then I asked LRT-1 staffs, just to confirm, if I could go straight to the platform area for as long as I have extra coupons. I was in doubt because there was one night when I think I heard a guard telling a lady that she still needed to fall in line even when she already had a coupon. That was before I saw posters of the "Modified Coupon System" at LRT-1 Northbound stations though.
So tonight, I took a little detour. Dumaan muna ako sa mall na kadikit ng LRT-1 station na sinasakyan ko. Yung top floor kasi, may exit na diretso na sa entrance to the platform. Tinanong ko muna yung guards, "Pwede na po dumiretso sa loob? May ticket na po." And they said, pwede na.
It was a less stressful evening. Di na ko naging parte ng mahabang pila papuntang ticket gates. Swerte din dahil walang pila sa platform area sa station ko. Try niyo na rin! 😀
Related Posts:
Posts that may be related to "To avoid lines at LRT-1 Northbound: buy up to 5 coupons per transaction":