Today I emailed BPI Direct, asking if the interest rates in the following table taken from their website is monthly rate.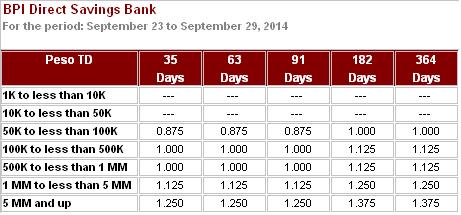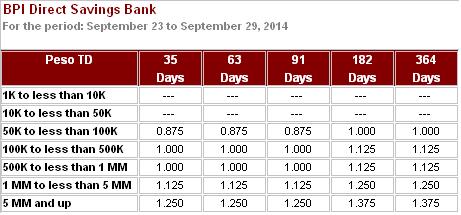 The table of BPI's time deposit rates above may have changed already as you read this blog entry, so please verify in this page: BPI Direct – Time Deposit Rates.
This was the response I got:
Please be informed that the interest rate posted in BPI Express Online is computed per annum.

Sample computation for 364 days:  

Principal x Rate x Time / 360  (less 20% witholding tax) = gains 
   (50,000.00 x 1% x 364)    =  505.55 – 101.11 (20% w tax) = 404.44 
                   360 
The amount is too small for me. What do you think?
Related Posts:
Posts that may be related to "Sample computation of interest – Time Deposit Rate from BPI Direct Savings Bank":