This was an old draft that took long to get published. 😆
The Travel
My bottom hurt from the long bus ride.
At Monumento, we took a bus bound for Iba, Zambales. The travel was over 5 hours, if I remember correctly. We had stopped over places several times, for not a short period of time. 🙁
Also if I remember correctly (Hehe, my bad for not posting this sooner), the fare was about 300 pesos per person.

The Restaurant
On our first evening we were told we can go to the restaurant for dinner until 9:30PM, so being tired from the 4-hour bus ride from Manila, we took a nap until 8PM only to find that the restaurant had already closed! We talked to a staff at the reception area, and they said that the restaurant closed because they THOUGHT we were already asleep. I think it's not good to close the restaurant earlier than the stated closing time because of the "assumption" that all guests were already asleep. The good thing was that they still accommodated us — they fetched the chef from home back into the resort's restaurant just to cook for us, so thanks!
We LOVED the Buko Pandan Shake. It was so creamy and has a distinct coconut taste. We tried mango and ube shake too and they were good too, but buko pandan is still their best, in our opinion. Their shakes are all smooth and unlike regular shakes, don't have small crushed bits of ice that kind of get in the way when I sip from the glass. The Italian pizza was also nice.
The Beach

We came to Rama Beach Resort on a weekday – Thursday. We had the beach almost to ourselves and it was really clean. I didn't like many "plants" floating because they kind of got in the way, but I put up with it. It's part of nature anyway.
There were too many waves to just relax in the beach water. But we got used to it and had fun, going against the waves. 😆 The waves kept pushing us back to the shore, and it was as if nature didn't want us to go farther into the sea. 🙁
The sand surface beneath the water was uneven, probably caused by the waves. But it didn't feel unsafe.
The shore only became rocky on our 3rd or 4th day. Only a bit painful to step on.
Lucky us we did not see or brush against any jelly fish. There were also only a few crabs on the beach. They can be a pain (literally) sometimes when scurrying around in great number. 😆
The Room
The Deluxe room we had was for four people. If you are only two people, you have a big room for four. But if you come as a group of four, you use the same room but have to pay for the two extra people you're with. So I guess this Deluxe room is more sulit if you're only two persons.
It's clean and spacious. It has a nice view of the backyard where one could see part of the beach. And cute dogs walking around. :3
There were two cute little monkeys too. It was fun watching them.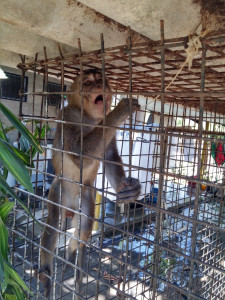 Hmm.. if I remember correctly, there were a few mosquitoes flying around the room. But I don't remember being bitten a lot.
And oh, I like leaving the window in the bathroom for ventilation since there was no exhaust fan. Bathrooms need ventilation. It was situated in a high place, but I noticed someone passing by that window! 🙁 Good thing I was not naked during a bath back then. But that was a privacy issue in the room. 🙁 See one of the pics below for how the bathroom window looks. It's covered with green mini curtain.
The Pool
The pool felt more cozy than the regular rectangular swimming pool with blue/white sides and bottom. This one had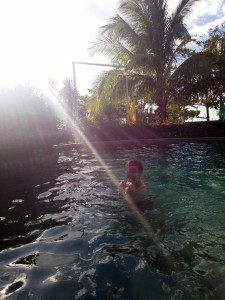 Do I recommend Rama Beach Resort?
Yep! If you're like me who likes peace and quiet, you might enjoy it more on a weekday. I guess this applies to any beach resort. Hehe.
Rama Beach Resort rates/prices are also good.
And oh, what a lovely view: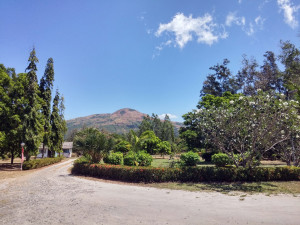 On Saturday and Sunday, more people began to arrive. We no longer had the pool (it was a bit small but it's clean and a cozy one) to ourselves but that's okay. We were worried that we might not get a good night's sleep because of noisy guests at night, but thank goodness, they weren't noisy at night. 🙂 There's a note in the room doors in small text saying that loud music is not allowed after 10PM and that noises should be minimized at night. Thank you, Rama Beach Resort management!
And please do choose Deluxe room over Economy if you can. I think economy rooms don't have aircon and are placed in a less quiet area. Check with Rama beach resort to confirm. 🙂
Related Posts:
Posts that may be related to "Rama Beach Resort – photos & review (Botolan, Zambales)":