This was an old draft that took long to get published. 😆
Our stay at Rockpoint Hotel wasn't bad. It wasn't one of the best hotels we stayed at, but it had most of what we needed.
This resort is in Laguna.
Holiday Rates (2015) at Rockpoint Hotspring Resort Hotel
These were the rates when we went there last year during holidays: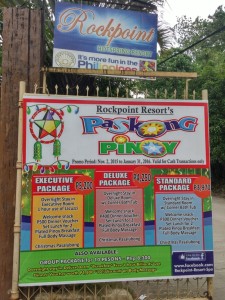 Here's what the entrance looks like:
Nice view here: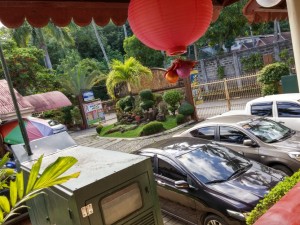 And the reception area was oh-so-cozy.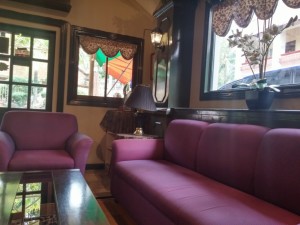 Deluxe Room at Rockpoint Hotspring Resort Hotel
We booked a Deluxe Room for 1 night, and depending on availability, you can choose between twin beds or a queen bed.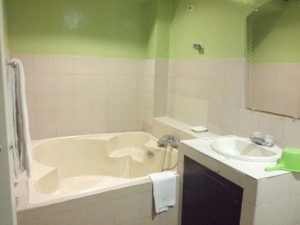 The bathroom had a big hot tub that could fit two or three people. It can take about an hour to fill it with water though. The shower is in the tub area also, so when you just want to shower, you need to step into the bath tub which is inconvenient to me especially when I'm very tired and the floor is slippery. There were to sachets of shampoo with conditioner, two small bars of soap, and two toothbrush and toothpaste set. The tube of toothpaste was tiny and difficult to open. XD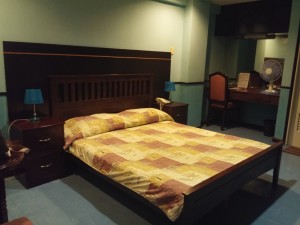 The pillows of their beds were soft and fluffy. We found extra pillows in the cabinet under the TV but they didnt have pillowcase.
Other photos of what's included in the room:
The light bulbs in the bedroom and bathroom were yellow, except for the one at the table which had a white light. I personally prefer white lights because I don't feel so well in rooms that are not bright enough. That table with white light had a huge mirror too, perfect for women who do hair makeup.
Rockpoint Hotel doesn't have hair dryer and that is another inconvenience. Not a major inconvenience because there was electric fan in the room.
They charge corkage fee for cooked foods bought anywhere aside from their Lava Restaurant. They charged 10% for the pizza we ordered. Pizza Hut's charge was 499 and we paid the hotel 50 pesos. It's not that big, I guess.
Pools at Rockpoint Hotspring Resort Hotel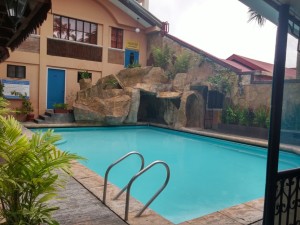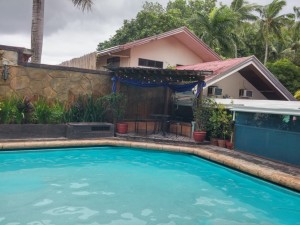 Based on what I read on Rockpoint Hotel's site, I expected 2 pools. First pool is in front of the Deluxe rooms with warm water temperature, whose schedule is 9AM-9PM, and a second pool in front of Lava Restaurant which was said to have HOT water like you're in a hot spring, but nope! Its pool water had the same warmth as that of the first pool.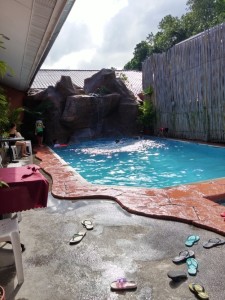 That pool in front of Lava Restaurant opens at 7AM according to a poster, which doesn't state up to what time we could use it.
When we checked in around 2pm, there was no one but us using the pool in front of the Deluxe rooms. Everyone else was in the other pool, until about 3pm. And at night around 10pm, we enjoyed swimming in the second pool near Lava Restaurant because not a single guest was swimming there until we came there. We can say that "nasolo at nasulit namin yung pools", but I think we were just lucky!
Peace and quiet at Rockpoint Hotspring Resort Hotel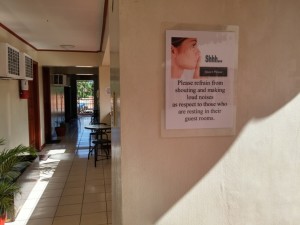 I like how Rockpoint Hotel actually cares about preventing noises from disturbing guests in their rooms. They have this sign that says we shouldn't make noises so that guests can rest well in their rooms. The first pool, located in front of the Deluxe rooms, closes at 9pm, probably because Rockpoint hotel doesn't want noise from the pool from disturbing guests at bed time. The second pool, which is in front of the restaurant anf has a nearby kiddie pool, seems to be usable even until midnight since there's no guest room near it.
And yes, we had a quiet rest at night. But not for the rest of the day because there were many kids outside our room making noise, laughing and shouting.
Kalipayan Nature Spa at Rockpoint Hotspring Resort Hotel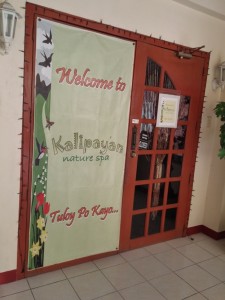 We wanted body massage for relaxation but the spa was closed. Maybe it's by appointment only?
Food in Lava Restaurant at Rockpoint Hotspring Resort Hotel
So here's a gallery of some of the foods that we ordered that the Lava Restaurant:
We had free breakfast included. It wasn't satisfying. Among the available items foe free breakfast, I chose malunggay 4 small pan de sal with cheese and eggs. It's good enough but also something that anyone can quickly prepare at home. The coffee they serve is not even brewed coffee — only instant 3-in-1 coffee. My companion chose longganisa with rice and egg. It was okay. Since we felt unsatisfied, we ordered chicken tenders with fries. The fries served was a very scant amount compared to the picture in the menu, and the thin strips of chicken didn't look so appetizing. The taste of the chicken breading was not bad though, but reminds me of an instant store-bought chicken breading we buy from grocery stores. The fries tasted like usual packed fries we buy from the grocery too. The dip for chicken and fries was very sour. Maybe there was too much vinegar? Meh, I guess I'll never eat at Lava Restaurant again unless it's free food included in our room booking.
Conclusion of Rockpoint Hotspring Resort Hotel
So, to conclude this Rockpoint Hotel review… We stayed there on December 26 and 27, and the other guests seemed to be families with many kids. It got so noisy at times, but I was glad they were quiet at night. The pool near Lava Restaurant was not hot enough as described, and I hope Rockpoint can adjust the temperature to make it consistent with what's written in their website. The Deluxe room was clean and cozy, but it would become a perfect if they provide hair dryer, and a shower separate from the hot tub.
Related Posts:
Posts that may be related to "Rockpoint Hotspring Resort Hotel – rates & review":