So we tried the sit-down buffet at Impressions in Maxims Hotel, but we sat down eating nothing for a long while. They say Impressions is a fine dining restaurant, but the food service is not so fine. I could ignore the hungry mosquitoes of Impressions feasting on my feet that night, but waiting so long for our food at a buffet where food is supposed to be served nonstop fails expectations. When the food was served, it was not even properly cooked!
A fellow grill and steak lover invited our barkada to have dinner at Impressions restaurant the other night. It's at Maxim's Hotel, near Resorts World Manila. We were so excited about it because the cost is only P888 per person, and that is for unlimited order of grilled foods such as lamb, steak, French duck, praws, tuna, and salmon.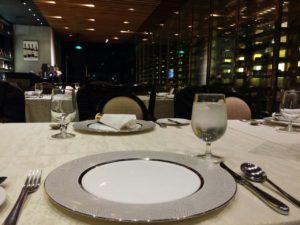 The waitresses were pretty and polite. They had complementary bread and soup, which helped us like the restaurant at first.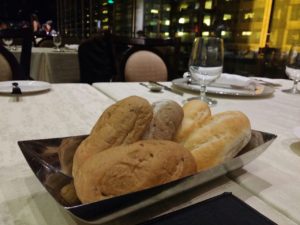 There were white bread, walnut bread, and what we think was whole wheat bread. They're warm and chewy, served with butter. I love bread and butter! I liked Impressions' breads so much that I was able to ignore the restaurant's mosquitoes helping themselves on my blood that night. They were all feasting on my feet. Argh!
Bowls of pumpkin soup with bacon bits were served after. There were 3 of us enjoying the bread and soup while waiting for the rest of the gang. When they arrived, we asked for their pumpkin soup bowls to be served but that took a long while. Our barkada's conversations got us through the long wait just fine and our seafood platter and meat platter were served. Take note: when the first platter was served, we ordered another batch of those platters immediately because we realized the ones already served were not enough for our group. It took ages for Impressions to serve the new batch, but I'll get to that later. I'll comment on what their foods taste like first. :p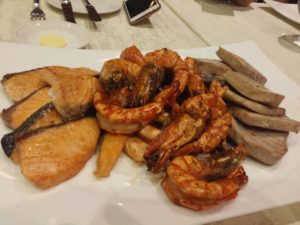 The prawns were delicious. The salmon was yummy too but I realized then that I personally prefer raw salmon over cooked. 😀 The tuna was a bit sour but we thought that might be because Impressions marinated it in vinegar or lemon juice before cooking.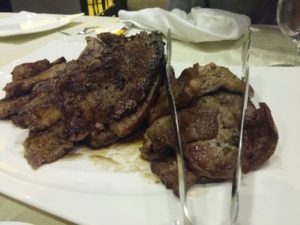 The steak at Impressions was too salty while the lamb was very enjoyable when eaten with the mint jelly sauce. The mint jelly sauce's flavoring is a bit sour, which played the role of pantanggal-umay in my mouth. It's hard to find the French duck in the platter, but they tasted great! They were the ones sliced into small pieces.
My favorite grilled foods that night at Impressions were the French duck, the lamb with mint jelly, and the prawns.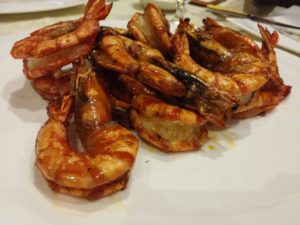 So… I mentioned that we ordered the next batch of platters right after the first batch was served. We sat there at the table at Impressions for about an hour waiting for that second batch. Impressions call this "unlimited servings" of various grilled foods but it seemed to me like they were stalling the serving of foods on purpose so that they would not run out of food supply.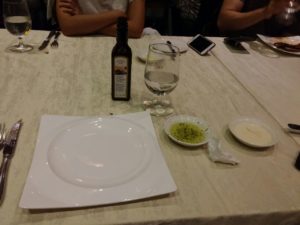 There's no more photos of the dining area after that because I was no longer in a good mood. I ordered a glass of lemon iced tea and that took a long while plus follow-ups to be served too. 🙁
After a decade, the second batch of grilled platter was finally served by Impressions but to our dismay, the steak that we ordered medium-rare was rare and very hard to chew. Of course, we requested that they send it back to the kitchen and have it cooked longer but it was so frustrating because we waited so long for that, only to find that it's undercooked.
Obviously, I'm not coming back to Impressions at Maxims Hotel anytime soon. When I dine at restaurants, especially when considered "fine dining" restaurants, I expect to enjoy the ambience and get good service so I can relax, instead of getting stressed out waiting for almost an hour for food that they label as "unlimited".
This Facebook post from Impressions says "Delight in unlimited servings of grilled lamb chop, rib eye, duck breast, salmon, tuna, prawns and more with Impressions' Grill All You Can!" 
Impressions should stop calling it unlimited when they just plan to stall the servings of food on purpose.
Related Posts:
Posts that may be related to "Not impressed at "Impressions" restaurant at Maxims Hotel: nice ambience but horrible food service":