My office friends are watching Mob Psycho 100, an anime series that just started airing last week. It's from the same creator of One-Punch Man, who is called One.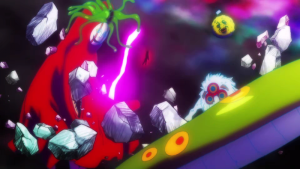 I read chapter 1 of the Mob Psycho 100 manga after watching episode 1 of the anime, and honestly, the manga made me laugh more than the anime. Probably because of the drawing style — they look funnier in the manga. 😆
In Mob Psycho 100 episode 1, the anime introduced notable characters such as Reigen the fake psychic and Shigeo, the main character who we are calling "Mob".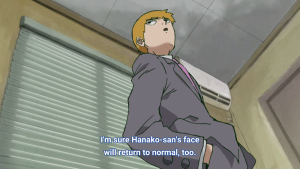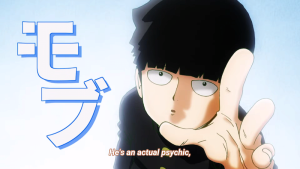 I wonder how he got the nickname Mob.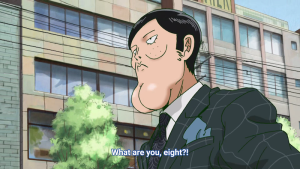 Episode 1 also showed us a man with large cleft chin that looked like a butt, and I started cracking up with mild cursing when I saw that! "One" really likes that kind of chin, huh? 😆 I could only imagine that the "kid with large chin" in One-Punch Man had grown up to be that guy in Mob Psycho 100.
Anyway, that kid Mob, with his passive carefree attitude and constantly bored facial expression reminds me so much of Saitama from One-Punch Man. My friends think it's a good thing but I'm torn like, haha he reminds me so much of that funny guy Saitama, while thinking, can't One create a more unique main character?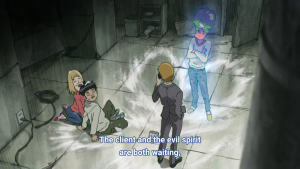 This scene made me chuckle when Reigen was like "Hey come here Mob, the client and the evil spirit that we need to exorcise are waiting" combined with the chill look on the spirit while waiting. 😆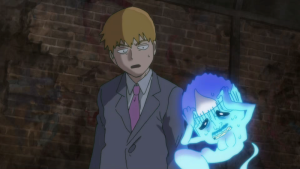 Hehe, the thug ghost in the second part of Mob Psycho episode 1 turned into a cute li'l blue ghost with a mustache and high-pitched voice.
I must also say I dislike how Reigen's personality. Yeah, I know, I know. Reigen being a fraud is supposed to be funny and I do find him funny, but at the same time I don't like him. Maybe because I have seen [and hated] people in real life getting all the credit when they are not really the ones who do the amazing job. And the ending, when Reigen treats Mob to ramen and told him he may only order up to two add-on chashu pork, while Reigen had so many add-ons to his ramen. I felt bad for Mob during that scene. Yeah maybe this is just me taking things too seriously again. :p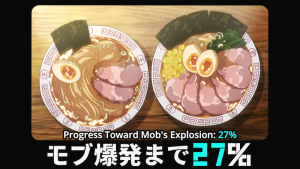 Well, I will surely watch Mob Psycho 100 up to the last episode and will try to keep reading the manga. 🙂
Related Posts:
Posts that may be related to "Mob Psycho 100 anime episode 1 review (SPOILER ALERT)":