Hungry and craving for Japanese food? A heavy meal of Japanese food is waiting for you at Hatsu Hana Tei. It's at the second floor of Herald Suites in Chino Roces Avenue, Makati City.
Japanese foods weren't my favorite… until now. 🙂 Just this year I found myself craving for more and more Japanese food. I'm lucky to be working near Family Mart stores (tonkatsu maki, futo maki, california maki, onigiri, noodles, etc) and Little Tokyo (authentic Japanese restaurants).
Last week, I told my friends at the office that I wanted us to eat lunch at Tokyo Tokyo. Friend "G" was up for the idea, but friend "C" told me he's sick of foods at Tokyo Tokyo and wanted to eat ramen elsewhere. "G" said that the ramen place that "C" was suggesting was too expensive, and so she suggested Hatsu Hana Tei at CHino Roces Avenue, just in front of Little Tokyo, because food there is sulit (great value for money). About 300 pesos could get us a set meal with a generous serving.
And she was right. Even the one-bowl rice meals were too much even for our male friends to handle. 😉

It was a cloudy day as we walked along Chino Roces to look for Herald Suites. We found the Japanese restaurant "Hatsu Hana Tei" at the second floor.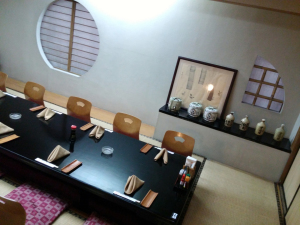 The dining area looked cozy. At first, I thought that we were supposed to sit like Japanese people do. But there was actually a space for the feet under the table so we could sit like we normally do.
Our group was a bit unruly, but the waitress who served us food remained kind and always talked to us with
with a smile. 🙂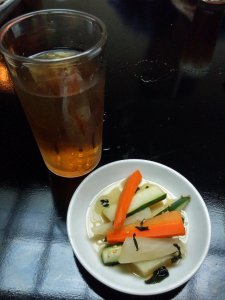 Cold house tea and appetizer served while we waited for our orders.
Because tonkatsu is my favorite Japanese dish, I ordered Tonkatsu set with hot soba. It cost me 320 pesos. I didn't expect that the set meal had THIS amount of serving! My friend wasn't kidding about the "value for money". xD That's 320 pesos for authentic Japanese food with serving that's much more than one could usually finish.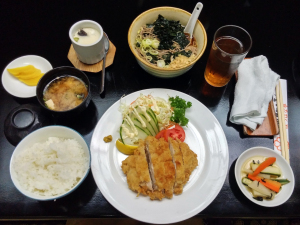 The main dish of my set meal, pork tonkatsu, was served with shredded cabbage, cucumber, tomato, parsley, lemon, some mayo, and a drop of mustard. My set meal included a cup of Japanese rice, miso soup, pickled radish (takuan?), chawanmushi, and hot soba.
I was thinking, geez, that bowl of hot soba was enough to fill me up! What I actually did was have the soba wrapped for take-out because I was really full. Our male friends were teasing me for the huge amount of food I could consume. But I don't care. My body's built is considered medium, at least, so it's natural I could eat more. I'm also just being myself, and it's better than acting like a sweet girly girl who can't finish her food. :p And I hate it when people waste food.
Chawanmushi is an egg custard dish. I really thought it was taho (soybean curd) with savory flavorings instead of sweet! According to Wikipedia page for chawanmushi, "The custard consists of an egg mixture flavored with soy sauce, dashi, and mirin, with numerous ingredients such as shiitake mushrooms, kamaboko, yuri-ne (lily root), ginkgo and boiled shrimp placed into a tea-cup-like container." I did not enjoy the chawanmushi, probably because I'm not used to it yet. I gave it to a friend who loves taho and he liked it. Good! Because like I said, I hate wasting food.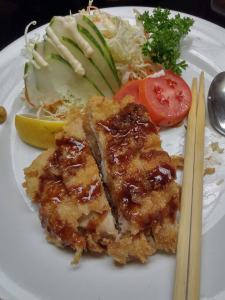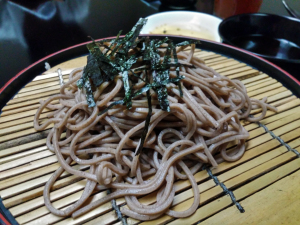 This is a cold soba that my friend ordered. It was served with sauce, which I'm guessing is sweet-ish, where she dipped her noodles.
There was complementary dessert. There were two options to choose from that day, one that I forgot, and the other one was ice cream! We had vanilla ice cream.
I will surely come back to Hatsu Hana Tei someday. 🙂 Maybe with my mother who LOVES Japanese food. Good value for money (sulit!), good service, and a cozy atmosphere.
Oh, and if I remember correctly, they don't charge for service. Don't forget to leave them a tip when you try the restaurant. 🙂
Related Posts:
Posts that may be related to "Hatsu Hana Tei: perfect for heavy authentic Japanese meal in Makati":