I run a small baked-per-order goods business and many of my customers wanted to pay in GCash so granted them their wish to make payment more convenient. Prior to this, we used to accept bank transfer/deposit only, but when my husband showed me that he could cash-out money from his GCash account by sending it to his bank account, I knew we could make the business work with GCash because I'll just transfer payments from the business' GCash account to the business' bank account. I created a GCash account and began accepting payments through it.
Then I found out that in order to send to banks, I need to get "verified". And so I went through the full verification process: Uploaded a picture of my government-issued ID, a selfie, and my personal details. The GCash app said that it should only take 30 minutes to get verified.
For 30 minutes I waited, and received no SMS, email, or app notification from GCash. Ok, cool, maybe it's just a bit delayed! I waited an hour more; still none. I waited one day, two days…. still no feedback on my GCash full verification status!
This is what my Get Verified screen looks like in the GCash app: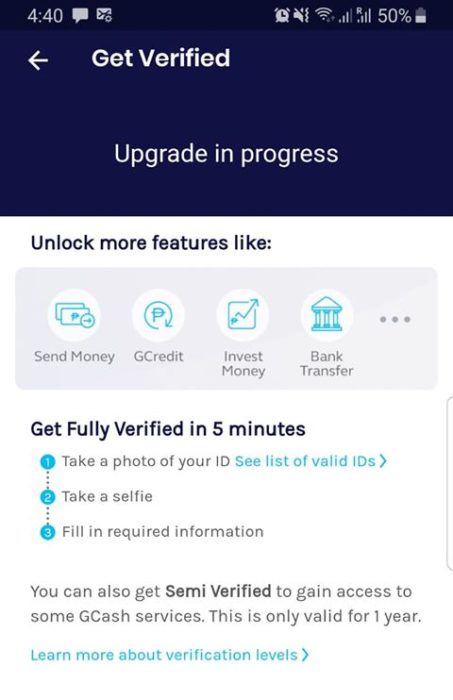 You'll see that it says "Upgrade in progress" in my GCash app's Get Verified screen. That message just sits there 24/7 and never changes.
I tried to ask for help from GCash Care on Facebook Messenger, and all it does is make a chat bot get my hopes up that they will help me, but I never seem to be chatting with an actual customer service person.
We tried calling the GCash hotline 2882 but we couldn't get any customer service staff to answer even when we waited for over 30 minutes.
The last thing I tried was write an email to support@gcash.com but same as GCash Care on Facebook Messenger, all the responses that I received were automatic responses.
GCash caused my stress level to soar up so bad, worrying that they might deduct money from my account due to inactivity and all our business' earnings will be taken by GCash. Why do I worry about this? Because that periodic deduction is why I didn't push through with using GCash before. I want to be able keep an account inactive for a long time without getting charged. I think the big problem is they don't send out warning before charging! They send a notification AFTER CHARGING.
I wrote a rant post about this on my Facebook just to let off some steam, and a former colleague suggested that I just try to cash-out my money at Villarica Pawnshop. I will probably try that soon and hope it works, because I don't wanna lose our money. It's just extremely disappointing. I decided that we let our business' customers pay via GCash because I thought I will be able to transfer money directly from GCash to the business' bank account, but it's not happening because no one at GCash can help me out with the full verification of my account.
Related Posts:
Posts that may be related to "GCash Customer Service Sucks; Does it even exist?":