Say Aaaah!~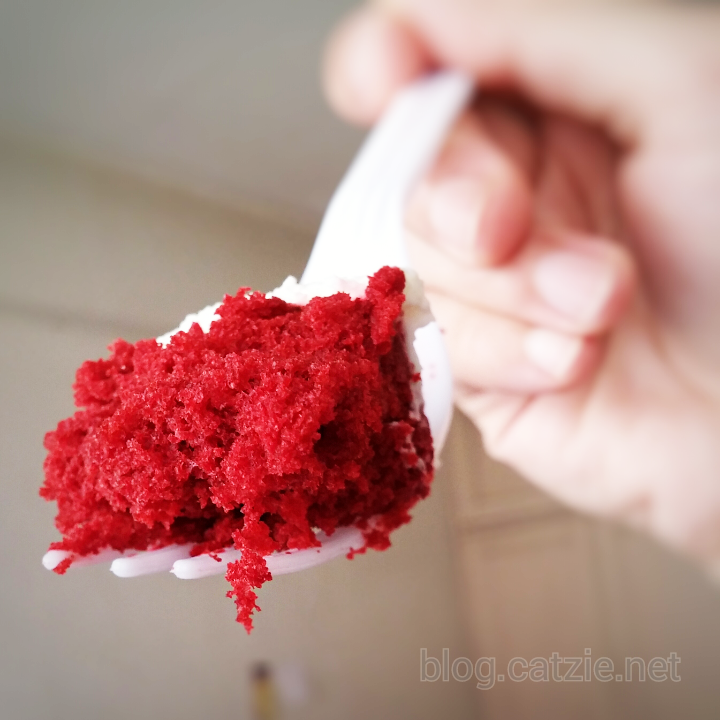 Taste this soft, moist red velvet cake. It's made from the Duncan Hines red velvet cake mix.
I liked this product, but I won't use it regularly because I like making cakes from scratch. The cake was also a bit too fluffy compared to all red velvet cakes I tried before. Still, my first experience in using a boxed cake mix is reason enough to write this Duncan Hines red velvet cake mix review.

Preparation was easy with the Signature Red Velvet Cake Mix from Duncan Hines. I just added eggs, water, and oil to the red velvet mix and then beat it for 2 minutes. Then I baked the cake batter in two 9-inch round pans for around 25 minutes.
I tried the cake while warm and it was soooo soft! It was surprisingly soft and on the fluffy side, because I'm used to eating red velvet cake that is moist but dense, like the one I make at home and the one that I always bought at Portobello Bakeshop in Robinson's Place Manila (now closed).
The taste of the cake that I baked from Duncan Hines red velvet cake mix was not different from the red velvet cakes I'm used to. It's about that subtle cocoa flavor mixed with some vanilla. It also has a nice, bright red color as you can see in the pictures.
Once frosted and refrigerated though, the cake became a little bland in taste, but still soft and moist.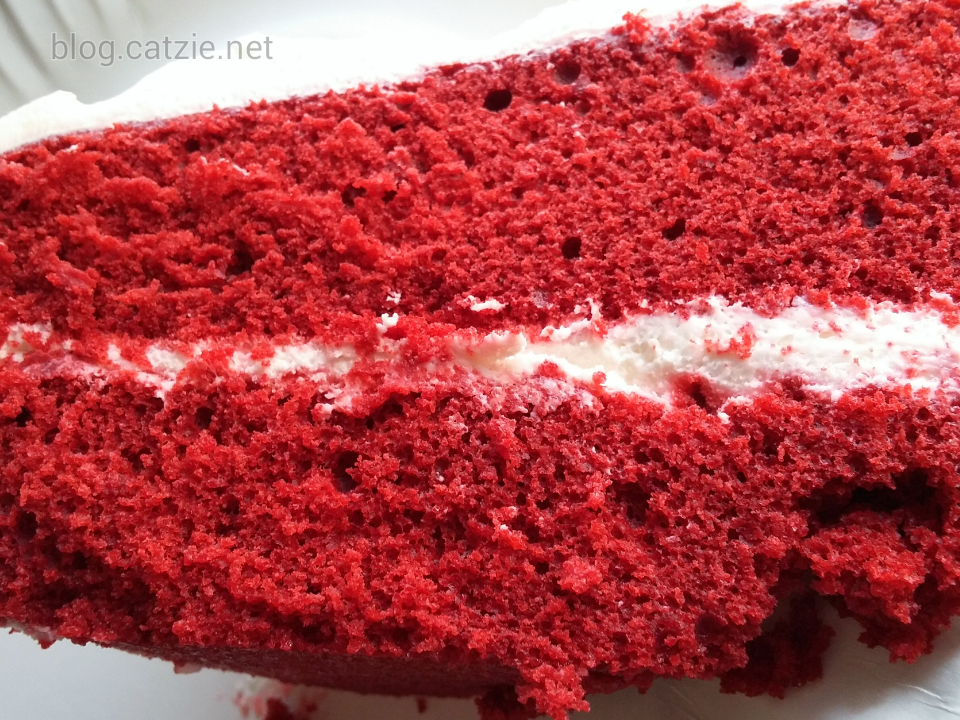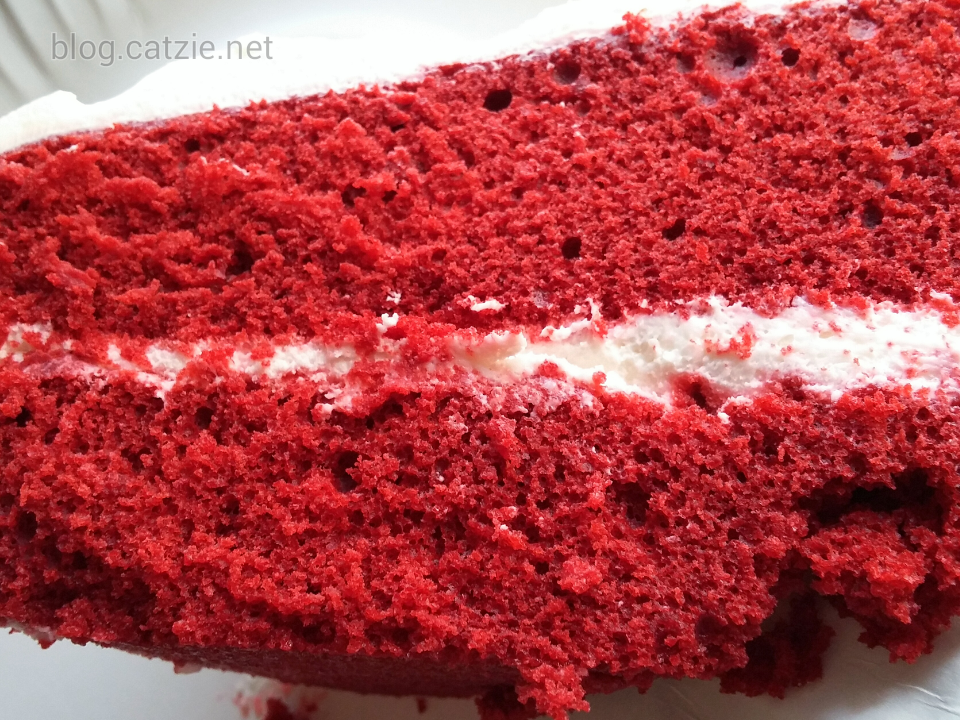 The lack of flavor in the cake when eaten cold might not be very likable to some — okay I'll confess that I like sweeter cakes better than the red velvet cake premixed by Duncan Hines, but my office friends LOVED the cake because they like cakes that are only a little bit sweet.
I'm a home baker who never wanted to bake with cake mixes. I still don't want to sell anything whose dry ingredients were premixed by someone else, but I baked a using a premix just to taste it.
I'm not sure how traditional red velvet cake's texture and taste should be like, so I want to taste red velvet cakes from a variety of sources. And the Duncan Hines red velvet cake mix box was one of those sources.
I've tried Portobello Bakeshop's red velvet cupcakes. The texture was dense, moist, and a little bit chewy. The flavor was deep and almost intense.
Cupcakes by Sonja is a popular cupcake shop in the Philippines and I read how people rave about their red velvet cupcakes, but Sonja's red velvet cupcake is at the bottom of my "Best red velvet cakes list" right now, including a friend's home baked ones that she's not selling. It was moist, yes, but the cake part was just like "puto" that's colored red. The cream cheese frosting had an unpleasant greasy mouth feel. We spent over 200 pesos on 3 cupcakes by Sonja, and all 3 cupcakes made us feel like we threw away money. 🙁 The two other flavors we tried were lemon and peppermint. Nothing special with the cake parts, and the frosting of those two were gritty and it was like eating sand. I don't know why they opt for buttercream with lots of icing sugar instead of making smooth meringue buttercream.
Larcy's Cupcakery has pink velvet cupcakes. I can't remember how the cake part tasted — I must try it again as soon as possible. 😉 IIRC, the cake part was red, not really pink. 🙂 The cupcake wrapper is pink though. I do remember the cheese frosting. It might not be cream cheese at all. It was yellowish in color, and the taste was closer to that of processed cheese like Eden. The texture was fluffy and very airy like marshmallow.
Next time, I would like to try the red velvet cake at Karen's Kitchen. 🙂 My boyfriend's sister said they make superb red velvet cakes with very creamy frosting. :3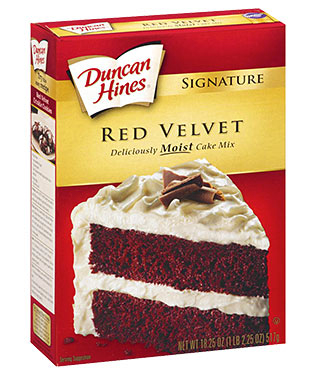 And I may not be a big fan of cakes with very low level of sweetness, but I do recommend Duncan Hines for easy to make red velvet cake that is soft, moist and a little fluffy.
I am uncertain about its fluffiness though. I always thought that red velvet cake SHOULD be dense. Fluffiness in cakes is nice, but could the cakes we make from Duncan Hines' mix be nontraditional type of red velvet cake?
Related Posts:
Posts that may be related to "Duncan Hines red velvet cake mix review and my red velvet cake adventure":