Victim blaming. How are we able stand it? Blaming the victim to find an excuse for the act an offender has done… It's stupid and needs to stop.
Warning: Crude words may be present in this page.
I don't know if it's part of Eat Bulaga's script or it's actually his opinion but Wally Bayola, while playing Lola Nidora in the noontime show Eat Bulaga in the Philippines, said things that implied that women are to blame when they are harassed in the streets.
Bayola was saying something along the lines of:
"Ang babae, sa pananamit unang tinitingnan kaya dapat maayos ang pananamit, hindi yung kita ang kaluluwa. Dapat sa pananamit pa lang ginagalang na ang babae."
Ako naman, habang busy magtiklop ng mga damit: "Tama. Dapat nga modest manamit ang mga babae."
And then Bayola followed it with something along the lines of:
"Yung ibang babae, naglalakad sa kalye nang naka shorts tapos pag nasutsutan, magagalit, binabastos daw sila e takaw atensyon kasi yung damit nila. Nakakita na ba kayo ng balot na balot na sinutsutan?"
Napalingon ako sa TV, and thought out loud, "Sigurado ka ba sa sinasabi mo, Wally?"
He asked "Nakakita na ba kayo ng balot na balot na sinutsutan?" And I, along with many women who walk along the streets everyday, have a crystal clear answer to that: Oo. Sinubukan na naming lumabas nang balot na balot ang katawan, pero binabastos pa rin kami ng mga tambay sa kalsada.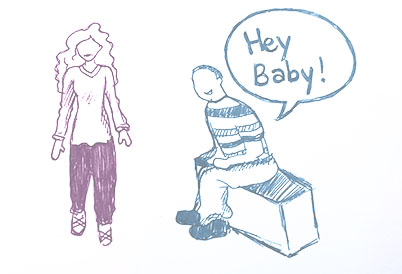 It was only a few days ago noong sutsutan ako nang sutsutan ng tindero ng buko malapit sa bahay ko habang nadaan ako sa kanya, kahit na disente at simpleng t-shirt at pants naman ang suot ko.
At base sa sinabi ni Bayola sa Eat Bulaga – so para makapag-shorts kaming mga babae sa mainit na panahon, tama lang na kailangan namin endure ang pambabastos ng mga walang modo sa kalsada? Hindi yata tama yan. So kung di marunong rumespeto ng ibang tao yung mga lalaki sa kalye, kami ang may kasalanan? WOW!
He was saying that women should dress appropriately because it tells people about what kind of woman you are. Yes, I have to agree with that, Wally Bayola. But your statements that followed imply victim blaming.
Hindi yung pananamit ng babae ang problema. Ang problema ay yung hilig ng mga lalaki sa kalsada na mambastos ng mga babae.
See how a Twitter user reacted about Bayola's statement:
@makipulido Pero wag n'yo pong ituro sa kanya na tama lang bastusin ang babae dahil lang naka-shorts siya.

— elisabett (@saglitlang) September 26, 2015
The Twitter user said "Pero wag n'yo pong ituro sa kanya na tama lang bastusin ang babae dahil lang naka-shorts siya" in response to Maki Pulido's tweet about Lola Nidora's statements on Yaya Dub's outfit.
Bayola probably meant well, but lacked awareness in facts. He does not know that a woman's outfit is not to blame for catcalling. Whether a woman is covered from neck to wrists to toe, or naked, men will disrespect her on the street.
It may have been a simple mistake on Bayola's side and you might think I'm overreacting, but HEY! He said it in public. Iisipin ng mga lalaking nanonood na okay lang bastusin ang kababaihan pag hindi balot na balot ng damit.
I do take this issue very seriously because I experience catcalling / street harassment almost everyday since I was in high school. It's like fighting back against street harassment has become a part of my life.
How did Wally Bayola's statement about wearing "shorts" imply that women are to blame for street harassment?
Wally Bayola stated that women wearing shorts attract men's attention. That's true, and there's nothing wrong with admiring beautiful forms. But Bayola's statement also implied that if the men shout out nasty things to women in shorts (catcalling / street harassment), then it's the fault of the women who are wearing shorts on a hot summer day, not the fault of these disrespectful men.
Why the heck should women have to dress to avoid attention from disrespectful men? When in fact, the fault is in these men who are act like animals without self-control upon seeing attractive women. These catcallers are ignorant beings, not aware that every person in the world has the right to dress up the way he or she wants to, without getting disrespectful comments in the streets.
Bayola also said that women should cover up very well to avoid attention of men in the streets. He's one of the many people who say such things because they don't know anything about the catcalling that we women experience everyday. I am a living proof that no matter how much a woman covers up as she walks down the street, worthless men in the streets with nothing better to do in life would call out to me with a "Psst! PSSSSSST!", "hi baby", "mmm, wow!" and many other disgusting things, all said in a tone full of malice from these perverts. Some of them would even come close to my ear to say "hi" as they pass me. Tell me that this is not harassment.
I wear appropriate clothing – simple t-shirt, simple jeans, and sneakers, and yet I experience street harassment almost everyday. So what the heck are you talking about, Wally Bayola and everyone else with the same opinion, that women should cover up to avoid attention of disrespectful men in the streets?
What should have Bayola, as Lola Nidora, have said instead?
Sinisisi ni Wally Bayola ang mga babae sa pananamit, kaya daw may nambabastos.
Eh kung yung mga bastos kaya ang pangaralan ng character niyang si Lola Nidora, diba? Tutal, kahit naman gaano kami kabalot sa damit, babastusin pa rin naman kami.
Turuan mo ang mga kalalakihan kung paano irespeto ang kababaihan. Ituro mo na hindi dahil may dumaan na sexy, ay may karapatan silang bastusin 'yon.
How do I react to catcalling / street harassment
Kapag may nambabastos sa akin sa kalsada, hinaharap ko. Usually ang sinisigaw sa akin, "Hi bhe" o "Hi babe". Hinaharap ko at sinisigawan ko ng "Anon'g sabi mo sakin?!" Lima o higit pang ulit nang nangyari ito, at sa ngayon, ni isa, wala pang nakasagot sa akin. Mukha lang silang napapahiya. Dapat lang kasi mali ang ginagawa nila.
Kung lahat ng babae, lumalaban sa catcalls, baka mas kakaunti na lang ang gagawa nito. Pero mag-ingat din po tayong lahat. Posibleng gumanti sa atin ang mga yan physically, kaya maghanda tayo ng self-defense items.
Rights of every human being
You don't have any right to verbally harass any woman just because she looks attractive to you.
A woman has the right to wear shorts or skirt in public if that is what she's comfortable with. Think about the blazing heat we experience throughout the year in the Philippines! Those women will attract attention, yes. But that doesn't give anyone the right to direspect her. When did anyone have the right to respect another, especially someone who's not doing any harm?
A woman shows a little skin, a man harasses her. The woman complains, the society blames her. This is an insane society, don't you think? Harassment is NEVER okay, and the woman became a victim of harassment. Why blame her? Blame the animal who instead of just admiring the sight from afar, makes the woman uncomfortable with disrespectful sounds and words.
These ignorant people would say, "she asked for it!"
Why the hell would a woman ask you to harass her? These disrespectful men just make the women's clothes an excuse to catcall them, when the problem really lies in their lack of respect for others.
Quoting an open letter to Lola Nidora from ROSE-AN JESSICA DIOQUINO, GMA News
I hope she doesn't mind, but I am quoting Ms. Aica Dioquino's open letter to Lola Nidora regarding the same issue I am upset about. Right now I have trouble accessing that page, but you can read her letter below since I'm quoting it. A link to another page with her letter is here.
Ms. Aica also didn't like Bayola's comment, na kapag balot na balot ka na ng damit, saka ka lang hindi susutsutan. Mali! Kahit balot na balot na ako ng mga kakilala kong girls, binabastos pa rin kami.
Dearest Lola Nidora: An open letter about Yaya Dub's OOTD


September 26, 2015 6:57pm
"Dearest Lola Nidora,

Let me start by saying that I have come to appreciate you and the kalyeserye. I may not be a die-hard fan, as I don't get to see you every day, but as a young journalist who's emotionally-attached to my phone, I am aware of the phenomenon. And whenever time permits, I tune in for the laughs and the story.

What I like most about your segment is the boundaries you set for Yaya Dub and Alden, your emphasis on courtship, love, and the beauty of waiting. These are old-school values often forgotten by our generation. With the piles of broken hearts, quick relationships, and too many labels, your reminders ought to be heard.

But with due respect, there's something I would like to point out to you, too.

I happened to catch your episode today, when Alden was going to pay his first visit to your mansion. I was ecstatic, along with the many, many fans, because you finally allowed him to see Yaya Dub there.

You were hands-on with the preparations, and that included Yaya Dub's outfit of the day (OOTD), of course. There was a point when your sisters, Tinidora and Tidora, pointed out that you might make Yaya wear something that would make her "balot na balot."

In response, you said that was only proper. You asked your sisters, "Nakakita na ba kayo ng balot na balot na sinutsutan?"

There was a slight, awkward pause. Then Tidora replied, "Meron."

I don't know if you heard her, because I switched channels for a moment. But here's something you need to know.

I, along with female officemates and friends my age, go to work dressed appropriately. You may think we are a generation of short shorts and mini-skirts, but students and young professionals abide by dress codes, too. I, for one, usually go to work in jeans and plain shirts or blouses.

Regardless of what we wear, many of us have received catcalls from random men on the streets. One day, it could be an all-too-friendly neighbor, a tricycle driver down the block, a pahinante in a passing truck, a vendor pushing a cart of fruits. Sometimes, men dressed for office work do this too while we're waiting at jeepney, bus, or FX stops.

They make us bow our heads when we walk, if only to avoid their gaze. They ruin our day with a loaded "Good morning" or "Hi, miss." It doesn't matter if we're clothed literally from neck to ankle or if we're in pretty little dresses or shorts and crop tops. It happens.

This, perhaps, is also part of old-school mentality. Unfortunately, this one has lingered — a deeply-rooted problem that sometimes seems to be beyond fixing.

But maybe it can still be fixed, and maybe you can help, Lola. Perhaps, instead of simply asking Yaya not to wear shorts, or whatever else that reveal more skin, maybe you can also talk to Alden.

He seems to be a sweet young man, so maybe through Alden, you can remind everyone that guys need to respect girls regardless of what they feel like wearing for the day.

Maybe you can remind him that catcalling is not a form of admiration, but of disrespect.

Maybe you can remind him that respect is just as important as his affection for Yaya Dub. That his love, as he tries to prove it to her — and to you — must come with this.

And here's hoping many others will hear you, too.

Love,

Aica"
Another article about catcalling / street harassment is at When in Manila: Netizen's Post On Catcalling Goes Viral, which also mentions Lola Nidora's statement.
At Kicker Daily you'll find a relevant article "Lola Nidora urged in viral open letter to help end catcalling on women's outfits".
In PinoyExchange there's this thread regarding Catcalling too.
"People have freedom of expression, but people should also have the freedom to walk along the streets without being harassed" is what I believe in.
Do you believe in it too?
Related Posts:
Posts that may be related to "Eat Bulaga's Wally Bayola implies women are to blame for street harassment":