On our second day in Baguio last long weekend, we went sight-seeing at Mines View and Wright Park. After enjoying the views, our feet brought us [with growling stomachs] to Ketchup Food Community. We wanted to try Canto but were not willing to fall in the looong line of people waiting to be seated. We took a peek at the menu of the other restaurants there, and decided to eat at Green Pepper because we were interested in trying their Kiniing Chicken.
I know I said in my previous post about Microtel by Wyndham – Baguio that I prefer other cuisines while traveling because I already eat Filipino food everyday at home, but we were really interested in the "kiniing" dishes at Green Pepper. I also wanted warm soup like sinigang that time because my throat felt sore, and my lungs had an uncomfortable feeling. (My nasal allergy was triggered while strolling near the body of water surrounded by flowers near The Mansion in/near Wright Park).
Mines View sight-seeing before dining at "Green Pepper"
At Mines View, we just took a quick stroll around the area with lots of tourists with a nice view. Then we had a picture taken with a beautiful St. Bernard dog named "Sky". We also had some sweet, warm strawberry taho before leaving the Mines View area.
Pasalubong shopping at Good Shepherd–Mountain Maid Training Center
We don't have a car so we don't buy boxes of Mountain Maid products. xD
There, I posted a receipt with some item and prices just for reference 🙂
Strolling at Wright Park and The Mansion before having lunch at "Green Pepper"
Wright Park is the place to go if you want to do horse-riding in Baguio. We also climbed that high stairway. I hated it! 😆 Not because of my low stamina, but because I was scared of making a wrong step on the narrow and uneven steps. I'm a klutz. 🙁
We took another way to go down. hehe. I'm lucky that that stairway wasn't the only way down. :3
All the strolling made us hungry and we headed to Ketchup Food Community. The menu at Canto seemed interesting but there's a long line of people waiting to be seated. We were starved and tired, and were not willing to fall in line there.
We chose to eat at Green Pepper instead, since we wanted to try the kiniing meats.
Lunch time at "Green Pepper" at Ketchup food community
This was our lunch: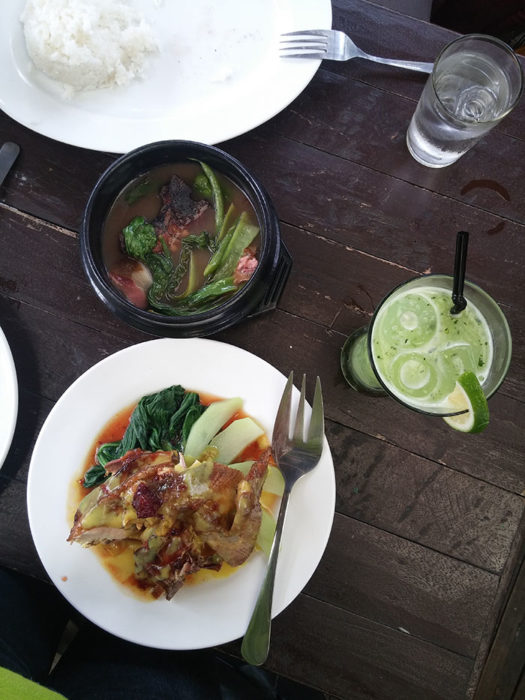 A closer look at the kiniing pork sinigang: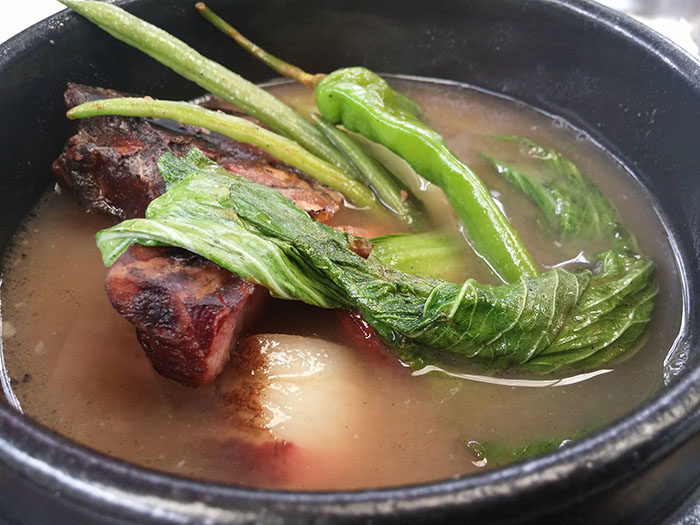 "Kiniing is one way of preserving meat of cow, carabao or pig, usually the lean part in the northern part of the Philippines. " – Source: https://pinayinsideout.blogspot.com/2015/10/kiniing-as-way-of-preserving-food.html
Green Pepper's Kiniing Pork Sinigang is sinigang with the usual vegetables in it, plus grilled kiniing (preserved) pork. We really enjoyed this dish, because it's like delicious pork sinigang but even better, having that extra smokey flavor from the kiniing.
And here's the interesting chicken dish: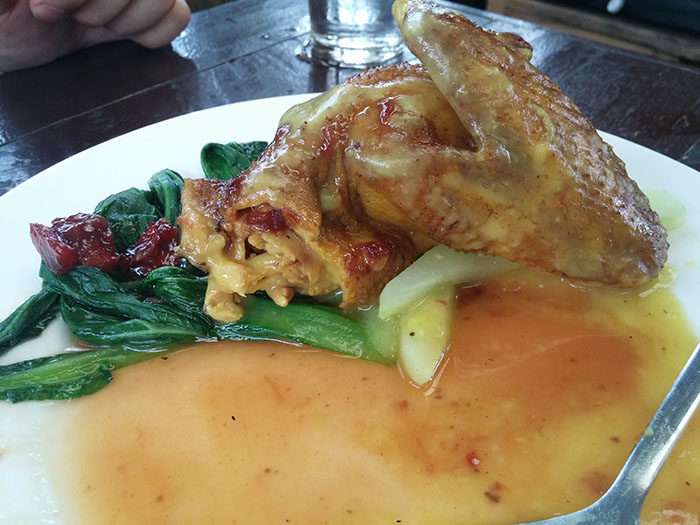 We ordered this kiniing chicken dish because it was not something we'd easily find in Metro Manila. Kakaiba e. Besides, it has strawberry glaze. I like strawberries, and I tend to crave many strawberry-flavored things when in Baguio.
So, was the kiniing chicken with strawberry glaze very good? Mmmm I'll be honest. I didn't like it that much. The chicken meat was dry and tough — okay, it may be because it's all breast part, but I often get moist breast part of grilled chicken from Andoks!
The strawberry glaze didn't taste that good, until I actually get some of those few small strawberry bits and mix it into my spoonfool of chicken, glaze and rice.
I also wish they could brown the chicken skin by grilling it. Look how pale it is.
So yeah, sorry but I didn't like the kiniing chicken that much. It's not a horrible dish, it was alright. It's just that I expected it to be better than that. But hey, remember that we all have different preferences in food. 🙂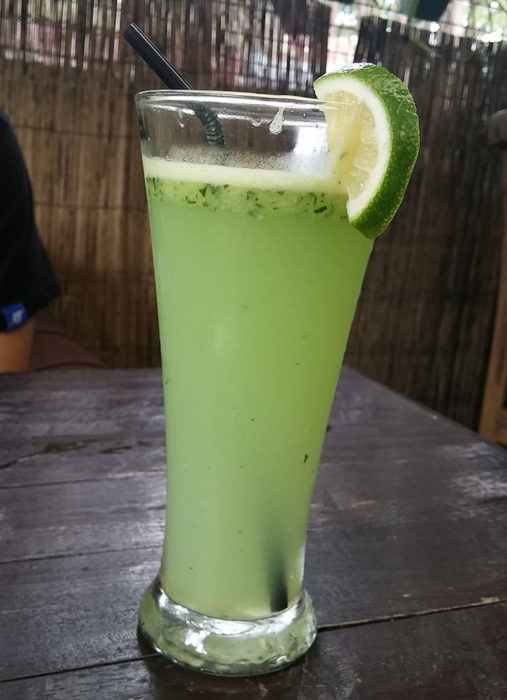 The lemon-cucumber drink was not that enjoyable until we added ice in it. Why? Because it's not cold enough, and the flavors are too concentrated (too sweet!). A Green Pepper staff gave us a pitcher of ice. We put a good amount into the drink and once chilled and watered down, we really did enjoy the refreshing combination of citrus and cucumber flavors.
Dessert at "Green Pepper" in Ketchup Food Community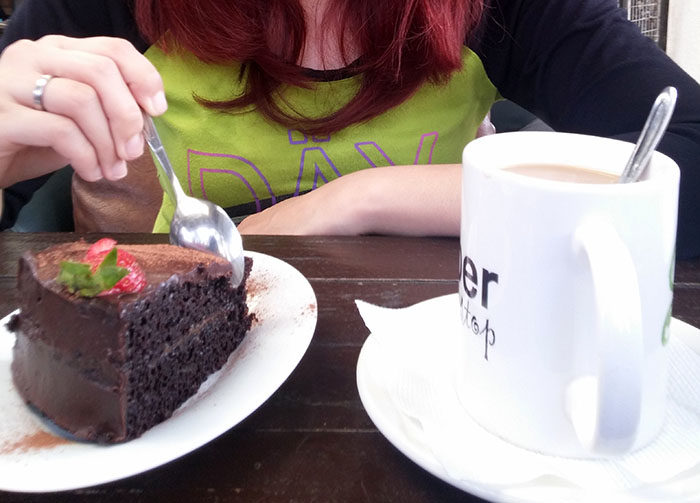 The nasal allergy attack earlier that day drained a lot of energy in me and so I told my companion I want to have coffee and sweets. We ordered chocolate cake and brewed coffee. If I remember correctly, we really wanted apple pie but it wasn't available. 🙁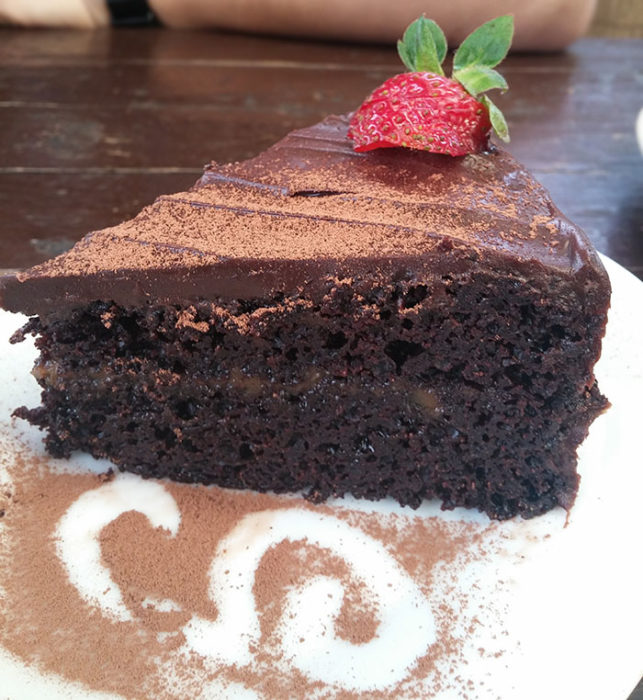 Green Pepper's chocolate cake was made of dense but nicely moist chocolate cake layers, with caramel filling, and coated in choco fudge/ganache. I could not taste the caramel, but it's no big deal. It still was a nice chocolatey dessert.
The brewed coffee had a faint flavor of hazelnut. This reminded me of the hazelnut-flavored coffee that I bought from Bag of Beans, Tagaytay a few years ago.
Conclusion
Next time we'll definitely try Canto at Ketchup Food Community! ^_^;
Related Posts:
Posts that may be related to "A nice Filipino lunch with dessert at "Green Pepper" in Ketchup Food Community":