I didn't care for beaches… or so I thought.
In March this year, developers and designers in our company set an overnight outing at Marine Base Beach Resort (a.k.a Boracay de Cavite, or Katungkulan Resort). I didn't want to come because I don't like swimming and other personal reasons. After some persuasion from a few colleagues, I decided to go. And I'm glad I did.
I remember that evening when we arrived at the beach. The sound of the waves… it's as if the waves were beckoning me. It was a beautiful evening – the wind was cool, and when I looked up, there was the lovely full moon, surrounded and partially hidden my clouds. And on the next day, the day for swimming at the beach, I really had so much fun. I realized that I actually like being in the beach. I thought, "I need to go to the beach again soon, with close friends and my boyfriend".
And so I did. 🙂 Our last-minute search for a beach resort that could accommodate us led us to Dalampasigan Beach and Pool Resort.
Dalampasigan Beach and Pool Resort is located in Quezon, and I must say that if you just ignore the swimming pools, it's a nice place but understaffed, and the food in the restaurant is expensive. The adult pool was dirty, with a weird taste (can't avoid tasting pool water sometimes), according to a friend, and had spits floating (yuck!) while we were there. The kiddie pool looked worse – the water looked more yellow than blue! You can guess why.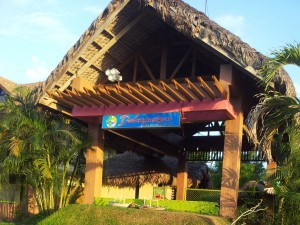 The place is nice – the combination of many trees, flowers and huts made the surroundings look really relaxing. The beach doesn't have white sand but we didn't encounter jellyfish and that's a really good thing. There were lots of black jellyfish in the Marine Base Resort, by the way. xD
On April 17, Maundy Thursday, we were at the JAM Liner terminal at Gil Puyat (Buendia) Avenue at 5AM. The wait for a bus was sooooooo loooooong! T_T But I don't regret it. I rarely regret bad experiences because I believe they make us wiser and stronger. We arrived at the terminal by 5AM, but we only got inside a bus by 9:50AM. That was almost 5 hours of wait. Our bus left the terminal by 10AM.
We paid 145 pesos for the bus ride at JAM. They don't accept reservations, by the way. Their trips during the Holy Week was 24-hours, and first come, first served.
At frigging 4:35PM, we finally arrived at Lutucan Sambat and asked the bus conductor/driver to drop us off. That was 6 hours and 35 minutes of bus ride, thanks to a very heavy traffic in an intersection at Maharlika Highway, in Santo Tomas area if I remember correctly. Urinary bladders full, first thing we did was look for a CR. We had hoped there would be a Mcdo or Jollibee in the drop-off place, but there was only 7-Eleven and some karinderyas. We were still in luck though, because beside a karinderya was a pay toilet – 2 pesos per head. It wasn't a nice looking CR, but I didn't mind.
Right there in front of 7-Eleven were jeeps bound for Barangay Guis-guis waiting for passengers.
We boarded one of the Guis-guis jeeps, and realized that every passenger is actually bound for Dalampasigan Beach Resort. So, the driver told us he could drive us up to the resort entrance, but for a small additional fee. It was an offer for our convenience, so of course, we took his offer.
At the reception area of Dalampasigan Beach & Pool Resort, we could see the relaxing view of the resort. The huts/cottages and the trees made the place look perfect for vacation and relaxation.
A staff led us to the room that we booked. Times we were in the room were not bad, except for the cold cold nights with the aircon running at high power because one of the people in our party is like balat kalabaw and wants a very cold room. Hahaha. 😀
The beach was alright. The water was not dirty, but very shallow at night. The level of the surface of the beach varies widely, unlike that of Marine Base Beach Resort where the depth of the beach areas was fairly leveled. The sand at the shore hurt our feet a lot. xD
The pools at Dalampasigan Beach & Pool Resort were dirty that I flinch just by the thought of it, even though it's been many months since our outing. The adult pool did not only have humans swimming, but also spittle (dura)! Disgusting, right? We couldn't stand one second more in the pool after seeing the floating spittle. There were several of them in the adult pool. The kids' pool had a very yellow water. haha. (>_<) On the way home, we just waited for a bus on the road, not in a terminal. It was a quicker bus ride, less than 5 hours if I'm remembering correctly, and felt better because of the movie playing in the bus - Pee Mak. 🙂
Related Posts:
Posts that may be related to "Review: Dalampasigan Beach & Pool Resort in Guis-guis, Quezon, near Sariaya":