UPDATE: I just published an Inotia 3 page where all my posts related to the game are listed.
Video games keep me sane during busy days. Those all-work-no-fun days drive me crazy! But since video games also consume my energy, I try to limit my play time too.
Inotia 3 – Children of Carnia is a game I've recently been playing during my break times on Android. Gotta love Android for so many great apps that are availed to us for free! The game is also available on Apple products, but I'm not sure if they cost anything or not.
I recommend this game if you love RPG games like I do. Music, graphics, and game system are good. The story is something I'm still not sure about. I grew up playing RPG games (Loving the series of Suikoden and Final Fantasy), and this game makes me feel soooo excited.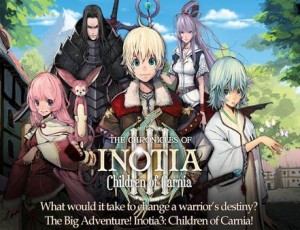 This game is a story-driven RPG game where you can choose among six classes: barbarian, templar, rogue, shadow hunter, priest, or arch mage.
Character Classes on Inotia 3 – Children of Carnia
As defined by the game:
Barbarians are tenacious warriors that suddenly explode with uncontrollable rage to inflict critical damage to enemies.
Templars use their holy power to protect, heal, and reinforce the strength of their party members. They can also infuse their swords with mana to inflict damage.
Rogues are infiltration and poison specialists that inflict critical damage. They are also quick to dodge their counterattack enemies.
Shadow Hunters are snipers whose powerful, long-ranged attacks keep the enemy at bay. They also possess a variety of high strategy combat skills.
Priests use holy power to protect and strengthen their party members while damaging or incapacitating enemies. They are healers that are essential for keeping the other members of their party alive during fierce battles.
Arch Mages wield the power of Fire, Ice, and Lightning to cause area-effective damage to multiple enemies. They can also summon Golems that will back them up in battle.
I'm a rogue right now. This character class reminds me of the days I played Warcraft DotA as Rikimaru (The Stealth Assassin) because of the similar skills like back attack, smoke screen,
poison knife, etc… not in precise terms.
Things I like about Inotia 3 – Children of Carnia
No random encounter battles. Monsters roam about the map and you can easily run away from them when you're not in the mood for battles.
Hiring mercenaries. You can summon someone and let him/her aid you as a party member, using a Warrior Emblem. Helpful if you lack one or two party members.
Active battles. Less boring than turn-based.
Things I dislike about Inotia 3 – Children of Carnia
The way the game often freezes on my Android device, which is probably my device's RAM issue, not the game's.
We need to pick up money and items when monster drop them. It costs additional effort and lazy people like me don't like this. lol. But it's the easiest method, I think, because of the battle system.
There are many things I can't figure out like who can and cannot equip some weapons and armors. (Update: I think the "Level" on the armors/weapons indicate what level a character should be for him/her to be able to equip it. I thought it was level of the item itself!)
When I Google for Inotia 3 walkthrough, I can't find the text-based complete walkthrough I'm looking for. Mahalo has an Inotia 3 walkthrough that I think is complete, but it's a video walkthrough. Maybe I should post Inotia 3 hacks / cheats / guide in this blog some time, huh? I'm not good at writing and games, but we'll see. 😀
Links related to Inotia 3 – Children of Carnia
http://inotia3.wikia.com
http://www.gamefaqs.com/android/636370-inotia-3-children-of-carnia
http://inotia3.gheroworld.com
http://inotia3.free.fr
Related Posts:
Posts that may be related to "Playing Inotia 3 – Children of Carnia":