I have here a text copy of Brooklyn Pizza's (Philippines) menu, including their pizza, pasta, chicken, and drinks with prices… plus delivery info and numbers for Makati, Ortigas, Alabang Town Center, Tomas Morato, Parañaque, Bicutan, and Robinson's Place Malate.
Enjoy!
Brooklyn Pizza – Delivery's Minimum Order Price
Minimum order price for delivery is 250 PHP. Limited delivery coverage area.
Brooklyn Pizza – Phone Number for Makati Delivery
896-9696
Brooklyn Pizza – Phone Number for Ortigas Delivery
633-9999
Brooklyn Pizza – Phone Number for Alabang Town Center Delivery
850-9999
Brooklyn Pizza – Phone Number for Tomas Morato Delivery
376-7676
Brooklyn Pizza – Phone Number for BF Parañque Delivery
775-7575
Brooklyn Pizza – Phone Number for Bicutan Delivery
821-0000
Brooklyn Pizza – Phone Number for Robinson's Place Malate Delivery
405-0505
Brooklyn Pizza – Pizzas Menu
Pizzas
New Yorker
18'
Junior New Yorker
14'
Cheese

560
400
White Pizza
mozarella, parmesan, and ricotta cheese
600
430
White Pesto

680
490
Pepperoni

640
460
Sausage & Mushroom

640
460
Porko
Italian sausage, ham, pepperoni and bacon
680
490
Deluxe
Italian sausage, ham, pepperoni, bacon, black olives, green peppers, onions and mushrooms
720
520
Pepperoni and Mushroom

640
460
Anchovy and Garlic

680
490
Tomato and Garlic

640
460
Vegetarian
black olives, green peppers, onions, mushrooms and tomatoes
640
460
Extra Toppings
mozzarella, Italian sausage, ham, pepperoni, bacon, black olives, green peppers, onions, mushrooms, or tomatoes
60
45
Brooklyn Pizza – Pastas Menu
Tomato Based
Pomodoro
Brooklyn Pizza's special red pasta sauce and fresh basil. Simple yet flavorful.
175
Bolognese (Meat Sauce)
Taste the combined delectable flavor of ground beef, diced red peppers, and Brooklyn Pizza's special red pasta sauce
210
Red Carbonara
Tomato cream based sauce with shitake mushrooms and bacon with a hint of chili
225
Spaghetti and Meatballs
4 zesty meatballs cooked in Brooklyn Pizza's tomato sauce enhanced by the lingering taste of black olives
225
Spicy Shrimp Pasta
Shrimps cooked in tomato cream based sauce with a hint of chili.
255
Cream Based
Bacon and Mushroom
Savor the mélange of sauteed bacon, shitake mushrooms, and spices in lavish cream sauce
210
Creamy Pesto with Chicken Parmigiana
Pesto mixed with Brooklyn Pizza's cream sauce, topped with breaded chicken breast fillet. Definitely a must try for pesto lovers.
230
White Shrimp Pasta
Sauteed shrimps with garlic cream white sauce and olive oil
235
White Vongole
Brooklyn Pizza's famous Vongole recipe with an added twist. Definitely a must try.
265
Oil Based
Tomato and Garlic
Taste the flavor from the simple yet delectable sauteed tomatoes and fresh basil.
175
Pasta Vongole
Have a hearty meal from Brooklyn Pizza's generously portioned sauteed clams simmered in olive oil and white wine to enhance the flavor of the sea.
245
Plain Pesto
Hand blended basil leaves, cashew nuts, parmesan and olive oil.
180
Pesto with Chicken Parmigiana
Brooklyn Pizza's plain pesto topped with breaded chicken breasts. The not so plain pesto.
215
Brooklyn Pizza Chicken – Menu
Chicken
Buffalo Wings
The flavor known around the world as Buffalo Style! These wings are covered in Brooklyn Pizza's famous hot sauce recipe with just the right blend of spices; the true 'Original Buffalo Wings Flavor'.
185
Chicken Tenders
Tender chunks of whole boneless chicken breast, lightly seasoned and breaded.
165
Brooklyn Pizza Drinks – Menu
Drinks
Canned Sodas
Coke, Coke Light, Sprite, or Royal
35
1.5 Liter Coke
60
Bottled Ice Tea
Sola Raspberry or Sola Lemon
40
Brooklyn Pizza – scanned food menu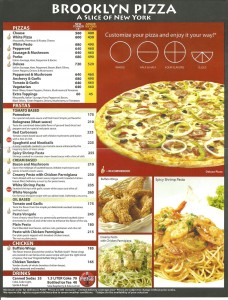 You might be wondering why I had to place a text version of the menu when I can post the scanned version alone. Well, the texts have advantages. 🙂
Related Posts:
Posts that may be related to "Brooklyn Pizza Philippines – menu, prices, delivery numbers":