2017 Update: Do steps 1 and 2 online, and do steps 3 and 4 at an NBI Clearance branch of your choice!
Fill out NBI Clearance application form online
Pay for your NBI Clearance online
Register your biometrics (photo, signature, thumb marks) for your NBI Clearance
Claim your NBI Clearance at Release area
I just applied for NBI Clearance renewal at Robinson's Ermita this February 2017. The worst part is having to come back after 11 days because of a "hit".
---
2015 Update: part of NBI Clearance process can now be done online!
The old NBI Clearance process was long and mostly manually done: fill-up form, data check, payment at cashier, data encoding, photo & fingerprint capture, and finally, the printing of NBI Clearance.

But now, they compressed the processes in 3 steps:

The new process begins with Online registration, appointment, and e-payment, which we can do without visiting an NBI branch. For our Photo & fingerprint capture, we then go to an NBI branch. Printing of NBI Clearance is done after the photo and fingerprint capture.
Much simpler process, right? If you have any trouble, you may contact with NBI Clearance staff via the following numbers during work hours (Monday to Friday, 9AM to 5PM). They were taken from NBI Clearance website on October 4, 2015:
GLOBE NUMBERS: 09179999421 / 09179999418
SMART NUMBERS: 09204129999 / 09995699964
And just a comment – Wow, 8 hours lang sila? Ang convenient siguro ng 9 to 5 lang nasa office.
How to register online for NBI Clearance in 2015?
First, you need to fill up the online form like in the screenshot below. Don't forget to click the checkbox for "I ACCEPT TERMS OF SERVICE".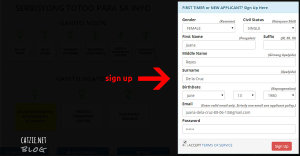 After clicking the Sign Up button, you will be taken to a new page. In this page, you can set your picture. You can upload a photo from your computer, or take a photo straight from your webcam. If you want to take a photo with your webcam, you must first click "Allow" when your web browser asks permission to activate your webcam.

To set your photo, click on the "Change Photo" button on the top right part of the page. It's up to you, you can choose "take picture" with your webcam right then and there, or upload photo from your computer if you have a nice photo of yourself saved in there. 🙂
When you're in that page, it's time to complete your personal details. All fields with an asterisk (*) are required.
Now, enter your birth place and citizenship under "Application Information".
Under "Contact Details" section, you are required to enter your complete "Address" and "Mobile" number.
And under "Family Background" section, you must enter your father's name, his birth place, your mother's name, and her birth place.
Finally, under "Other Information" section, you need to enter your Educational Attainment (kung ano'ng natapos mo), occupation, religion, height in centimeters (Note: 1 foot = 30.48 cm, 1 inch = 2.54 cm), weight in kilograms (Note: 1 pound = 0.453592 kg), complexion, and identifying marks (e.g. mole or scar on cheek).
When you have entered info on every required field, click the "Save Information" button.
If you're okay with all the information you entered, you may now apply for an NBI Clearance. Click "APPLY FOR CLEARANCE" button on the top right of the page.
A box for your confirmation will pop up. Select NEW or RENEW under Application Type. If you already received an NBI Clearance before, choose RENEW. If this is your first time, choose NEW. For the Presented ID field, enter the name or ID number of the valid ID that you plan to present. This can be your passport number, driver's license number, voter's ID, postal ID, SSS, GSIS, PhilHealth, Senior Citizen number, etc. Click the button to submit.
Done? Now we go to the billing process. The NBI site reminds us the following:
Your REGISTRATION CODE or REFERENCE NUMBER will be provided after you select your PAYMENT OPTION.

Your REFERENCE NUMBER shall be your GATE PASS when you enter NBI Clearance Centers.

To avoid inconvenience and long lines, please pay your NBI CLEARANCE FEE using your REFERENCE NUMBER at the selected PAYMENT OPTION. If you wish to pay over-the-counter at NBI, please bring your unpaid REFERENCE NUMBER for auto-encoding.
We can pay for the NBI Clearance outside NBI Clearance centers, but we can also pay over-the-counter at NBI. Please be informed that an additional service fee of 25 pesos to be charged if you pay outside NBI OFFICE. Of course most people won't choose to pay right there at NBI to avoid long lines. There are many options for payment, such as over-the-counter bank deposit, online bank deposit, Globe G-Cash (if system is up), or any Bayad Center.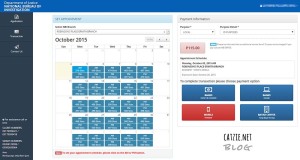 When you click on the payment method of your choice (in my case, "BANKS ONLINE"), NBI Clearance website reminds us this:
A REMINDER

Once you click PROCEED TO PAYMENT here are the next steps:

A payment page will open. Select preferred ONLINE BANKING OPTION then follow instruction.
You will be provided a REFERENCE NUMBER.
Pay your fee to the selected Payment Channel using your REFERENCE NUMBER.
Go to TRANSACTION PAGE and print Application Form.
Bring Application Form to NBI Center for photo image and fingerprint capture.
It's time to click "Proceed to Payment" button.
I don't know which payment center is most convenient to you, but I'll give you an example on how you can pay via BPI Express Online.
The following screenshots shows you the payment gateway they use. If you want to use a BPI Express Online account, your transaction may look like this: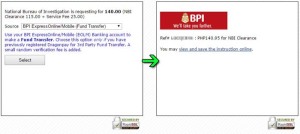 Following screenshot shows Payment Instructions for BPI ExpressOnline or Mobile account: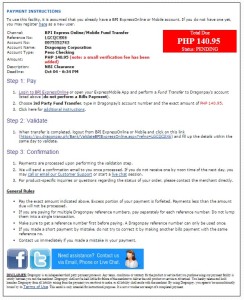 You will use the reference number that NBI's system gave you as you do Fund Transfer via BPI Express Online.
A message from the NBI Clearance site after payment process:
Thank you for using NBI ONLINE APPLICATION SYSTEM!

To see the status of your REFERENCE NUMBER and application please go to TRANSACTION PAGE.

If you need more assistance please feel free to contact or text:

GLOBE NUMBERS:
09179999421 / 09179999418

SMART NUMBERS:
09204129999 / 09995699964

Or send an email using CONTACT US PAGE.
Now, make sure you have paid for your NBI Clearance through the method of your choice. Track your transaction status by visiting the Transaction page.
And of course, don't forget about your NBI Clearance REFERENCE NUMBER and 2 Valid IDs on your appointment date!
So, how was it? 🙂 Feel free to share with us your experiences when you have tried to apply for NBI Clearance with the help of the Internet. 🙂
---
NBI Clearance Application in June 2013 Ever Gotesco Mall Recto
Let me share with you my experience in getting an NBI Clearance this year 2013.
I paid via GCash and entered my details online at NBI-Online.com before booking a schedule and going to the NBI Clearance Center at Ever Gotesco Mall, Recto.
NBI Clearance Payment at Globe Payment Center
Long story shortened: I paid for me and my mom's NBI Clearance at the Cashier at the Globe store at SM San Lazaro, then took note of the reference numbers and date of payment. I chose GCash over Pinoy Pera Padala (PPP) because the PPP branches are all far from my place.
The following includes my story in detail, including some frustrating event.
Last Sunday (June 23, 2013) I went with my BF to the Globe store at SM San Lazaro to pay for my NBI Clearance and for my mom's via GCash. Not being a Globe subscriber, I didn't have much idea how GCash works, but I read that it's either you have your own GCash so you pay for the NBI Clearance through your phone, or you don't have GCash so you go to any Globe Payment Center to pay through them.
I asked the receptionist at Globe what I need to do to pay for NBI Clearance via GCash, to be sure. He told me to go to Globe Customer Service, where a guy at Counter 7 told me I need to register my own GCash first before I can do that. I told him that I wanted to pay for NBI Clearance through the Globe Payment Center because I don't have my own GCash, but he said no, and that I need to register my own GCash to do that. Frustrated, but trusting the Customer Service guy and determined to get the task done within that day, I purchased a Globe sim card so I could get my own GCash. I did the KYC thingy and lined up to the Customer Service again for ID validation and picture-taking. The queue was long. While at it, I told my BF that the process is confusing me, and that I'm wondering why I need to register my own GCash when others said that one can pay at Globe Payment Centers if he/she doesn't own a GCash. By whim, my BF asked a Cashier lady about it. The Cashier lady told him that if we don't have GCash we can just pay there at the Cashier! I was so mad at the guy at Counter 7! I told him I wanted to pay right there via GCash because I don't have GCash, and instead of saving me the hassle and redirecting me to Cashier, he made me buy a Globe sim card and register for GCash, both of which I don't really need. I just went on and got through the validation process and picture-taking for GCash too, para hindi sayang yung pinila. Good thing the guy at Counter 7 was no longer there, or he would see it in my face how upset I was at him.
And so, I paid for two GCash transactions at the Globe store's Cashier, both 140 pesos for local employment and ID purpose but paid a total of 320 pesos because of convenience fee / service charge. So I guess there's additional 20 pesos charged per transaction. I took note of the two reference numbers and the date of payment at the receipt.
Filling out personal details at NBI-Online.com
I filled out me and my mom's personal details online on the evening of June 23, 2013, Sunday.
First, I registered our accounts using our own email addresses, as well as the reference numbers and date of payment from the GCash receipt. Because the reference numbers, date of payment, and email addresses that I entered were valid, I received a confirmation code from NBI-Online in my email inbox. When I entered that code into NBI-Online, the system allowed me to proceed to filling out our personal details. I had to be very careful in typing our details because I think they are not editable once saved.
Getting the QR Code from NBI-Online.com and printing it
When everything was filled out, QR Codes were generated for our NBI Clearance application. I had them printed on June 24, 2013 at a computer shop because I don't own a functioning printer. :p
Booking for an appointment at NBI Clearance Center / Outlets
The NBI Clearance Outlet at Ever Gotesco Mall, Recto is the most accessible from my place. On June 25I texted the following to 0917-563-8054:
BOOK 123456789 EVERRECTO 06272013 0800 Firstname Lastname
123456789 being the reference number I got from GCash, 06272013 the date June 27 2013, and 0800 the time 8AM. I believe that the format I used was correct… or is it not? Let me know, because the system rejected it, saying "NBI HELP DESK: Invalid Date/Time range! Using the book format provided, set appointment of your choice on a WEEKDAY date, from 8AM(0800) / 10AM for malls to 4PM(1600) in military time format." All online resources that list the NBI Clearance Centers, including NBI's own PDF about booking, state that the Recto branch is already available by 8AM. And 0800 time should be valid because, look at their example, it uses 0800 as the appointment time. I tried 0900 and got the same rejection message. Then I tried 1000 and finally got the booking confirmation, which arrived not a minute past the time I sent the booking request. My guess about the rejection is either Ever Recto's NBI Center opening schedule had changed from 8AM to 10AM, or the booking system actually has "limited slots" per time and the 8AM and 9AM schedule were already full when I attempted to book those times.
Going to NBI Clearance Outlet at Ever Gotesco Mall, Recto
Mom and I were at the NBI Center at Ever, Recto around 9:45AM. The applicants are fewer than I expected. I thought we were going to wait for at least 2 hours, but we were done in 1 hour. But of course, I got a hit like last time. 🙁
According to online resources, what online applicants of NBI Clearance should do upon arrival at the NBI Center is first take the eClearance Lane before proceeding to Step 3 and 4. I asked the guard where online applicants should go because I couldn't find any sign for eClearance Lane, and he told me we should just proceed directly to Step 3. The queue's progress was fast, but still took longer than the Step 3 (Biometrics, Fingerprints, Photo-taking) and Step 4 (Releasing) – I mean, the entire process was really faster than I expected!
I was really worried about my mother's NBI Clearance application because she doesn't have an updated government-issued ID. Her passport has expired. Her only valid ID is an NSO-issued birth certificate, which of course has no photo of her. Also, being a married woman, I think she needs to present marriage contract too (the copy she has right now is old and not from NSO) – and I had forgotten to request it for her at NSO! But thank God for answering my prayer – she had no problem with IDs. Before entering the NBI Clearance Outlet, I saw a statement above the list of valid IDs that says "You need one of the following", and the NBI Clearance staffs at Step 3 barely looked at our IDs.
By the way, online applicants of NBI Clearance were asked to write down Father's Name, Mother's Name, Nickname, and Address on the sheet of paper where our QR Code was printed.
Our picture was taken and all fingers were scanned for fingerprints. If I remember correctly, the fingerprint recording before was with ink and not done digitally.
Release of NBI Clearance at Step 4
There's a queue at the very far right side of the NBI Center where people line up waiting for their names to be called. It's either you get it on that day or at a later date. My mother, having an unusual name, got hers released immediately. Mine, of course, had a stupid hit again like before. It is for release on July 4, but I already have work by then! 🙁 My parent's won't be able to claim it for me so…. >_< argh!
My comments about the currect NBI Clearance Application process
I think that getting NBI Clearance at Ever Recto is not tiresome, especially if you don't get a HIT. The lines were actively moving, showing that their system is efficient.
I wish that the hassle that getting "hit" can be alleviated. It is a hassle especially for employees/students because they need to come late or be absent from work/class for two days just to get NBI Clearance. There are 2 possible solutions I can think of:
Hit is determined during online application before the applicant actually goes to the NBI Clearance Center. Though this may be impossible right now because of their current system/procedures.
Avail NBI Center services on weekends
Update, July 4, 2013: Today's when I was asked to come back for my NBI Clearance. I was there at Ever Recto by 8AM but we were only allowed to go in at 8:30. By the way, there's a separate queue for people who are coming back for "releasing" due to hit, and another queue for those just applying for NBI Clearance. For less than 5 minutes we waited, seated, outside the cinema where NBI Clearance Outlet is. People lined at the Releasing queue put their recept/slip inside a designated box and waiting for their names to be called as the staff printed the NBI Clearance for him/her. It was over by 9 and thank God, I arrived at the office on time. xD
Update (March 30, 2012):
A fellow Pinoy shared his/her experience at the NBI Main Office at UN Avenue, Click here to read about it.

Tips regarding application/renewal have been imparted by an NBI personnel. Click here to read the tips.

Keep posting your tips and experiences as comments, guys! We appreciate it. Malaking tulong po.

My NBI Clearance has not expired yet, so I'm not so updated with info regarding the new system (if there's any). I'll surely update this blog entry with my new experience once I go to NBI again.

Update (November 30, 2011):
According to a visitor who posted a comment, due to a system reset by NBI, all processes will only be for acquiring new NBI clearances and no more renewals, which means it will take at least one month to process. If any of you receive your NBI clearance in less than a month please let us know. Thanks. 🙂

Update (November 2011):
Based on visitor comments we can say that some branches release the NBI clearance within one day (or after a week if you get a hit) and some do so in a month or several months.

Update (July 16, 2011): I have been told that there's no longer a Monumento branch, and that it's been moved to Robinson's Place, Ermita.
We went to Victory Central Mall today to get our NBI Clearance. The NBI Clearance Center is located at the 5th floor of Victory Central Mall, Old Victory Compound, Rizal Avenue, Monumento, Caloocan City.
I must say that the Monumento branch has a very organized process. It took us less than 2 hours to finish. Try going there as early as you can so there are less people.
The information listed in this blog entry were acquired on June 1, 2011. Prices, procedures, branches, and other information may change without us knowing.

There are other branches where you can apply for or renew your NBI Clearance aside from the one at Monumento. Scroll farther down to see lists of other NBI Clearance Centers.
The following photos were the postings at the NBI Clearance Center. If you find the writings in these hard to read, there's a text version available below the photos.
Who will get an application form for NBI Clearance?
First time applicant
Lost personal copy of old NBI Clearance
Photo-copy of old NBI Clearance
Renewal (Single) for change of civil status (applicable for female only)
Renewal subject for correction
NBI Clearance Renewal
Applicants for renewal (original copy only) – subject is present, with or without changes of address and purpose may proceed to Step 1 Data Check then to Renewal Kiosk or proceed to Step 2 Payment, and then to Renewal Kiosk (Image Capture)
Inside the processing area, proceed to Step 2 Payment
Please proceed to renewal kiosk for Image Capture
Application for no hit remark, please proceed to releasing section to claim your NBI CHS. Cert. and have your right thumb print.
Application with hit remarks are advised to come back at the specified date indicated in your O.R.
How to apply for an NBI Clearance
Get an application form (FPC – Finger Print Card) at the distributor's desk
Proceed to fill up area
Submit your filled up application to Step 1 – Data Check
Proceed to applicant's lane near the entrance
Step 2 – Payment for application inside the processing area
Step 3 – Fingerprinting
Step 4 – Image Capture
Step 5 – Data Entry – Quick Search
All applications with no hit remarks proceed to releasing section
All applications with hit remarks schedule for release
The following are extra information.
How much does the NBI Clearance cost?
The price depends on the purpose of application:
Naturalization, Cancellation of ACR, Repatriation – P415.00
Change of Name, Business License, NFA, SEC, TBC, Adoption, POEA, PRA Requirement, Permit to Carry Firearm – P165
Travel Abroad, Immigration Req., Visa Seaman, Marriage Requirement – P115.00
Local Employment, Customs Pass, Enlistment AFP, DND, DOT Req., ID Purposes and Other Requirement – P115.00
What are the requirements?
2 Valid ID's, original copy of old NBI clearance if you are renewing, and your presence. You need to go there in person because they need take a photo of you and your fingerprints.
What are considered valid I.D.'s?
Voter's I.D., Postal I.D., SSS I.D., GSIS I.D., PRC License , Driver's License, Company I.D, Valid Passport, ACR (for aliens), Senior Citizen I.D., Philhealth I.D., Student ID
When will you get the NBI Clearance?
Your NBI Clearance will be released the same day you apply for in, UNLESS there is a "hit"! You will find out when you can claim your NBI Clearance on Step 5 – Data Entry. They will place a mark at the back of your receipt, and it's either without hit (you proceed to releasing area) or with hit.
What is a "hit"?
When you get a "hit" it probably means you share the same name with somebody else. You will have to come back after a week to either claim your NBI Clearance or be interviewed. Refer to the mark at the back of your receipt for the date you have to come back to the NBI Clearance Center.
I actually had a "hit". It sucks because I have to go to Monumento again next week. 🙁
How long is an NBI Clearance valid?
The validity of your NBI Clearance lasts for one year.
NBI Clearance Center Branches
Satellite Offices for Application and Renewal
Quezon City Satellite Office (Quezon City Hall)
Marikina Satellite Office (Marikina Riverbanks)
Mandaluyong Satellite Office (Mandaluyong City Hall)
Las Pinas Satellite Offce (Las Pinas City Hall)
Muntinlupa Satellite Office (Alabang Market)
NBI Clearance "RENEWAL" Kiosks
Park Square I, Makati City
SM MEGAMALL, Mandaluyong City
Tutuban Central Mall, Divisioria, Manila
Porta Vaga Mall, Baguio City
Gaisano Mall, Iloilo City
Robinson's Mall, Cebu City
Robinson's Mall, Cagayan de Oro City
Talisay City, Cebu
NBI Regional and District Offices
1) Cordillera Autonomous Regional Office, Baguio City
2) Ilocos Regional Office, San Fernando, La Union
3) Cagayan Valley Regional Office, Tuguegarao City
4) Central Luzon Regional Office, San Fernando, Pampanga
5) CALABARZON Regional Office, Batangas City
6) MIMAROPA Regional Office, Calapan, Oriental Mindoro
7) Bicol Regional Office, Naga City
8 ) Eastern Visayas Regional office, Tacloban City
9) Central Visayas Regional Office, Cebu City
10) Western Visayas Regional Office, Iloilo City
11) Northeastern Mindanao Regional Office, Cagayan de Oro
12) Southeastern Mindanao Regional Office, Davao City
13) Central Mindanao Regional Office, Koronadal, So Cotabato
14) Western Mindanao Regional Office, Zamboanga City
15) CARAGA Regional Office, Butuan City
16) Autonomous Region for Muslim Mindanao, Cotabato City
17) Laoag District Office, Laoag City, Ilocos Norte
18 ) Vigan District Office, Vigan, Ilocos Sur
19) Dagupan District Office, Dagupan City, Pangasinan
20) Bayombong District Office, Bayombong, Nueva Vizcaya
21) Isabela District Office, Ilagan, Isabela
22) Olongapo District Office, Olongapo City, Zambales
23) Cabanatuan District Office, Cabanatuan City, Nueva Ecija
24) Tarlac District Office, Tarlac City, Tarlac
25) Bulacan District Office, Plaridel, Bulacan
26) Cavite District Office, Tagaytay City, Cavite
27) Laguna District office, Sta Rosa, Laguna
28 ) Lucena District Office, Lucena City, Quezon Province
29) Puerto Princesa District Office, Puerto Princesa, Palawan
30) Legaspi District Office, Legaspi City, Albay
31) Bacolod District Office, Bacolod City
32) Dumaguete District Office, Dumaguete, Negros Oriental
33) Samar District Office, Catbalogan City, Eastern Samar
34) Dipolog District Office,
35) Pagadian District Office
36) Iligan District Office
37) Tagum District Office
38) Saranggani District Office
Other NBI Satellite Offices
1) Los Banos Satellite Office, Los Banos, Laguna
2) Marilao Satellite Office, Marilao, Bulacan
3) Montalban Satellite Office, Montalban/Rodriguez, Rizal
4) Caloocan Satellite Office, Caloocan City Hall
5) Valenzuela Satellite Office, Valenzuela City
6) Taytay Satellite Office, Taytay, Rizal
7) Philippine Retirement Authority, Makati City
8 ) Philippine Overseas Employment Administration
9) Alaminos Satellite Office, Alaminos, Pangasinan
10) Imus Satellite Office, Imus, Cavite
11) Lipa Satellite Office, Lipa City, Batangas
12) San Pablo Satellite Office, San Pablo City, Laguna
13) Kalibo Satellite Office, Kalibo, Akalan
14) Bohol Satellite Office, Tagbilaran City, Bohol
Entries from other blogs related to NBI Clearance
NBI Clearance Center Robinsons Otis Manila
Related Posts:
Posts that may be related to "NBI Clearance Center – Application, Renewal, Price, Requirements 2017":