This is one of the foods I enjoy making. Making desserts was one of the away-from-computer hobbies I developed during my internship as graphic designer / web developer. It was very stressful – difficult commute to the workplace plus work on the computer all day, that I needed stress-relieving hobbies during the weekends. Prior to internship I didn't make any food at all.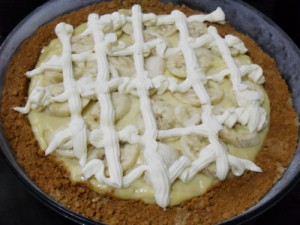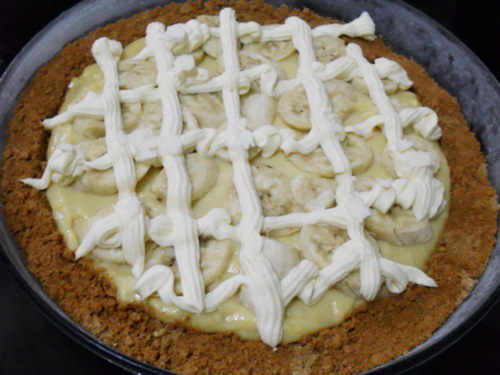 I'm posting the recipe I use for this yummy banana cream pie. This pie has a crumb crust and creamy filling with bananas. A dessert that's good for summer! 😉 It's also easy to make.

Catzie's Banana Cream Pie
This is a modified version of this original banana cream pie recipe.
Banana Cream Pie Ingredients
PIE CRUST:
– 1 1/2 cups graham cracker crumbs (18 crackers)
– 2 tablespoons granulated sugar
– 1/4 cup butter or margarine, melted
– 1 teaspoon of cinnamon powder
PIE FILLING:
– 2/3 cup granulated sugar
– 3 1/2 tablespoons corn starch
– 1 pinch salt
– 2 1/2 cups whole milk
– 4 egg yolks, slightly beaten
– 2 teaspoons pure vanilla extract
– 2 tablespoons butter
– 1 to 2 bananas, large, peeled, and sliced
TOPPING:
– 1 to 2 bananas, large, peeled, and sliced
– 1 cup whipped cream (optional)
Banana Cream Pie Procedures
For the crust, you can either freeze it or bake it. I always opted to just freeze it because it's easier for me, but some say that baking it gives a crispy texture, and some of you may like it better.
Combine cracker crumbs, sugar, cinnamon, and butter. Press crumbs firmly against the bottom (and if wanted, also against the sides) of the pie plate.
Frozen Crumb Crust: Cover it then place it in the freezer until it's hardened. Usually around 15 minutes.
Baked Crumb Crust: Heat oven to 350º F. Bake the crust for 10 minutes, then let it cool.
The procedures for the banana cream pie filling are as follows:
In a medium sauce pan, combine sugar, corn starch mixed with a little milk, and salt. Over medium heat, gradually whisk in remaining milk. Stir constantly until filling becomes thick and reaches a boil. Boil filling for 1 minute.
Gradually add egg yolks.  Continue to whisk filling mixture constantly while bringing to a boil again. Boil for 1 minute.
Remove filling mixture from heat, blend in butter and vanilla.
Place 1 layer of sliced bananas in the bottom of cooled pie crust. Then, pour filling into pie crust. If desired, top with additonal bananas and whipped topping.
Chill the banana cream pie until it's set. I serve mine when even the pie filling has hardened.
Banoffee Pie is another dessert I love making. Its toffee makes this pie very addictive, but a bit hard to cut when it hardens.
Today I'm gonna try my hands on a grasshopper pie! Wish me luck. lol.
Related Posts:
Posts that may be related to "Banana Cream Pie Recipe":