"I can't leave Subic without eating at Meat plus"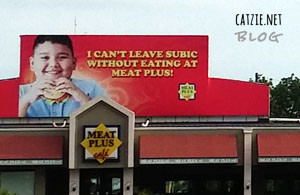 There's a huge banner at Meat Plus Cafe in Subic that says "I can't leave Subic without eating at Meat Plus", and I think that when I go back to Subic, I would be saying exactly the same thing. 😉 Meat Plus Cafe sure is a must-visit when you travel to Subic. Why, you ask? Because they serve good quality steaks at low prices. U.S. Steak Meals cost P260 to P405. Yessss, they're very affordable for steak meals!
And there was a really good food item at Meat Plus Cafe that can give you tongue-gasm. I'll talk about it later in this post. 😀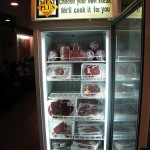 At Meat Plus Cafe, you can buy frozen meat, which can also be cooked for you if you like for a fee of P100. Otherwise, just order something from the menu. 😉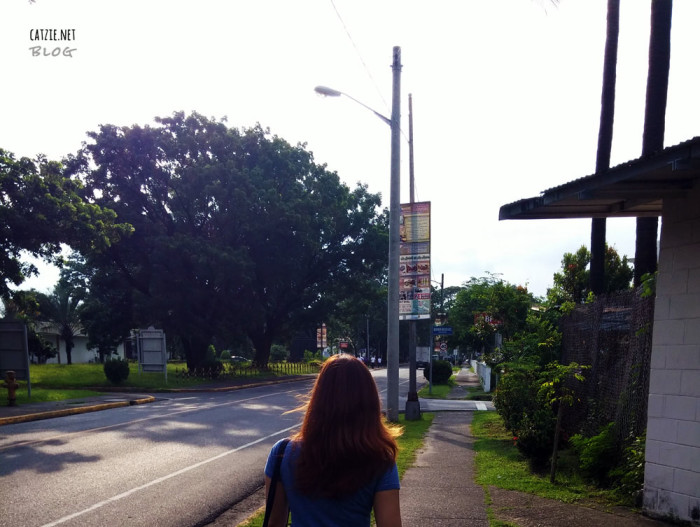 It was around 3 or 4 in the afternoon when we were walking on our way to Meat Plus Cafe for a late lunch. I think the photo above is a nice one. It reminds me of the spacious streets in Subic that I really liked. I miss the place already!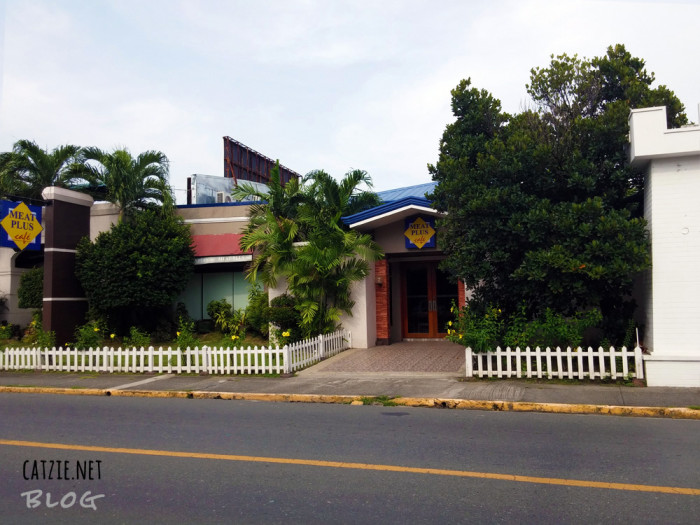 Seeing the Meat Plus Cafe logo made us feel soooooo excited… until we realized we were at the wrong door! Oopsie. 😳 Men who were standing by told us that the entrance was at the other side. Hehehe.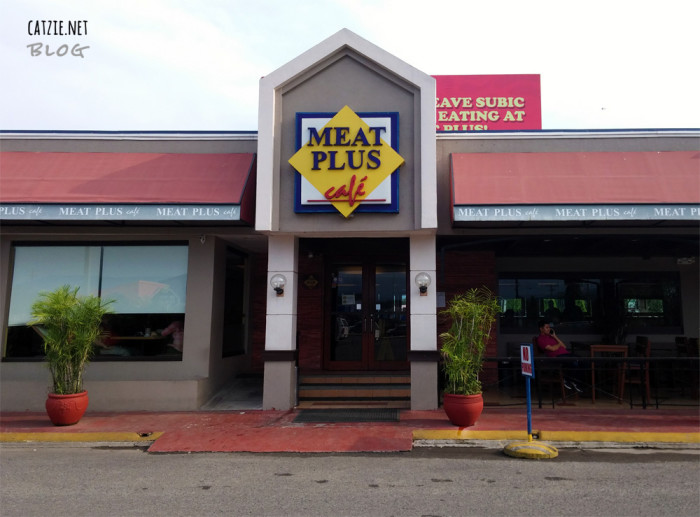 So yes, finally, the entrance! LOL.
Meat Plus Cafe Menu (August 2015)
I have the Meat Plus Cafe menu here in text form — only including Steak Meals and Combo Meals for now. I'll type the rest when I have spare time, okay? Good. 😉 View the items and prices by clicking on the category names — U.S. Steak Meals category is already opened for you. Being too hungry back then, I forgot to take photos of the menu.
Served with rice and vegetables
| Item | Price |
| --- | --- |
| Tenderloin | P260 |
| Topsirloin | P280 |
| New York: | P355 |
| Ribeye: | P405 |
Served with Soda or Iced Tea
| Item | Price |
| --- | --- |
| Hamburger with Spaghetti | P175 |
| Cheeseburger with Fries | P165 |
| Meat Plus Burger with Fries | P210 |
| Seaburger with Fries: | P165 |
| Burger Steak with Soup & Rice | P220 |
| Grilled Chicken Steak with Soup & Rice | P200 |
| Oven-roasted Beef Belly with Soup & Rice | P220 |
| BBQ Pork Ribs with Soup & Java Rice | P220 |
Later in this page: I'll share a link to another blog's Meat Plus Cafe review with Meat Plus Cafe menu photos in it. 😀 Promise!
Meat Plus Cafe Review
We ordered tenderloin steak meal and ribeye steak meal and in only about 3 minutes, our meal came. That was very fast! Well, there were only about 3 tables taken at that time. :p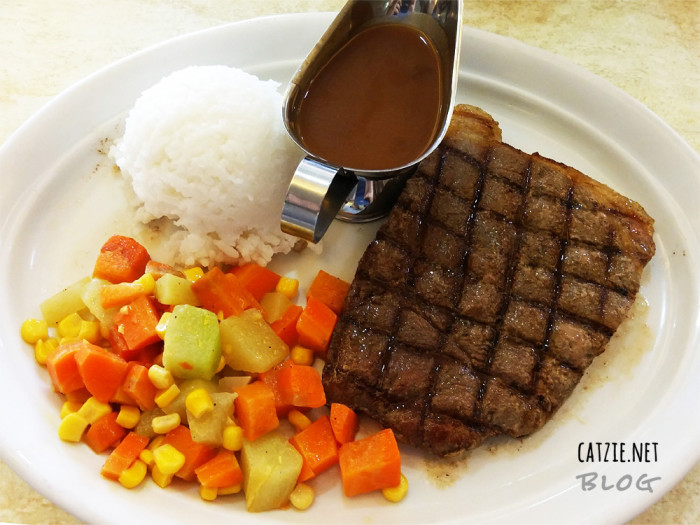 On the photo above was the tenderloin steak meal (P260), with rice and vegetables on side.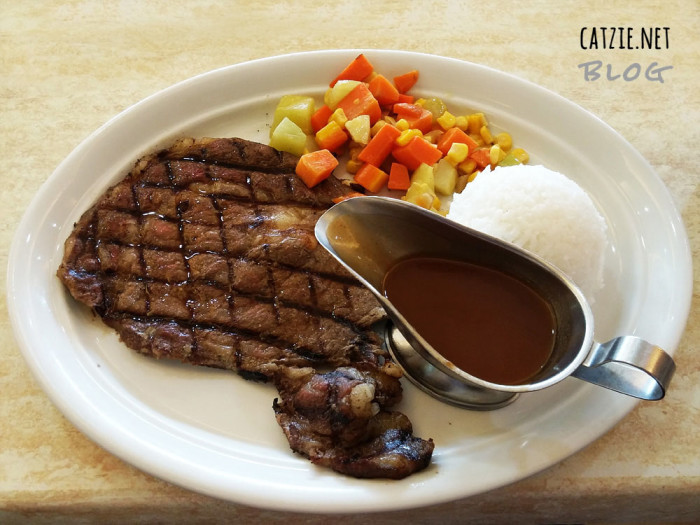 And ribeye steak meal (P405), also with rice and vegetables on the side.
Let me say this first: the vegetables side dish was surprisingly SUPERB and tonguegasmic. 😯 The fresh cubed sayote (chayote), sweet corn, and carrots were very tasty and very juicy, and I could taste real butter in it. It's not margarine! When I chew the vegetable, the flavors just burst inside my mouth. I know that the steaks should be the highlight, but I never had any vegetable side dish as flavorful as that of Meat Plus Cafe. 😥 It was a super delightful experience. I hope the quality doesn't change when I come back someday!
We liked the simple fact that Meat Plus Cafe cooked my steak the way I requested it: medium rare. Other steak places sometimes make a mistake on this part. By the way, I usually request that my steak be cooked well done, but my companion suggested medium rare instead because ribeye is a thin slice of meat, and might become too tough if cooked until well done. I'm glad I listened to that suggestion! 😀
The tenderloin steak was chewier than the ribeye. The thin slice of the ribeye steak made it easier to chew.
Link to the Meat Plus Cafe menu photos

And oh, as promised, if you'd like to check photos of Meat Plus Cafe's menu, visit this blog post about Subic by The Pickiest Eater in the World. You'll find Meat Plus Cafe review in that page, and if you keep reading, you'll find photos of Meat Plus Cafe menu. 😀 Ahhhh the photos in that page make me drool. Check it out too!
I always like dessert, especially when traveling because I'm always in search of fresh flavors. I didn't find dessert that was interesting enough at Meat Plus Cafe though, and we headed to Xtremely Xpresso Cafe instead. I'll write another blog entry for that. 😀
Contact: Meat Plus Cafe Subic
Aside from Meat Plus Cafe menu and review, let me share their address and contact details at Subic:
Subic Bay Freeport Zone Branch
Bldg. 65
Sampson Road, Subic Bay Freeport Zone, Olongapo
Zambales, Philippines
Phone Number
(+63 47) 252-6090, (+63 47) 252-7091
Operating Hours
Open Everyday from 10:00am to 9:00pm
Meat Plus Cafe delivers in Subic!
---
Thoughts at the moment (not related to Meat Plus Cafe)…
My blog pages take so long to load. Maybe I should remove some of the JavaScript and CSS files that I don't need but are being embedded by WordPress. And I've been wondering how I should minimize the size of my images without losing much quality. Hmm…
Related Posts:
Posts that may be related to "Meat Plus Cafe menu and review (Subic, Olongapo)":