Friend: "is your office close to your local?"
Me: "close to… my local?"
Friend: "no, the place's name is 'your local'!"
Me: "ohh!"
I searched for the place Your Local and found our that it's a restaurant in Esteban St. in Makati's Legazpi Village. They had interesting dishes like laksa fettuccine, torched salmon donburi, and beef rendang buns.
Their drinks and dessert also sounded interesting, like Arnie Palmer (earl grey iced tea with lemon grass and orange) and chocolate earl grey pudding and lime mousse.
We sat in the bar area, where we could see food preparation. I enjoyed watching them enjoying themselves prepare food.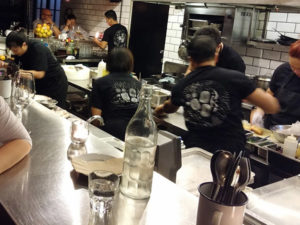 😀 I'll probably look like them when I open a dessert shop one day. 😆 It seemed like the salmon donburi and the black-bun burger are one of their best sellers. It was so cool watching a lady set the dish "torched salmon donburi" on fire. hehe. For several times I had seen them prepare a burger with black buns. I'd like to try that next time.
I like trying new dishes and enjoyed what I tried at Your Local in Legazpi Village, Makati.
Parmesan Fries with Truffle Ketchup at Your Local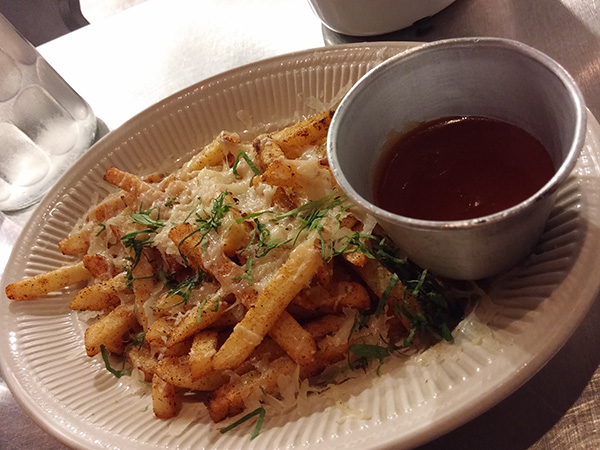 My friend and I tried parmesan fries with truffle ketchup, torched salmon donburi, and lamb rendang. The fries smelled like bonito. I think the fries weren't seasoned with salt because they are bland by themselves, but get tasty when you dip them into the ketchup. I liked how crispy the fries were too.
I don't know what truffle flavor tastes/smells like, so I can't tell if the ketchup had a "truffle-y" flavor. It actually doesn't taste different from tomato ketchup.
Torched Salmon Donburi at Your Local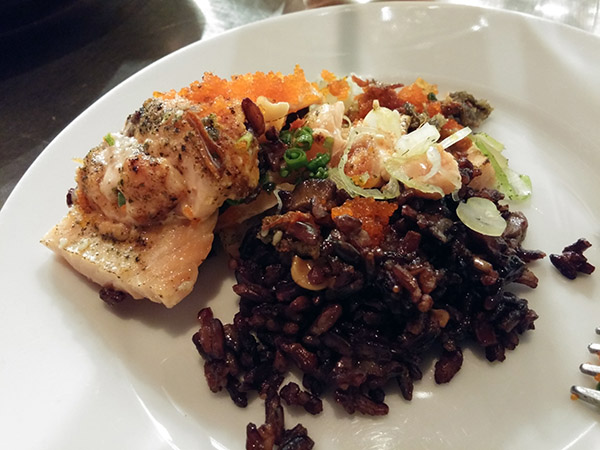 The salmon donburi was delicious too, served with black rice. The salmon was soft, moist and tasty, and I liked the rich mayo on it.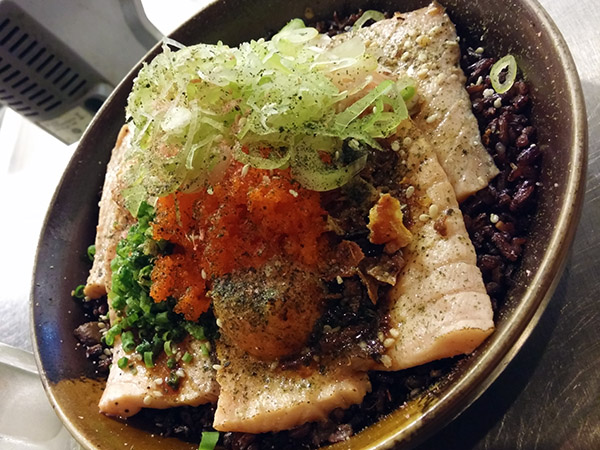 We need more rice with this!
Lamb Rendang at Your Local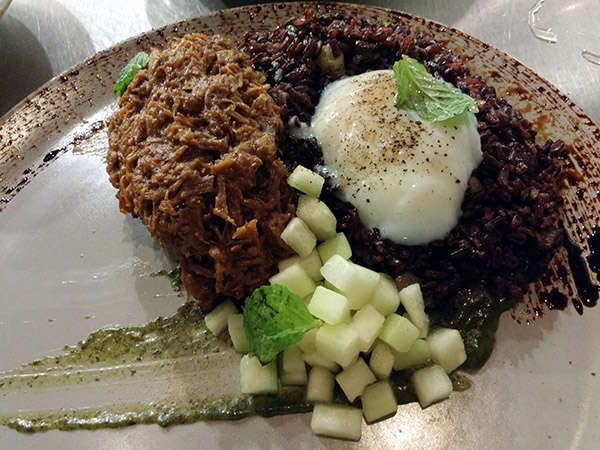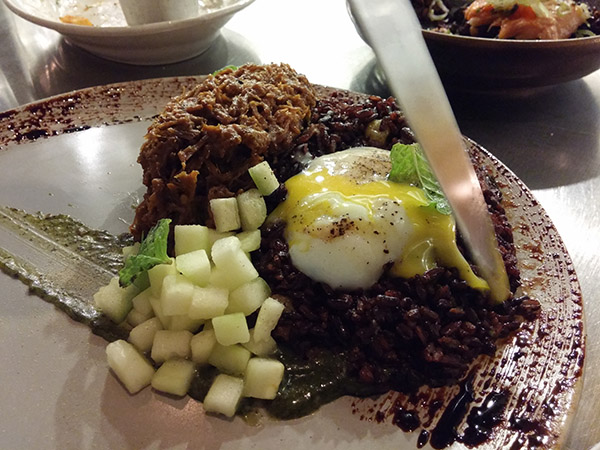 Oh, the lamb rendang — I liked how the meat was shredded. Everything else on the plate went well with it: mint sauce, raisins, cucumber, and black rice. The only think that could improve the dishes is… more rice! XD I felt that the salmon and rendang were very tasty (and tasty usually needs more rice), but they seem to skimp on the amount of rice they serve with the dishes.
The torched salmon donburi needed more rice, but this lamb rendang was tastier that it needed much more rice with it. Your Local, please don't skimp on rice. The dishes are not cheap anyway. 😆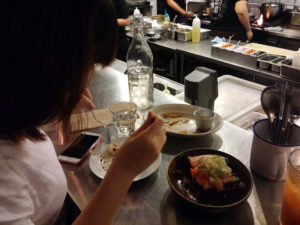 Service? The staff who waited tables were laid back and easy to talk to, but they seemed to be in a hurry to clear tables. Someone asked if he may take the plate of a dish we finished and we said yes, but to our surprise, he also took our plate of salmon that we still wanted to finish. My friend and I were distracted in our convo that we only noticed that he also took out plate of salmon when he was already walking away… a moment when it's awkward to say "ay kuya kakainin pa po namin yan!" ??? That salmon was not cheap. HUHU
Other "Your Local" food reviews:
---
Related Posts:
Posts that may be related to "Interesting dishes at "Your Local" in Legazpi Village, Makati (review)":