I just got my business name certificate from DTI today! The best thing about it is that I went through the entire process online, even the payment part. 😉
You may register a business name with DTI online by using the BNRS (Business Name Registration System). I cannot say that it was a smooth transaction — it was very frustrating so many times because they are currently upgrading their system (sometimes it works, sometimes it's broken), but in the end, after a few days of trying again, I finally finished the business name registration process with DTI.
Please be aware that this guide was written on Sept. 27, 2019 and there may have been changes on the BNRS that I do not know of, making the info here inconsistent from the actual process. The BNRS is still under frequent upgrades. There's often an update when I visit the website.
Steps to register your business name registration with DTI online
Propose a business name
Pay for business name registration
Download business certificate, undertaking document, and official receipt
The process to register business name with DTI online
Before I was able to fill out my business information, accessing the BNRS (business name registration system) was a pain. Then website was often down, and I tried accessing it every day, until it was stable and let me fill out my info.
Fill out Owner's Info
First, the BNRS will ask for the Owner's Information. Fill it out with your personal information.
Business Scope section
Next, you need to choose the Business Scope:
National: 2,000 PhP
Regional: 1,000 Php
City/Municipality: 500 PhP
Barangay: 200 PhP
I chose Regional because it's the largest scope I'll be covering with my business in the next 5 years.
Business name proposal for registration with DTI
In the same page, below the Business Scope section, you'll have to enter the business name to be registered with DTI online.
Provide a Dominant Name which serves like your business name's "proper noun". In the screenshot below it's CATZIE. Then, select a Business Name Descriptor, which should describe the type of business you're running.
The screenshots from here onward will only serve as an example, the name of the business I actually registered is different.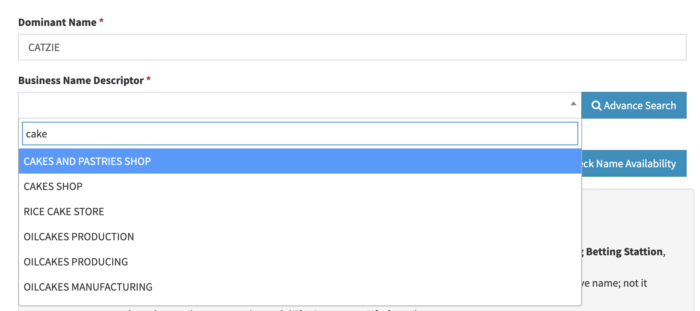 After selecting the descriptor, the BNRS will display a Proposed Business Name. They will combine the dominant name + descriptor. Click the Check Name Availability button to see if it's not taken yet, and to validate if such name is allowed. An example is shown in the screenshot below: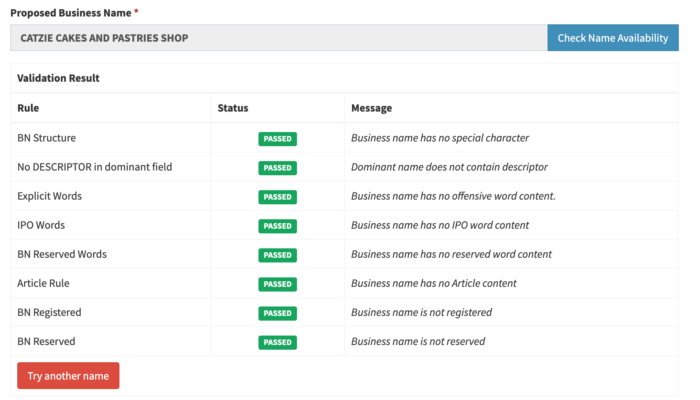 Business name proposal guidelines:
I am cens*ring some of the words, lest my blog gets a bad marking from Google! Loko yaang DTI, b**bs massage and spa daw?! I only copied the following from the official DTI website:
It is the applicant's responsibility to ensure that the proposed business name is:
not and will not be used for business that is illegal, offensive, scandalous, or contrary to propriety ( Pop's Juet*ng Bet*ing Station, B**bs Massage and Spa);

not the same or nearly the same as an existing registered business, company, partnership, corporation, cooperative name; not it infringes on any trademark, service mark and tradename (Anne Dok's Lechon, Jolibee, Starbax Cafe);

not composed nearly generic or geograpic words( The Drugstore, Mindanao);

not a name which by law or regulation cannot be appropriated (OTOP, Intelligence, State College);

not used to designate or distinguish, or suggestive of quality of any class of goods, articles, merchandise, or service (Best Taho Factory, A-1 Auto Repair Shop);

not used by the government in its governmental functions (NBI Private Investigation Services, DTI Trading);

not a name or abbreviation of any nation, inter-governmental or international organization (Philippine Manpower Pooling Agency, UNSECO Marketing, WHO Health Services); and

is not deceptive, misleading or which misrepresent the name of business ("GOLD Construction Services" where nature of business is recruitment).

https://bnrs.dti.gov.ph
Confirmation of business name registration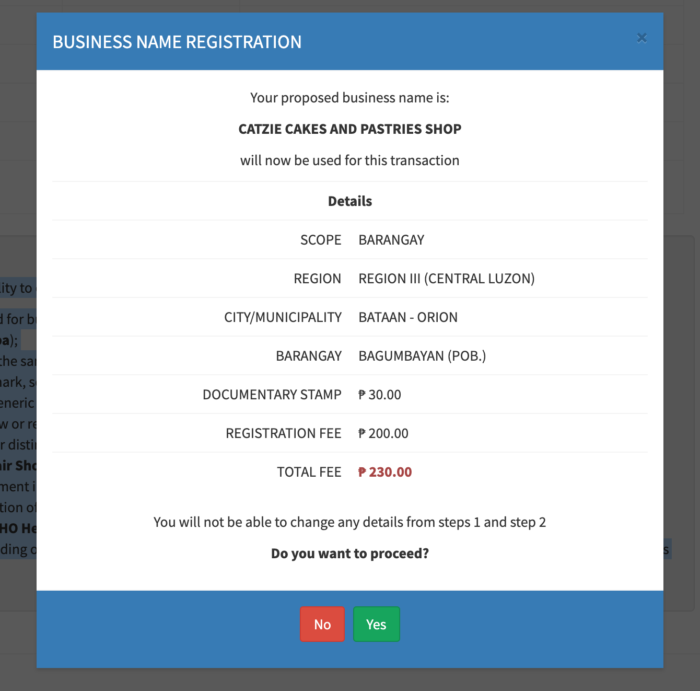 The total fee for business name registration on Barangay level will be 230 PhP. The extra 30 PhP is for the Documentary Stamp. If everything seems to be in order, click the Yes button.
Keep your Reference Code somewhere safe!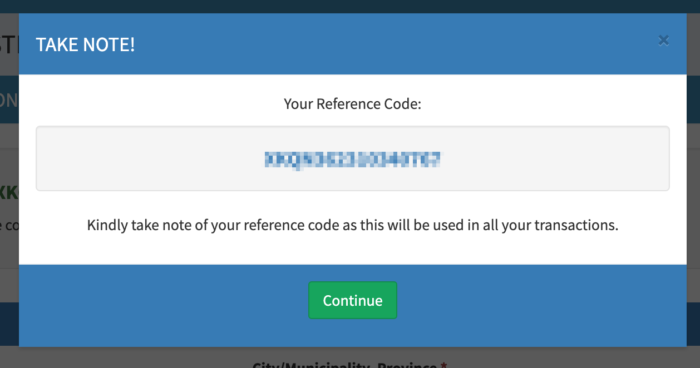 Save the reference code and do not lose it! You'll need this to pay for your business name register with DTI. What I did was copy the code and pasted it in my phone's notes app. Do not lose your phone either! hehe.
Close this dialog box and then click the Next button at the bottom of the page.
"Undertaking"
Click the Download button at the bottom of the Undertaking page. Print and sign it. I am a newbie in business stuff and I'm not sure what this is for yet, but I'll print and sign it just in case.
Payment
Business name registration – online payment trouble (RESOLVED)
The payment part made me pull my hair in frustration. I was expecting that I could pay right away via GCash like what everyone else on the Internet says. But look at the screenshot below, there's no payment option that I could select under Online Payment!

The DTI Facebook page is responsive to messages, so I told them about this problem. They suggested that I pay for my business name registration over-the-counter because their GCash payment method was not working back then, and there's no advisory on when it's going to be back up. I felt really bad about going to a DTI teller to pay because there's already an online option that exists, but it's just not working! If you Google how to pay for online DTI business name registration, the web pages will tell you that it's done through GCash.
I could not wait for the GCash payment method to be fixed because my business name was only reserved for 5 days, according to an email from BNRS. Against my will, I decided that I'll pay for my business name at the Government Service Express (GSE) at MOA.
BUT!
But on the day before my planned trip to Government Service Express at MOA, I wanted to download the Undertaking document from the BNRS so I checked the website. There was a pop-up announcing that there's been a recent upgrade of the system. I took a peek at my pending business name registration, thinking what if I could finally select GCash to pay for it online. And it was there! I was finally able to select GCash as my payment method, and it worked. Phew! I cried tears of joy on that day.
Payment options after the system upgrade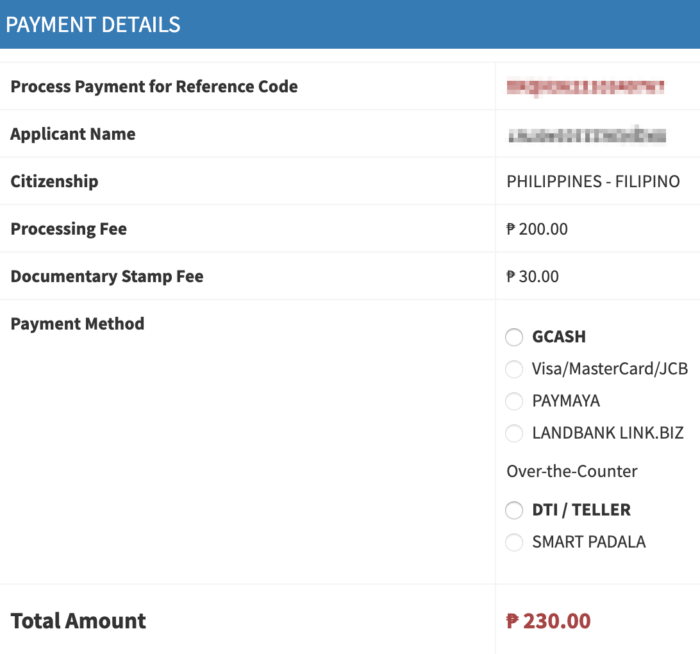 Online payment for business registration with DTI
You may pay for your business name registration with DTI online through the following channels:
GCASH
Visa/MasterCard/JCB
PAYMAYA
LANDBANK LINK.BIZ
Over-the-counter payment for business registration with DTI
You may also pay over the counter through the following:
Transaction fees
Payment Options
Transaction Fee
LANDBANK LINK.BIZ
Landbank ATM/Visa Debit Cards
₱ 15.00
BachNet Member Bank ATM/Debit Card
₱ 20.00
Cash Payment
₱ 30.00
PESONet
₱ 25.00
GCASH
GCash
₱ 10.00
PAYMAYA
Online Checkout and PayMaya One
FREE 1.25% of Transaction amount
PayMaya QR
FREE 0.25% of Transaction amount
Bills Payment via PayMaya App
FREE ₱ 8.00
Pay by PayMaya
FREE ₱ 8.00
Smart Padala
FREE ₱ 10.00
I chose GCash to pay for my online business registration.
Pay for business name registration with DTI online via GCash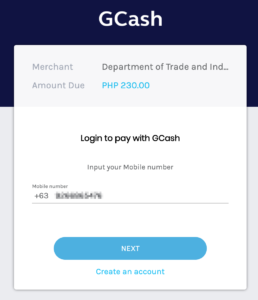 Enter your GCash number.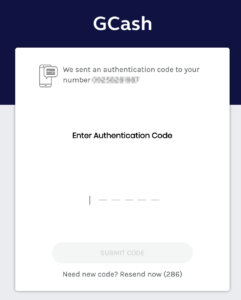 GCash will send you an authentication code. As soon as you receive it, enter it on the website. If you don't enter it fast enough, the system will time out and you'll have to start all over again!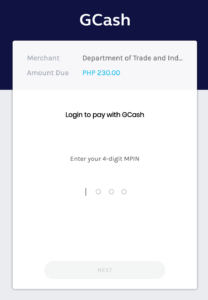 Enter your 4-digit GCash pin then click NEXT.
Make sure you have enough balance on your GCash! Or else, you'll be shown the following screen: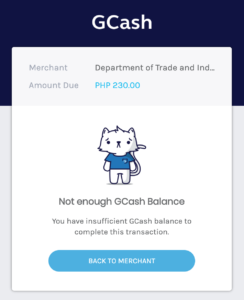 What to download after registering your business name with DTI online
After successful payment, you will be able to download the following documents from the BNRS of DTI:
Official Receipt
Business Name Certificate
Undertaking / [Sole Proprietorship] Application Form (I got the BNR Form No. 01-2018; Also I applied for Sole Proprietorship so that's how my application form is labeled)
The receipt looks like this:
My undertaking document's heading looks like this:
Aaaand my actual business name certificate looks like this:
Your newly registered business name should now appear in the results if you search for it in the BNRS!
Contact DTI
Got a problem or question? It's best that you contact DTI directly! 🙂
Telephone: (02) 890-1302 / 251-3670 / 251-1223
Mobile: 0917 595-3930
Email: [email protected]

The BNRS Helpdesk is open from 8am to 5pm, Monday to Friday (except Holidays).
Next step: Get Barangay Business Clearance
The next step for us is to get a permit from the barangay. I applied for my barangay business clearance at Bangkal Barangay Hall.
Related Posts:
Posts that may be related to "How to register business name with DTI online, and my own experience":