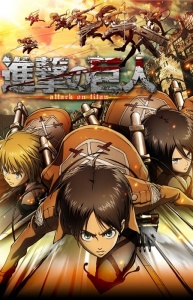 Attack on Titan is one of the recent anime series that I watched. I loved it! It was really refreshing for me because I had not watched any action-packed anime for a long time.
Update: We found a trailer for season 2 of Attack on Titan! Ugh, I can't wait!
If you haven't watched season 1 though, I suggest you watch all season 1 anime episodes first before watching the season 2 trailer. 🙂
---
Most of the anime series I watched prior to Attack on Titan were "slice of life" type with comedy and romance, the kind of anime that relieved my daily stress. The kind of anime that didn't make me think a lot. Attack on Titan aroused my curiosity about many things in the anime series.
Then I realized that these anime series that I've been watching had began to bore me. So I opened the folder where my boyfriend transferred several anime series videos into. I chose to watch Shingeki no Kyojin, or "Attack on Titan" in English. I was told that this anime could get really addictive at around episode 15 when things get really interesting.
Titan drawing by Catzie
Just sharing a titan that I drew: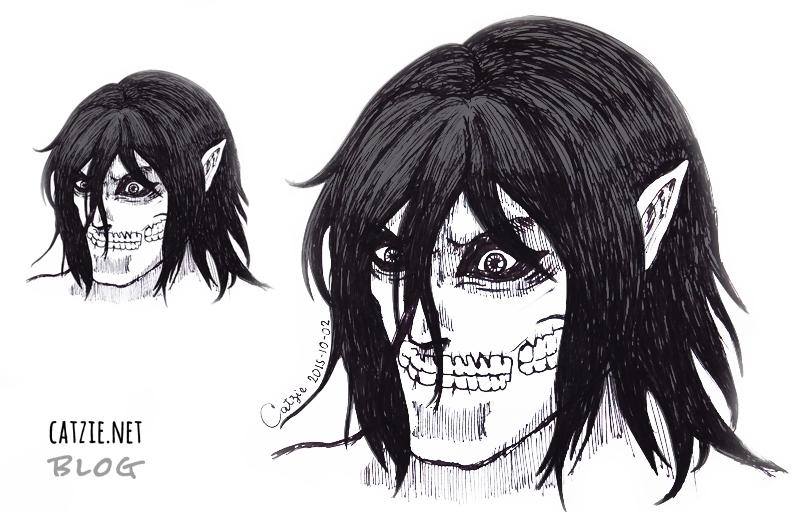 Here's a raw version of the drawing: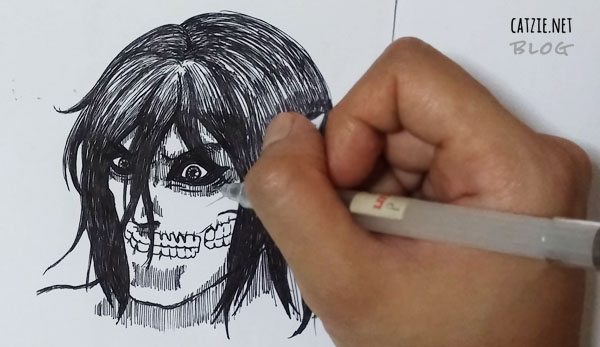 This might have been my first time drawing a male character, especially one that looks like a monster. Over 10 years ago, I was so addicted to drawing and most of what I drew were pretty anime girls. I didn't feel like drawing male anime characters. Until now. xD I guess people always change.
Something to think about from Attack on Titan
"People who can't throw something important away can never hope to change anything." – Armin Arlert
The quote above is something that Armin Arlert said in one of the last episodes of Attach on Titan. This somehow inspires me, being someone who desires many changes in life.
What I liked about Attack on Titan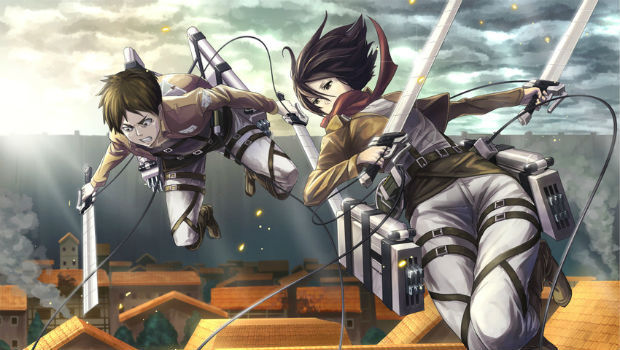 The 3D Maneuver Gears are so cool! I hope there's a theme park or studio that features 3D Maneuver Gears that fans can try on. That would be a great experience, right? It would also be really great if there were titans you can control from the back of the neck — you'll get what I mean when you watch the anime. 😉
If you watch the anime, you would see how hard humanity struggle to regain freedom from their predators – the titans. You'd see how much the characters had to sacrifice for their goals. And this brings back that quote from Armin in my head: People who can't throw something important away can never hope to change anything.
In a certain scene with that female titan, when they were about to find out the identity… oh dear, I can't remember any anime with a scene that made my heart beat that fast! Kudos to the production team of Attack on Titan anime. :3
I liked how strong Eren's will is. He sometimes seems to become really scary when he says he'll exterminate the titans, but I can relate to him. After all, the titans have taken away so many lives around him, including that of his beloved mother.
Mikasa who's always there for Eren is another character that I liked. I admire how she's devoted to Eren who she calls her "family", well, her last remaining family. She's also a very skilled soldier — I like it when a girl is tough. Sometimes I feel bad for her when Eren kind of turns away from her. I hope they end up together someday. Tee-hee.
I can't say I like Armin as much as I like Eren and Mikasa, but I do admire the way he thinks. His body may not be strong, but his mind is. Armin helped the military survive many times, thanks to his brilliant mind.
The character development on Jean Kirstein. It was nice how the anime showed us his internal struggle.
What I hope for in Attack on Titan season 2
Like I said, I hope Mikasa and Eren end up together. :3
I hope to find out more about Eren's dad. Where the heck is he all this time? Is he involved with titans? Is he actually a villain?
I want to find out exactly how the titans came into the earth. How do they reproduce?
Attach on Titan is getting season 2 in 2016! This gives me 3 very exciting things to wait for in 2016: Attack on Titans season 2, the next season of Game of Thrones, and someone I'm hoping to come home from Japan! 😀
Attack on Titan movie trailer
Every person I talk about the live action movie of Attack on Titan with, says that it's a horrible one! A friend said that the story deviated from what was in the anime.
I checked the trailer, and I didn't like the way things looked. The setup didn't look realistic to me. All I liked were the acting of Hanji (going nuts as usual), as well as how cool the titan on my drawing looked even in the movie. 🙂
See for yourself:
Related Posts:
Posts that may be related to "Attack on Titan: Season 1, one of the best anime I watched so far":