When it comes to pasta dishes, I like it when the sauce is thick and really clings to the pasta. And when eating white sauce pasta, I want it really creamy.
I'll share with you a creamy carbonara recipe, with sauce that's thick and creamy, and doesn't use flour or cornstarch to thicken.
The recipe you'll find here is not classic Italian spaghetti carbonara. The classic carbonara sauce has eggs and parmesan cheese, but my recipe uses cream, butter, and a local processed cheese.
This recipe won't tell you exactly how much salt or pepper to add — add as much as you need and taste the sauce as you do.
Serves about 6 people.
Ingredients
salt
pepper
1/4 cup butter
1 Tbsp olive oil
1 medium red onion, minced
4 cloves of garlic, minced
1 large chicken breast half, sliced into cubes (or 2 small breast halves)
1 cup canned sliced mushrooms
1 cup all purpose cream
1/4 cup water
1/4 Eden cheese, grated
250 grams bacon, cooked until crispy then cut to small pieces
about 250 grams spaghetti, prepared according to instructions
Procedures
Cook spaghetti pasta according to its instructions. Make sure not to cook too much or it might get soggy! We want it al dente
Slice the chicken breast half into cubes, then season with salt and pepper
In a medium or large sized frying pan, melt the butter then add olive oil.
When the butter and oil mixture is hot and bubbly, add minced red onion and cook until a little translucent, then add garlic.
Add the sliced chicken and stir fry.
Add the mushrooms. Make sure to cook until the chicken slices are slightly browned.
Pour the all purpose cream and water and mix well.
Add grated cheese then mix well again
Add as much salt and pepper as you like, but taste as you go to avoid a sauce that's too salty.
If the sauce is too thick, add a little more water and salt. If it's too thin/runny, let it simmer until thick enough for your liking.
Serve immediately with the spaghetti you cooked earlier. Add as much sauce as you like into the pasta.
Enjoy! I hope it turns out well.
Leftover creamy carbonara sauce?
You can place leftover creamy carbonara sauce in an airtight container in your refrigerator for up to 3 days. Reheat, then serve with pasta.
I haven't tried freezing this carbonara sauce so I'm not sure if it will reheat well after becoming frozen. But the sauce will last longer in the freezer — maybe for up to 2 weeks?
You can also use the leftover sauce in your omelette or in your sandwich, or wherever you think it will go well. 😆
My preferred brand of Spaghetti pasta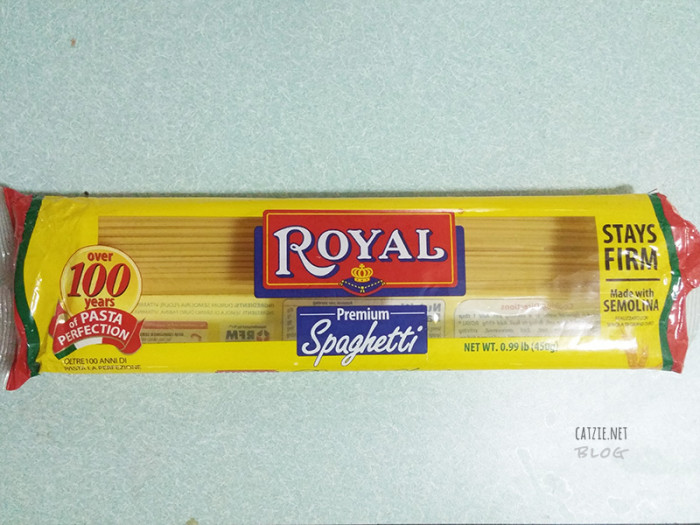 I like Royal Premium Spaghetti because based on my experience, the pasta doesn't easily sog. It's perfect for those who try to achieve "al dente" spaghetti! 😀
Related Posts:
Posts that may be related to "Catzie's Creamy Carbonara Recipe":