Before you can get the Mayor's Permit for your business, you need to get a Locational Clearance first.
Following are the requirements you should prepare to get your Locational Clearance.
Requirements for Locational Clearance as listed in the application form:
Vicinity / Location Map
Contract of Lease / Certification
DTI / SEC Articles
Occupancy Permit
CCT / TCT / OCT / DENR Certification
Authorization Letter (for representative)
Old Mayor's permit
Others, if any will be required after inspection/evaluation
Where to apply for Locational Clearance
The office that receives Locational Clearance application is at the 2nd floor of the "old building" of Makati City Hall.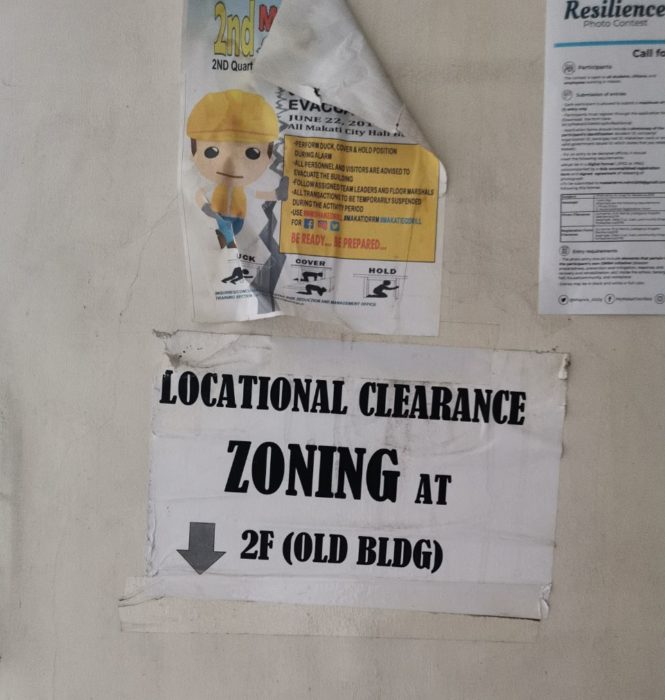 Some online resources say that it's at the 5th floor — even the city hall staff inside the elevator today said it's at the 5th, but we went there today (Jan. 15, 2020) and found that it had been moved to the 2nd floor.
My own experience in applying for a Locational Clearance
When I visited the office that files Locational Clearance, I went straight to the counter labeled as "Receiving".
The staff checked the required documents that I brought with me. He compiled my vicinity/location map, barangay business clearance and plate photocopy, contract of lease photocopy, and DTI business name registration certificate photocopy. Please do bring the original ones too, even if he didn't include the originals in the compilation, he inspected them.
I missed one requirement: Occupancy Permit or Certificate of Occupancy. I thought it was the same as the contract of lease, but nope. This is what a Certificate of Occupancy looks like: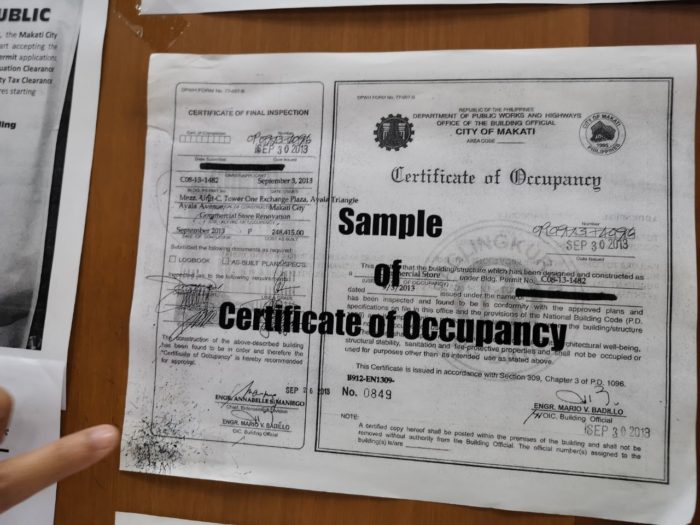 The city hall staff handed me the compiled documents and told me I should photocopy the filled out application form, then have 3 copies ready for the notary. The application form must be notarized before he files the Locational Clearance application. For the notary, I'll need cedula, the compiled documents, plus the certificate of occupancy that I'm still missing.
I will try to head straight to a nearby notary public once I get my certificate of occupancy to save on the number of visits to Makati City Hall.
//2021 Update: I did not push through with this. I stopped renting a place for my shop due to our pandemic situation. If I ever process documents such as this again, I'll try to write about it! I hope you are all doing fine in this difficult time. Stay safe and socially distant, everyone. 😷
Related Posts:
Posts that may be related to "How to get Locational Clearance for your Mayor's Business Permit in Makati City Hall":