You're on this page probably because you want to know how you can avail Beep cards at LRT stations. Or maybe for the first time, your Beep card is about to run out of load. Maybe you don't take LRT trains but just a little curious. 🙂
The Beep card ticketing system was first tried at LRT-2, and just a few days ago, it was also launched at LRT-1 but limited to Southbound trips at the moment. You can read about my LRT-1 Beep card system experience.
The Beep card's ticket vending machine does not give change, so you may only insert the exact amount you want to load into your card. Maybe the tellers at the LRT ticket booths can give you a change.
Here's how you can buy and re-load a Beep card: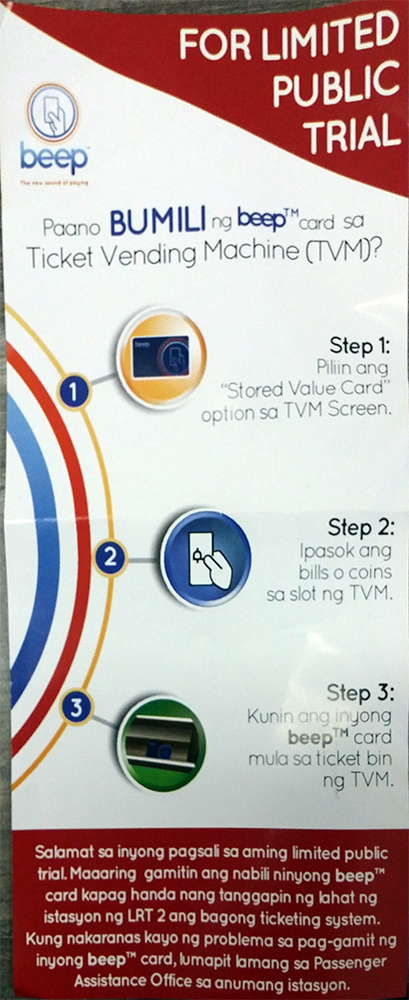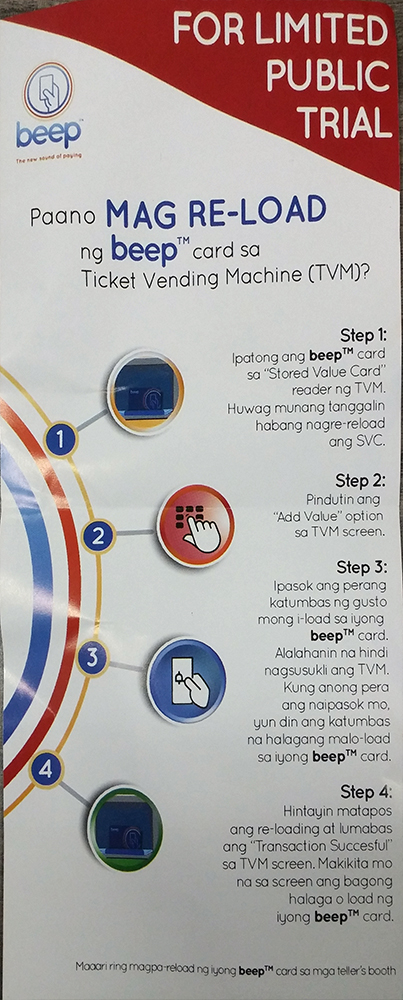 How to buy Beep card from Ticket Vending Machines
Choose "Stored Value Card" option on the ticket vending machine screen
Insert bills or coins into the machine's slot.
Take your Beep card when the ticket vending machine dispenses it.
How to re-load your Beep card
Place your Beep card on the "Stored Value Card" reader of the ticket vending machine. Leave it there while you reload your Beep card.
Choose the "Add Value" option on the machine's screen.
Insert exact amount of money into the machine. The ticket vending machines DO NOT give change. The amount you insert will be the amount loaded into your Beep card.
Wait for the message "Transaction Successful" to show in the screen. Do not remove your Beep card yet!
The screen will show you the updated amount of load in your Stored Value Beep card
Related Posts:
Posts that may be related to "How to buy and reload Beep cards in LRT stations":