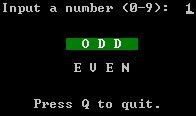 I coded this back when I was taking up Computer System Organization. It was a homework that I decided to share in my old blog.
The program accepts a one-digit number as the input, and then shows whether that number is ODD or EVEN.
The program uses the attribute byte to highlight ODD or EVEN with a color.

;—Program coded by Catzie Keng of http://catzie.net
.model small
.code
org 100h
start: jmp main
;——– VARS ———
header db "Input a number (0-9): $"
footer db "Press Q to quit.$"
vOdd db "O D D $"
vEven db "E V E N $"
main proc near
mov ax,03 ;clear screen
int 10h
repeat:
call cursor ;header
mov dl,0
mov dh,0
int 10h
mov ah,9
lea dx,header
int 21h
call cursor ;footer
mov dl,4
mov dh,8
int 10h
mov ah,9
lea dx,footer
int 21h
call dispODD
call dispEVEN
call cursor ;input
mov dl,23
mov dh,0
int 10h
call input
cmp al,30h ;0
je pEven
cmp al,31h ;1
je pOdd
cmp al,32h ;2
je pEven
cmp al,33h ;3
je pOdd
cmp al,34h ;4
je pEven
cmp al,35h ;5
je pOdd
cmp al,36h ;6
je pEven
cmp al,37h ;7
je pOdd
cmp al,38h ;8
je pEven
cmp al,39h ;9
je pOdd
cmp al,'Q'
je terminate
cmp al,'q'
je terminate
pEven:
call prEven
jmp repeat
call exit
pOdd:
call prOdd
jmp repeat
call exit
terminate:
call endCursor
call exit
dispODD proc
call cursor ;display ODD
mov dl,10
mov dh,3
int 10h
mov ah,9
lea dx,vOdd
int 21h
ret
dispODD endp
dispEVEN proc
call cursor ;display EVEN
mov dl,9
mov dh,5
int 10h
mov ah,9
lea dx,vEven
int 21h
ret
dispEVEN endp
prEven proc
mov al,' '
mov cx,1
mov bl,2fh
mov dh,5
x: mov dl,8
mov ah,2
int 10h
push cx
mov ah,9
mov cx,9
int 10h
pop cx
inc dh
loop x
call dispEVEN
mov al,' ' ;cover odd
mov cx,1
mov bl,07h
mov dh,3
a: mov dl,8
mov ah,2
int 10h
push cx
mov ah,9
mov cx,9
int 10h
pop cx
inc dh
loop a
call dispODD
ret
prEven endp
prOdd proc
mov al,' '
mov cx,1
mov bl,2fh
mov dh,3
y: mov dl,8
mov ah,2
int 10h
push cx
mov ah,9
mov cx,9
int 10h
pop cx
inc dh
loop y
call dispODD
mov al,' ' ;cover even
mov cx,1
mov bl,07h
mov dh,5
b: mov dl,8
mov ah,2
int 10h
push cx
mov ah,9
mov cx,9
int 10h
pop cx
inc dh
loop b
call dispEVEN
ret
prOdd endp
main endp
;—Program coded by Catzie Keng of http://catzie.net
cursor proc
mov ah,2
mov bh,0
ret
cursor endp
input proc
mov ah,1
int 21h
ret
input endp
endCursor proc
call cursor
mov dl,0
mov dh,15
int 10h
endCursor endp
exit proc
int 20h
exit endp
end start
;—Program coded by Catzie Keng of http://catzie.net
Related Posts:
Posts that may be related to "Assembly Language: check if a one-digit input number is odd or even":