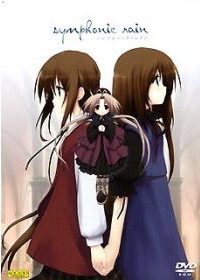 Symphonic Rain (Shinfonikku Rein) is a visual novel developed by Kogado Studio. I have played several visual novels in the past, but this one is different, reason being the music games / rhythm games in it.
I wasn't a fan of music games, but I have to admit that I enjoy playing the rhythm games of Symphonic Rain. 🙂 The songs are also beautiful that they keep playing inside my head.
You play as Chris Vertin, a fortell (fictional keyboard-type music instrument) player studying in Piova Music Institute, in a city where rain never stops falling. Each route is basically all about you finding a vocalist to pair with for your graduation recital, while having a long-distance relationship with Arietta, the girlfriend of Chris.
Following are links to guides / walkthrough to the game Symphonic Rain:

Symphonic Rain (Visual Novel) – Links to Game Guides / Walkthrough
Symphonic Rain Walkthrough/FAQ
Okay, I said links, expecting to find several walkthroughs for Symphonic Rain but I only found one. I might be tempted to make my own walkthrough when I finish all routes!
I had minor problems after I installed this game. Initially my Symphonic Rain installation, when played, had no text when characters should be speaking their dialogues. That was a problem before and after downloading and installing the English patch. I forgot what I did to fix such issue. I am playing it now without encountering any problem (so far).
Symphonic Rain – Download English Patch
You will find the download link to English patch here: Symphonic Rain TLWiki. Other info are also to be found there.
Related Posts:
Posts that may be related to "Symphonic Rain (Visual Novel) – Game Walkthrough":