Warning: potential spoilers may be written in this post.
In my previous posts, the common topic was Android app development. But this post is going to be about androids (robots) in the anime Plastic Memories. 🙂
This anime features androids called "Giftia", and they look and move exactly like humans — they can even get bruises, feel itching on their skin, and feel emotions just like humans. But their life span is only 81,920 hours or 9 years. When the life span is reached, they need to be retrieved. Otherwise, consequences follow due to the decline of the androids' programming functions.
Plastic Memories is a romantic drama sci-fi about Giftias, their lives with humans, and their retrieval when the "time" comes. The drama in Plastic Memories mostly comes from the retrieval process of Giftias. Comedy is also present in this show, and I guess the funny scenes are well done because it made me laugh, and it's not very easy for comedy shows to make me laugh.:oops: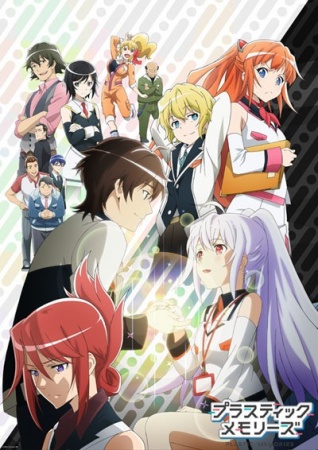 Warning: I do try to avoid it, but potential spoilers may be written in this post.
The ending was predictable and I would have enjoyed it more if something bizarre happened, but I still liked it. It like, you already know something's gonna happen, but when it happens, you're still affected. 😆
Most anime shows are set in high school and I'm getting sick of high school anime characters. Plastic Memories is set in a workplace and it's so refreshing!
Maybe I'm just too serious a person, but even during the heartfelt scenes, what kept running in my head was how did people invent these androids? They have emotions just like humans – they feel sad, they fall in love, and they feel happiness. There were also scenes where Isla got bruised and felt itching on her legs. How in the world were humans able to program androids so that they could feel emotions and physical sensations? Fascinating, right?
What bothers me the most is regarding the "rending of memories". If technology in the world has advanced so much that we are able to build and program robots who look, move, bruise, itch, and love exactly like humans, WHY are we not able to develop something [I think] is much simpler like a backup system for Giftia's memory. Why can't we re-install the operating system and then recover backup?
I wanted more sci-fi elements from Plastic Memories, unlike Full Metal Panic, which satisfied my liking for sci-fi well enough. I think Plastic Memories' autopilot cars, translucent computer screens, and other futuristic inventions seem cool. Hmm… Isn't it hard to read stuff on translucent screens though?
By the way, I read in some online news that Full Metal Panic might get a new season. I really hope they push through the plan because I really liked that anime. 😀
So yeah, to conclude this review…
Plastic Memories is a really good anime as a "drama". Prepare tissue or face towel for the tears you're about to shed if you're gonna watch this. 😆 I'm not satisfied with the science fiction part, but its comedy is good too.
Watch Plastic Memories if you like anime set in a futuristic world, especially one that's not in high school setting, and if you like it when makes you cry. 🙂
---

Source featured image of this post: ZeroChan.net

Related Posts:
Posts that may be related to "Plastic Memories – anime review":