BPI used to be my favorite bank but the quality of service has degraded over the years.
I felt [initially] relieved to find out that I could reorder a checkbook from BPI online, because it will save time since I don't need to go to a BPI branch anymore. But of course, the online checkbook reorder of BPI does not work, at least currently as I write this article.
After entering my One-Time Pin during the checkbook reorder process at BPI Online, I get the error message: "Transaction failed. We are unable to process your transaction at this time."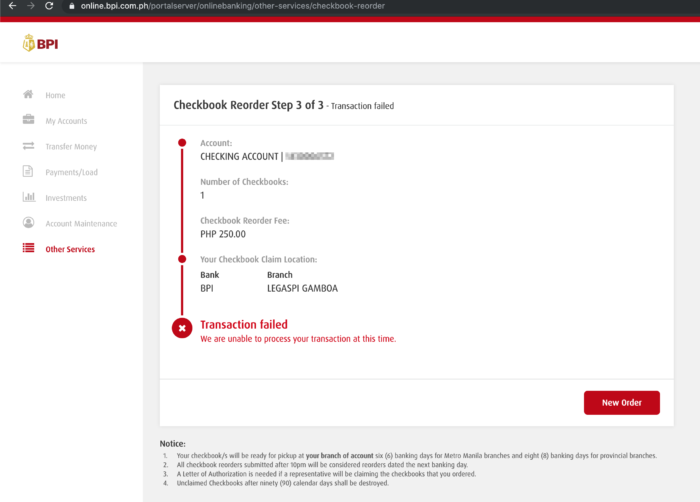 I did multiple attempts to reorder a checkbook online from BPI, but all failed with the same error message.
"Tsk. No choice," I thought. I planned to just visit a nearby BPI branch. We inquired first if we can reorder and claim a checkbook at a branch different from where I opened my BPI checking account. BPI said yes, we can. Okay, that was really a relief. The branch where I opened my BPI checking account is in Makati CBD and that's not so close from where I live.
So I went to a nearby BPI branch and took a queue number for Customer Service. The wait wasn't long until a BPI staff called me.
Side note: on updating your name on your BPI account after marriage
I wanted to update my name too, from maiden to married name, but the staff told me that customer information update can only be done at the branch of account. Also, I will need to bring bring 2 IDs with the new name along with marriage contract.
Back to the topic! The BPI staff asked me to fill our the stubs in the middle of the checkbook which looks like the following. I was only able to take a photo after tearing off the half of the stub which I gave to the BPI staff: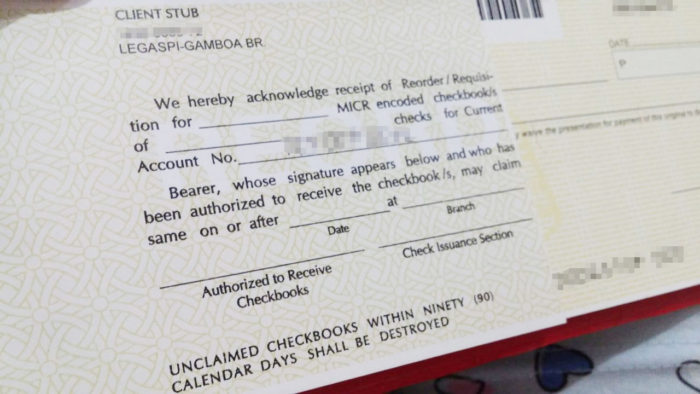 I also presented a valid ID for my checkbook reorder to be processed by BPI.
After a few minutes the processing was done, and I was told that I should present the client stub and my valid ID to claim my checkbook. If I remember correctly I was also handed a slip with brown paper… or was I? Here goes my memory gap again. What I'm sure of is I can't find it in my bag. HAHAHA. I hope that the client stub and ID are the only ones needed to claim the checkbook! 😅
About the online checkbook reorder of BPI
I told the BPI staff that the checkbook reorder of BPI Online is not working. She told me it's supposed to be working, and that it's down for maintenance daily from 10pm to 9am. Whoa, a web application that has working hours! Last Sunday night my online checkbook reorder was failing and I can't remember what time that was. On the following day, a Monday, I was sure I attempted again at 2pm and it failed. *scratches head* Oh well.
Let me know if you have tried to reorder a checkbook from BPI too and how it went! 🙂
Related Posts:
Posts that may be related to "How to reorder checkbook from BPI":