I visited the barangay hall at Bangkal to apply for business clearance. Let me share in this blog entry what it was like.
Please note that this is for a new sole proprietorship business.
Requirements to apply for business clearance at Barangay Bangkal, Makati
Filled out green form, "business clearance application and data sheet"
DTI certificate of business name registration with application form, or SEC REG with articles of inc. and by laws
Contract of lease or certificate of title
Payment (300 for the plate and a variable value depending on the capital; Read on for approximate costs)
After inquiring about the business clearance requirements, I asked for a green form that I could fill out at home.
This is what the green application form of Bangkal's barangay hall looks like: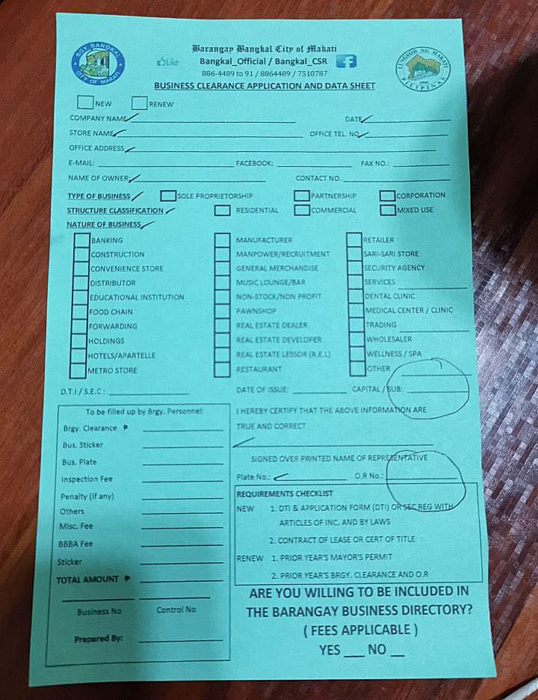 Business clearance application process at Bangkal's Barangay Hall
These are the simple steps to take during application for a business clearance from the barangay hall:
Assessment of documents
Payment
Printing and Release
Assessment of documents for business clearance from the barangay hall
I asked around the barangay hall where I should head to for business clearance application. They pointed me to a desk with a label "barangay clearance".
The lady in the desk assessed my documents and began filling out the bottom-left portion of my green form. My barangay clearance fee was 650 pesos, based on the capital amount that I declared. The business plate costed me 300 pesos. As a newbie business person, I'm not sure if I also need to renew the plate yearly. Then there's this 100 pesos "inspection fee" — what inspection did I pay for? Their inspection of my docs? Yeah, I know I should have asked them earlier. They gave me a number for queuing at the last step of the application, as well as the total amount to be paid. The total amount that I was charged was 1050 pesos. Oops, I only brought 500! 🤣I asked for the closest ATM in the area and they pointed me to the BDO ATM at Evangelista St., which was less than 5 minutes away from the barangay hall.
Payment for business clearance at Bangkal Barangay Hall
There weren't too many people in the queue for the barangay hall's cashier, fortunately. I was surprised to see a staff of a supermarket that I frequently visit paying for their barangay clearance renewal. I *accidentally* saw that they were charged 2020 pesos for the renewal. My eyes were very active at that time so I also accidentally saw that another guy was charged a total of 1050 pesos, same as mine, but with a different breakdown. His clearance fee was 850, business plate was 100, and inspection fee was 100. Why is his business plate only 100? Is it because he's already renewing? Anyway, I made sure that I got my official receipt before leaving the cashier.
Printing and Release of business clearance at Bangkal Barangay Hall
If there was a long wait during my application for a business clearance, this was when it happened though it wasn't so bad because I was just sitting down, awkwardly, with other people in the queue. Awkward isn't so bad because I'm used to it. Who arranged those chairs so close to one another?! 🤣The lady in the printing and release desk asked for my queue number and documents, as well as the official receipt from the cashier.
After a while she handed me my business plate. I rejoiced deep inside while keeping my poker face on. It's the first time I ever held one! Luh, ang babaw.
The next thing handed to me was a "Barangay Business Registration and Clearance" document, signed by the barangay captain. Speaking of barangay captain, his name is Mario and the official Facebook page of Barangay Bangkal seems to have a lot of Super Mario pictures. 😂
Ahhh! Finally I am another step closer to my goal of paying tax for my small business. Makes me wonder where tax really goes because I'm not happy with our country anymore…
Before leaving the barangay hall…
Before you leave the barangay hall, make sure you received the following:
Official Receipt
Business Plate
"Barangay Business Registration and Clearance" document
Thank you Bangkal Barangay Hall for the approachable staff and painless process!
Next step: Mayor's Permit
To get your Mayor's Permit, one of the major requirements is Locational Clearance.
Related Posts:
Posts that may be related to "Business clearance application at Barangay Bangkal, Makati City":