*in Manila, Sunday is usually the day of the week when there's least traffic but I think traffic is heaviest in Baguio on Sundays.
In August, we went to Baguio for vacation. Walking up and down the slopes was tiring, but the hefty servings of delicious restaurant foods in the city provided us more than enough energy for that. :3 The places we went to were limited because we didn't have a car, but that's okay. We just wanted to relax.
We were at Balintawak when I began writing this blog entry, on August 22, Friday, stuck because LTFRB won't let our Victory Liner Deluxe Bus go due to document ar scheduled at 10AM and our deluxe bus left 10 minutes past 10 but that's cool. What's not cool was we almost had to be transferred to another deluxe bus! At 11AM we were allowed to go. I don't know how it was resolved, but all I cared for that time was to reach Baguio as early as possible. 😀
Baguio Victory Liner Deluxe Bus Schedules
In case you are going to Baguio too, here are the first class bus schedules from Victory Liner. Use these schedules to plan your trip, however, I advise you to verify your desired schedule with Victory Liner before setting plans because their schedules may change anytime without notice. 🙂
Date the schedules were retrieved: September 18, 2014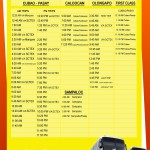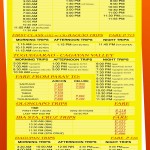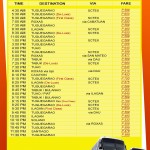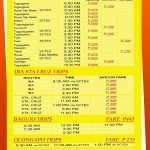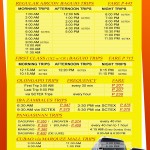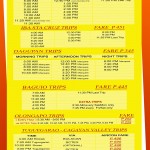 DO READ ON: Details on our experience in a first class (deluxe) bus bound for Baguio City
You might have come to this page just to view the bus schedules, but I recommend that you read on, and know what to expect based on our experience. 🙂
Victory Liner Deluxe Buses bound for Baguio have attendants. Our bus attendant was nice and friendly and I'm thankful for that.
She handed out a bottle of water and a small baked snack for each passenger. I read from other blog entries that they were also given "chichirya". Leg room was plenty for me, and just right for taller people. The arm rest should be moveable (there were instructions on how to move it) but it's always stuck when we wanted to move it down. Wiggling it side to side while pushing down did the trick though. The seats were of reclining type and comfortable, but some foot rests were not usable. The foot rests should pop up when one presses a button. Mine worked but the foot rest of the seat beside me won't pop up.
Under the arm rests were power outlets. Make sure to bring your charger/adapter for gadgets. 🙂 Thanks so much for this, Victory Liner. Hehehe. I was thinking, "perfect to keep my Android phone's power up as I play Dragon Quest 8!"
The deluxe bus had fewer seats than regular buses. On the left side, there were two seats per row, while on the right side were only one seat per row. I'm not sure if there were electric outlets on the seats at the right side, but that's just because I did not see.
There was WiFi on board too – another thing I was happy about. It was a slow Internet connection, but I still appreciate this. I probably won't be able to begin writing this article about my Baguio trip if it weren't for the free WiFi.
Not necessary, but I found myself wishing there were cup holders in the bus. Hehe xD
At first I was worried that the Victory Liner Deluxe Bus we were about to board did not have a bathroom/CR. Inspection was the first thing I did upon entering the bus and I found the CR 🙂 it's a small gray compartment placed at one side of the middle of the bus. The CR's interior is very similar to lavatories in airplanes. Things I did not like though, were the empty bottle of hand soap, seemingly broken "occupied" indicator, door was a little difficult to lock, and trash can was placed OUTSIDE the bathroom. I don't totally hate it. At least there's CR inside the bus, right? 🙂 Be careful when the bus gets really shakey when you are inside the CR. Hold on tight to the handle at the side. XD
On the way to Baguio, our Victory Liner Deluxe Bus passed EDSA, NLEX, SCTEX, TPLEX, Pangasinan, Maharlika Highway, Rosario La Union, ……… No traffic on August 22, 2014, Friday.
It was a lovely day. The weather was fair. The green and blues outside were wonderful to look at:
…but then it rained. Rain makes beautiful scenes show a different side of their beauty. But the difficulty in walking around because of rain during a trip is a different story.
We booked at Holiday Park Hotel which had a rainy day promo.
The place is okay. Hair dryer is available upon request. The bathroom door's lock is broken.
There is self-service coffee in the cafe downstairs. I think it's brewed but it's on the thin side.
We decided to go to SM City Baguio for early dinner and some donuts. It was raining so we just took a taxi. Taxis in Baguio are bigger than what we are used to in Manila. The bigger cars have more powerful engines that let them go up and down slopes without difficulty. The taxis in Baguio have lower minimum rate too. In Manila it's 40 pesos while in Baguio it's the only 35.
SM City Baguio is not air-cinditioned. It's an open air mall. Makes me wonder about summer time in Baguio though. How hot does it get in Baguio? And how hot does it get inside SM Baguio during summer?
It was raining non stop even since we arrived at Baguio, and it was very cold. We decided to have shabu-shabu hot pot at David's tea house for comfort. The shrimp wanton, pork and mushroom balls, egg noodles, satay soup, and their sweet juicy crab sticks were my favorite. 🙂
We ended the day with some JCo donuts, still at SM City Baguio.
The next day, we availed of the complimentary breakfast. Available dishes were corned beef, hotdog, tocino… all with egg and rice. Their menu stated that garlic rice would be included but they only served us plain rice. How were the foods? They're okay, I think. Hehe.
We visited Burnham Park in Baguio. It's a nice place to take it easy and relax.
You can rent a boat at Burnham park. We paid 150 pesos for a swan boat that fits two people. The control is pedal type. There was option for paddle boats too. Our boat was probably defective because it was so difficult to stir to the left. So to go our destination, we had to whirl and whirl to the right side. It was tiring but still fun. XD
Another thing you can do at Burnham Park is rent a bike. There were kiddie bikes, bikes thay looked like sidecars, regular bicycles…
It's nice to just sit down and watch over the lake. There were plenty of seats at Burnham Park when we went there.
Some people would approach you to offer dress-up with traditional clothing of Baguio and take pictures. Some would offer manicure. I saw a man offering back massage. And I saw several cute doggies. :3
If you want to shop for flowers and other plants, one of the places you can try is Malcolm Square.
For our lunch, we went to Tea House Restaurant and Bakery. A lot of people were buying their cakes, but for some reason, one of which is fullness of tummy, I did not buy any in spite of being a dessert addict.
We got ho to tai soup. The vegetables in it were fresh and delicious, as expected in Baguio. It had squid, squid ball, broccoli, carrots, pork liver, baby corn… It might not be the best ho to tai I had, but still enjoyable. The small size ho to tai, priced at 120 can serve two.
Tea House Special meal was a mix of fried chicken, a chop of lechong kawali, chop suey, and a boiled egg. The serving was generous for 138.50 pesos.
The sweet and sour pork I ordered would have been better tasting with more salt and less sugar. It was too sweet. But the serving was just as generous as that of the Tea House Special.
It was difficult to finish the meal because of the huge amount of food served, but who am I to complain? It is sulit. 🙂
Just beside Holiday Park Hotel in Baguio, is Oxygen Spa. They have an early bird massage promo for 11AM to 6PM every day, and it is 500 pesos for two persons. Regular price for Oxygen Spa's full body massage is 350-390 pesos – I forgot the exact amount. Hehe. We went there around 4PM and availed of the early bird promo, which to me is a bit weird because it lasts until 6PM when it's no longer "early" 😀
The massage therapist assigned to me did not ask me about the pressure I wanted. Therapists in other massage huts/spas usually ask for this. Also, in other massage places, when you come in with other people, they usually begin the massage on you and your companions at the same time. In Oxygen Spa of Baguio, however, my therapist only came into my massage bed at 5-10 minutes after my companion's therapist began the massage. And yet our massage ended at the same time. Kinda unfair, huh? :p The massage was average, but what made it stand out is the heated bags that they placed on our back and tummy while doing the massage. It made me feel more relaxed. I haven't been to a massage place that did that. 🙂 By the way, the body massage that they did was Swedish-Thai. Oxygen Spa in Baguio, near Holiday Park Hotel, seemed very small. Based on what we overheard from staffs who were talking, there were only three massage beds and two massage therapists available.
Next destination was Baguio Public Market. We just walked from Holiday Park Hotel. We bought peanut brittle, two with chopped peanuts and one with not chopped – three small bottles for 100 pesos. We tried to look for strawberries but since it's off-season, it was 70 pesos per pack in the public market and they did not look plump and delicious so we decided not to buy. We also bought fatty sausages from Alabanza and Tuvera.
50's Diner was where we decided to have dinner. The place is in upper General Luna, and it was packed with people on that Saturday night. We had to wait outside before we got seated. I saw a table being served some chunky fried chicken and I knew I wanted that. It wasn't very long until we had a seat. I ordered Grandma's Fried Chicken with fries. A companion ordered a chef's salad and chili con carne burger with fries. I also had vanilla milk shake. Service of food was not fast, probably because there were so many customers that night. Vanilla ice cream shake was served first. Yummy! Then my food came.
I did not expect to get three huge fried chicken parts for only 140 pesos. There were technically four parts of chicken because there was a wing, a leg, and a leg quarter with thigh. Delicious. It's like home-cooked chicken but a bit more special.
The chef's salad was generous in amount too. Price is 95 pesos.
I wasn't able to take a photo of the hamburger with chili con carne. The burger patty was okay, the chili was delicious, but the bread was too thick. I saw clubhouse sandwiches at other tables, and the bread slices seemed very thick too. I'm not a fan of sandwiches with thick bread slices because to me, that takes away some flavor of the filling.
It was difficult to sleep that night in Holiday Park Hotel because of the noise people were making. People in the hallway stepped noisily and chattered away noisily without a care in the world around 11:30PM. Then at a later time, we heard loud people noises again. A child's voice was prominent. Someone had to ask them to keep quiet and we realized they're not in the hallway, but in another room. We had to knock to tell them that we could hear their noise from the other room. Judging from the voices and their tones, there were several different groups being noisy in that hotel. Some groups were probably hotel staffs. This was probably the thing I hated most at Holiday Park Hotel: noise at bedtime . I slept late because of the noises and woke up early because of the noises, and couldn't get back to sleep because of the noises.
On August 24, Sunday, we went back to Baguio Public Market to buy pahabol or last-minute pasalubong. We bought Good Shepherd Snow Balls for 190 and 3 bundles of kulangot for 100.
Then, because I couldn't get it off my mind, being the dessert monster that i am, we came back to Tea House Restaurant and Bakery to get a small serving of their Chona's Delight cake. I'm glad they gave me a plastic spoon upon request because I wanted to eat it in the bus. Price was 130 pesos.
Then we checked out of Holiday Park Hotel. We wanted to be at the bus early so we bought McDo for eating at the bus. We took a taxi so that we save some energy on the way to Victory Liner Baguio Terminal. To our surprise, the taxi was just a small car – the first one we had seen in 3 days in Baguio. 😀
When we bought our First Class / Deluxe tickets from Victory Liner Baguio when we just arrived, the seats assigned to us were in separate rows because the first class bus was almost fully booked. But we asked the other guy who was assigned to sit beside my companion if we could switch places and it was cool with him. And then he transferred to a different solo seat near the entrance. It appeared that he didn't even know about the assigned seat numbers. Hehe. By the way, I just confirmed that not all single seats have power outlets in first class buses of Victory Liner for Baguio. Some had, but the solo seat facing the entrance to the toilet didn't have an outlet. Now I'm worried that some double seats might be lacking power outlets too :-s Anyways, Victory Liner first class buses would usually turn the outlets' power on when it starts moving.
We ate our McDo take-outs as soon as we were in the bus. We also tried the Chona's Delight cake from Tea House Restaurant and Bakery. It's good! I especially loved the custard-like milky filling. The top of it is covered in chocolate frosting and whipped topping. The entire cake was not so sweet. The only thing I didn't like was that the cake part was very bland on its own in an intolerable way. It has an unpleasant bitter aftertaste. I couldnt eat it without the icing. Overall though, it's a must-try for a person craving for cake but is very sensitive to sweets. I enjoyed every icing-covered spoonful of Chona's Delight.
Still no hand soap in the bus bound for Cubao. 🙁 And still hard to pee in the toilet because of the shaking. I suggest that you use it when the bus is not in the curvy roads that is close to Baguio. And don't forget about the handle that you can hold on to at the right side. I was in the toilet when our deluxe bus passed that road, and I must say that it was a crazy experience! XD
Like the deluxe bus we took going to Baguio, the bus going back to Metro Manila got us to our destination in about 5 hours. The bus attendant and driver allowed us to exit the bus at Balintawak instead of Cubao which is the terminal. We requested that we get dropped off at Balintawak so that we could take an LRT-1 train.
Time for a summary. :3
I think I would always prefer Victory Liner's first class / deluxe bus every time I can afford it. XD this is mostly because of the toilet inside the deluxe bus. I have a bad bladder and often have to go to the toilet. I also like the leg room, reclining seats, and foot rests. And oh, the lifesaving power outlets! 😀
People may find it hard to sleep at Holiday Park Hotel because of noisy guests and worse, noisy staffs, but aside from that, it's an okay place to stay.
We did not go to many tourist attractions in Baguio – we skipped Mines View and Camp John Hay, but I enjoyed Burnham Park strolling and boating, the hefty servings of food in Baguio restaurants, and the cold climate. I realized that I enjoy warming myself in cold days and nights. And my skin and hair feel healthy when it's cold. Coldness from air conditioning, like in my workplace, is not the same though. It makes me feel sick.
I think that some nice >pasalubong from Baguio are kulangot , strawberries if in season, sagada oranges, fresh vegetables if you can carry or transport them in bulk, walis (brooms) because they are said to be of good quality, and anything from Good Shepherd like snow balls, ube jam, and peanut brittle.
If I were to migrate in Baguio, I think I will get really fat because of the large servings of meals at the restaurant. usually, a 130 peso meal would fill my tummy just a bit more than "busog" but in Baguio, the 130 peso meal I had would make me feel very full. But maybe walking up the many slopes of the city would make up for it? XD
Related Posts:
Posts that may be related to "Baguio Trip via Victory Liner First Class (Deluxe) Bus – With Schedules":